CD Spotlight




ARTiFACT: Proof of existence in an evolving world. An ode to preservation and change. The 20 songs on ARTiFACT reflect a songwriting style that approaches composition through what can best be described as sound sculpture, providing a perfect balance to STS9's unique approach to live performance and improvisation with the hooks and melodies of traditional song structures. LISTEN!


Digital Spotlight



Soaring melodies fuel a music time machine launching the listener to the top of a world yet discovered. Reminiscent of the early works of Sasha and BT, My Piano's uplifting melody, combined with a funky, asymmetrical bass line creates a progressive, feel-good vibe on the floor while providing a memorable hook to take home until you next adventure in club land. LISTEN!


Vinyl Spotlight




Killer Progressive Tribal House from Spain's BeatFreak Recordings. Dark Iberican beast, dense pulsing basslines, it doesn't get much better than this Black Magic! LISTEN!




February 3, 2005
../ 2005 NAMM Report: Sony
Sony had an attractive booth that always seemed to have a crowd. Even though it had already been announced prior to the show, many attendees were interested in getting a first-hand demo of the new Acid Pro 5 software. Acid Pro, which debuted in 1988, is a versatile, loop-based music composition and production tool for musicians who want to create songs, remix tracks, produce 5.1 surround audio mixes, develop music beds, score videos, and much more. Acid Pro is ideal for real-time pitch-shifting, time-stretching, and groove quantization of audio and MIDI events. Although it's shine has somewhat faded with the popularity of Ableton's Live, it was the first loop-based music creation application to put professional time-stretching, studio composition and editing power in the hands of producers at nearly every level of expertise. Acid Pro 5's new features include Groove Mapping quantization tools, nested folder tracks, native VST effects support, event reverse, and Media Manager.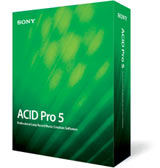 Acid Pro 5

Acid Pro 5's features set it apart from other loop-based production software. Acid Pro 5 supports 24-bit/192 kHz audio, 5.1 surround sound mixing, Rewire, Tempo based DirectX effects, and a next generation audio time-stretching engine. Media Manager tools let you efficiently search, tag, and catalog your loops by genre, instrumentation, BPM, or other user-defined and customizable attributes. New folder tracks, that can be nested, enhance project organization and simplify editing. Audio events can now be reversed during playback in real-time. Set up and mix 5.1 channel surround project files for audio and DVD productions. The Beatmapper tool adds tempo information to song-length files including MP3s, so you can remix and combine music loops with existing songs. Acid Pro 5 software also natively supports VST effects, expanding the palette of sounds available for music creation and allowing automation and tempo-synced effects.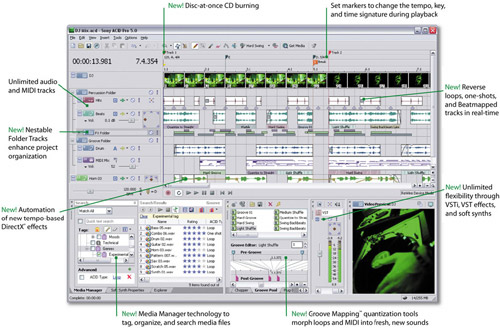 Acid Pro 5 screenshot

Groove Mapping and Groove Cloning can significantly expand your loop collection by morphing existing loops into fresh, new sounds. Also included with Acid Pro 5 are more than 1,000 loops from the Sony Sound Series: Loops & Samples collection, plus the Native Instruments Xpress Keyboards VSTi soft synth bundle. Acid Pro 5 is available now and retails for $499.


Drums From The Big Room

Sony also announced some provocative new loops and sample collections for their Sony Sound Series. Drums From The Big Room is a five CD set that features Steve Ferrone on Drums and renowned producer, Greg Ladanyi, behind the board. Sony had both Ferrone and Ladanyi on hand to give a demo of the new sample and loop series developed solely for Sony. The loops were broken down into individual microphone stems, as well as individual parts. This brings a unique flexibility to developing your own unique sonic drum signature. Drums From The Big Room is due next month for $249.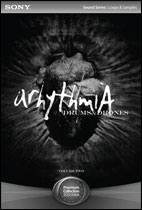 aRythmia Loop Series by Jerome Dillon and Keith Hillebrandt

Also available is the new arhythmiA sound series from Nine Inch Nails drummer Jerome Dillon and sound designer Keith Hillebrandt. Drums and Drones features riffs by Dillon and processed to the hilt by Hillebrandt. Say no more, we're in. Drums and Drones retails for $99.
mediasoftware.sonypictures.com

>>> Next: IK Multimedia
< NAMM 2005 Index >

Advertise on Futuremusic.com! | Privacy Policy | Employment Opportunities | Contact Us
Copyright © 2005 Futuremusic® All Rights Reserved.





As the name correctly implies, Experiments In Sound, is Futuremusic's latest endeavor for pushing electronic music technology to the very edge of what's possible. Experiments In Sound grew out of Futuremusic's avant-garde events in New York City that featured DJ's taking mixing and live sound reinforcement to a whole new level with the very latest gear and software. Be the first to hear about Experiments In Sound by joining Futuremusic Direct.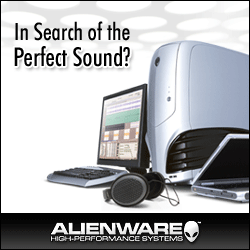 Part of Experiments In Sound, TestDrive will feature the lab results of our DJ Experiments so that everyone can get in on the action. Take the latest electronic music releases, mix vigorously with bleeding-edge DJ technology in a large beeker, and then cook the hell out of it! Be the first to hear about TestDrive by joining Futuremusic Direct.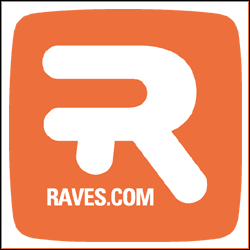 Futuremusic wants to thank everyone who participated in The Next Big Thing 2004. John Digweed, Beatport, Alienware, M-Audio, Native Instruments, IK Multimedia, PVDJ, PK Graphics, Ableton, The DubHouse, Propellerheads, Technics, FreeFloat, The Church, PCDJ and every DJ who entered this year's event thank you. From the sheer number of quality mixes, we can tell you that dance music is thriving in the United States. The amount of outstanding talent and creativity really blew us away, and every DJ who's putting their heart, mind and soul behind the music is a winner. John Digweed has made his decision and the winner is...
News Archives



Digihear? Stories: January 2005
Digihear? Stories: December 2004
Digihear? Stories: November 2004
Digihear? Stories: October 2004
Digihear? Stories: September 2004
Digihear? Stories: August 2004
Digihear? Stories: July 2004
Digihear? Stories: June 2004