News Archives

September 2004
August 2004
July 2004
June 2004





July 2004
../ Sony BMG Merger Finalized
The merger between Sony Music Entertainment and Bertelsmann AG's BMG Music was green lighted by the European Union and the Federal Trade Commission (FTC) and brings together a diverse range of artists, including Beyonce, Aerosmith and the recovering Britney Spears.

After the final paper work is completed by the FTC, the new company, Sony BMG, will be official by the end of August. The new entity, an equal partnership, is likely to be headed by Andrew Lack, chairman and chief executive of Sony. Rolf Schmidt-Holtz, chief executive officer of BMG, will become chairman of the new enterprise.

Andrew Lack commented that the "merger was approved without any conditions" which could have limited the new ventures scope. However, regulators at the European Union stated, "the Commission will keep a close watch on the music sector as it becomes even more concentrated and would very carefully scrutinize any further major concentration in the industry."

The Future: A while in the making, the new Sony BMG further consolidates an industry who has been throwing dead weight overboard for a number of years now to make it more sea worthy. Much of the flotsam and jetsam is turning out to be a boom for the Indie market which is signing many acts for bargain prices. However what the industry needs now is good music for consumers to sink their teeth into. Will the new Sony BMG lable be willing to take some risks, or will they stay safe in order to meet their quarterly earnings?




../ Alienware Debuts New Audio Workstations
Alienware, a leading manufacturer of high-performance gaming computers, has introduced a new line of Audio workstations for music professionals.

In recent years, several computer manufacturers have brought to market dedicated computers for niche creative markets. Apple has had a permissive market share with pro audio, but that has eroded in recent years with more powerful Intel and AMD chips, multiprocessing and the new Windows XP operating system.

The new line, dubbed Ozma, provides top-of-the line desktop and mobile systems utilizing the latest hardware specs from best-in-class manufacturers. Each system comes optimized for audio recording, editing, DJing and sound engineering applications with the latest drivers and pre-installed software options from the leading software concerns including Sony, Steinberg, Cakewalk, and Ableton. M-Audio is providing their Firewire 410 sound card and NVIDIA is visually supercharging the systems with their latest Quadro Graphics cards.

The Future: Great news for diehard Windows users who have been clamoring for a dedicated music box from a major manufacturer for some time. Alienware is clearly dedicated to supplying this market with the latest machines and their offerings are constantly being upgraded with the latest and greatest. Even better news for the winner of The Next Big Thing who gets to take home one of these bad boys!




../ Program Managers Irked By New Technology
Radio Station Program Managers across the US are not happy with Sony Music Nashville's new digital delivery of singles to the stations. Sony Music Nashville is the first major label to switch to all digital delivery of new country singles instead of the traditional method of distributing the new songs on CD.

Sounds great right? Wrong. The problem for Sony is that Program Managers are 1) In the Stone Age, 2) Lazy, and 3) Reluctant for any type of change, and this may hurt their artists who could see reduced spins at Country stations. Sony's new plan is obviously a expense cutting measure, since it is estimated that it costs the label around $5000 per single for manufacturing and shipping.

Most Program Managers (PM) reacted by complaining that this just puts another speed bump in the process of listening to new cuts. With the level of competition right now between labels, the harder it is for PM's to listen to new music, the more likely that it won't get heard. When there's a new single available, Sony will send each PM a personalized e-Card with a link to download the new song in full, uncompressed CD quality, as well as a MP3. In reality, the new delivery mechanism also eliminates a step in the process for radio. Since most stations play music via a computer system, the station now doesn't have to transfer the audio from the CD to the station's hard drives.

Some stations owned by large conglomerates, such as Clear Channel, already have their own digital delivery mechanisms in place, so it's not that big of a stretch for labels to come onboard. After evaluating Sony Music Nashville's spin cycle, a decision will be made by executives on whether to roll out this mechanism for delivering all of Sony's music genre's to radio.

The Future: Since labels have to use "Independent Promoters" to pimp their latest releases to radio in order to avoid Payola attention, they are just passing the CD burning burden on to them. Whether PM's get a fancy e-Card with a bunch of dancing-baloney Flash graphics is irrelevant. The PM's, who still get up to switch the channels on their TV's, will still get their coveted CD's (and Rolex watches).




../ Asian Download Service Debuts
Soundbuzz.com and Creative Technology have teamed to create their own audio download service/music player concern aimed at the untapped Asian market. The partnership is developing online music stores in India, Hong Kong and Singapore with an eye on China later this year. When the service bows, it will offer 250,000 songs at $1.16 each.

The Soundbuzz/Creative endeavor faces many hurdles to establishing a profitable legal download service. First, this region of the world is dominated by sophisticated piracy syndicates that distribute millions of illegal knockoff CD's of every major artist release. Piracy is so weaved into the fabric of society that many consumers have no idea they're purchasing illegal product where the artists or their record labels don't receive a penny of compensation for the sale. Second, due to the piracy concerns, many Asian labels are reluctant to join the new service for fear that their music will be even easier to bootleg. Finally, CD burning is a way of life here for Asia's youth where it's estimated that for every CD purchased, legally or illegally, three copies are distributed to friends and family members.

Licensing is another issue. Soundbuzz/Creative will have to follow the same path as Europe's On Demand Distribution (OD2), which had to blaze the licensing trail in order to establish agreements with the labels, publishers and other royalty concerns. Sony's Connect and Apple's iTunes have not announced any plans to create services in this region.

One interesting twist on the service is that Soundbuzz, which operates in the region with Australia's Telstra telephone company, will not be billing customers via their credit cards. Music purchases will instead show up on the customer's monthly Internet Service Provider (ISP) bill to smooth out the process.

The Future: CD players dominate the Asian market outside of Japan, however over the last year, there is evidence that early adopters are jumping on the portable MP3 device bandwagon. Creative wants to be a leader in the region and it realizes that it can only achieve this by adopting Apple's iTunes/iPod model. Once Soundbuzz/Creative pioneer's the trade route, expect to see Apple, and especially Sony jump into mix.




../ Loudeye Buys Gabriel's OD2
Loudeye Corporation has agreed to purchase On Demand Distribution Limited an online music distributor co-founded by Peter Gabriel and Charles Grimsdale for close to $40 million. On Demand Distribution, known as OD2, is Europe's biggest distributor of online music and provides the backend delivery for a host of prominent partners including Coca-Cola, MSN, Virgin and MTV.

OD2, based in Bristol, England, was formed four years ago and was essentially the only legal download service in Europe. It went through the painstaking process of getting digital licenses from the European music industry - which turned out to be the chief obstacle for creating a legal service overseas. As soon as OD2 cleared the arduous licensing hurdle, Apple, Napster and a number of others immediately announced plans to launch services in Europe.

Loudeye, a seven year old concern based out of Seattle, Washington, is the leading provider of backend music delivery services including downloading and Internet radio. Many top brands utilize Loudeye's encoding and delivery mechanisms for their online music endeavors. Loudeye disclosed that it has agreed to purchase OD2 for $38.6 million in stock and cash over an 18 month period. Loudeye will retain sixty-five OD2 employees when the deal is completed.

With the recent introduction of iTunes in France, Germany and the UK and Napster in the UK, the European legal download sector has really heated up in the last year. Sony's Connect is expected to launch in the Fall and smaller independents are not far behind.

The Future: Although the European mentality is still far behind the US in its acceptance of legal downloading, this should fundamentally change by year-end with the plethora of new services. However, will the European lawmakers do the right thing and step up their piracy laws?




../ Sony Declares War On Apple
Sony has declared war on Apple with the introduction of Sony Connect and the new super sexy Network Walkman. After years of losing market share to Apple's groundbreaking iPod Music Player, Sony enters the party on the 25th anniversary of the Walkman with a sharp two-pronged attack.

Like Sony did 25 years ago with the advent of the first Walkman, Apple completely changed how people listened and purchased music with their iPod and iTunes offerings. Sony, not one to sit on the sidelines, has launched their own initiative to win back the minds and hearts of the consumer base that made it a force in personal music electronics.

The new Network Walkman (NW-HD1) has a 20 gig hard drive and will cost the same as Apple's 20 gig iPod, but the similarities stop there. The Network Walkman is 30% lighter, at less than four ounces, than the iPod and is much smaller and trimmer, looking more like a business card holder than a deck of cards. It connects to a computer with a USB 2.0 cable and uses a different compression scheme developed by Sony's engineers called ATRAC. ATRAC has been around for several years and was initially developed for Sony's MiniDisc technology. Sony's device will also play MP3, WAV and WMA files.

Sony claims that it Network Walkman can hold 30% more songs than the iPod, but that's just marketing "smoke and mirrors" since it's basing it's claim on two different bit rate compression schemes. Futuremusic's Dan Brotman explains, "Sony is not exactly comparing Apples to Oranges here, or in this case, Apples to Sony's. To get Sony's number of 13,000 songs in their 20 gig Network Walkman they're compressing at only 48 kilobits per second (kbps). Apple's AAC scheme compresses at 128 kilobits per second, which yields a much better sound quality and has been established as the "MP3" standard. Most downloaders on the Peer To Peer (P2P) networks won't even bother to download files at less than 128 kbps because of the poor quality. In reality, both the Sony and the Apple hold about the same number of songs."

The biggest difference is in battery life, and this is where Sony should be centering it's offensive considering Apple's overstated claims and customer service problems regarding replacement. Apple's iPod gets about 5 hours of battery life from a charge where the Network Walkman is claiming 30 hours. The Network Walkman comes with its skip-free G-Sensor Shock Protection, a buffer system that protects the music flow from interruption caused by vibration.

Sony does have a significant hill to climb for the Network Walkman to be a success. First, it has to compete with the iPod's 50% market share, and the fact that the iPod Mini is such a success that it's has a six week waiting list. In addition, iTunes is a better service than Sony's Connect, adding considerable value to the iPod. Samsung found this out the hard way when it's Napster Player came onto the market with a toe tag. It's not all about a big brand name. It's about ease-of-use and a seamless integration between the download service and the listening device.

Connect Music Store has also come up wanting against iTunes. It currently offers consumers more than 600,000 music tracks from major label and independent artists, but it doesn't have many of the mature features that users enjoy on iTunes. Connect Music Store version 1.5 will launch in the fall, and will include new features such as Internet radio, and news and reviews.

But Sony also has to deal with competition from itself. That's right, the VAIO division, as reported earlier in Futuremusic, has launched the VAIO Pocket, it's own music player with a 40 gig hard drive and a color screen. Both devices use the same operating system, SonicStage, and link to Sony Connect, but you don't need your bigger brother calling you a punk ass when you're trying to woo the lead cheerleader.

The Future: The Network Walkman will not be DOA like the Samsung player for a few reasons. First the Walkman brand name is trusted and has been successfully delivering music for 25 years. Second, Sony has an unsurpassed worldwide distribution structure that makes Apple look like a Lemonade Stand. Finally, despite the song capacity misstep, Sony also has a savvy worldwide marketing team that has profitably launched dozens of category killer products in many countries at once. But when it comes down to it...it's all about how easy is the Sony system to use as opposed to Apple's.



../ The Next Big Thing DJ Contest
It's officially on! The Next Big Thing DJ Contest is underway and the submissions are overwhelming our lazy ass postman. One talented house music DJ is going to walk away with the largest DJ gear package ever assembled and the once in the lifetime opportunity to DJ with John Digweed.

Could it be you? Yes, if you'd stop procrastinating, record a 60 minute house music mix on CD and send it off to us. Thus far, the DJ gear package includes a computer audio workstation from Alienware (yes, a kick-ass, tweaked for audio, computer!), Native Instruments Komplete2, their full suite of killer production software, PCDJ FX with the DAC-2 controller, 150 digital downloads from Beatport, the Grabber BPM sampler from PVDJ, 100 professionally manufactured CD's of your mix from The Dubhouse, The Studio Bundle from IK Multimedia (SampleTank, T-Racks, AmpliTube), Technics top of the line DJ headphones, and much more!

Plus you'll be playing with super star DJ John Digweed at The Church, voted America's best club by Club Systems magazine, in front of thousands of screaming fans. Sounds too good to be true doesn't it? Well it is mate! The Next Big Thing is the only DJ contest where all your musical dreams and aspirations can come true just by demonstrating your talent for rocking a big room. Go get yours!

The Future: Maybe it's you...



../ Gold and Platinum Records Go Digital
The Recording Industry Association of America (RIAA) has announced the expansion of its successful Gold and Platinum award program to digital downloads sold by legitimate online music services.

Under the digital download program, certified sales of 100,000 singles would earn a Gold award, while 200,000 downloaded singles would garner a Platinum award. Multi-platinum awards would start at 400,000 and increase in increments of 200,000 thereafter.

The RIAA will officially launch the program with a kick-off event in late August with an award ceremony for artists who have reached the designated digital milestones.

The Future: Why complicate matters by making the sales criteria different for digital versus physical sales but calling them the same name? Come with some new distinctions? Credit Card companies have no problem doing it...why is it so hard for the RIAA? Wait, forget I asked.



../ LoveParade - The San Francisco Treat
The LoveParade organization announced that the world's largest electronic music festival and parade will be held in San Francisco on Saturday, October 2nd, 2004. This incredible event was first held in Berlin in 1989 and has steadily increased its attendance with over one million people joining the festivities in recent years. The festival has "toured" before with events in Cape Town, Mexico City and Tel Aviv, but this is the first ever parade in the United States. This year's LoveParade in San Francisco is expected to draw thousands of dance music aficionados to the Bay Area with a mission of fostering tolerance, respect and community.

The LoveParade will begin along San Francisco's scenic Embarcadero with top local and international DJ's featured on floats. It will snake its way through the South of Market area and end along the waterfront in the newly redeveloped Mission Bay district with a daylong celebration featuring music, dancers, and a variety of vendor booths. Additional DJ's will spin at the waterfront festival.

The Future: With Homeland Security, The Rave Act and other sweeping policies that have eradicated our personal freedoms, look for law enforcement to be holding their own "party" at the event. Only the liberal policies of the local San Francisco city government will save revelers from significant harassment.



../ Liam Howlett Readies New Prodigy Album
After seven years, Liam Howlett is set to release The Prodigy's much anticipated new release, "Always Outnumbered, Never Outgunned," on the Maverick/XL label. The album will be released in the UK on August 23rd and in the States on September 4th. The first single "Girls" is a banging big beat joint that reminds us how "The Fat Of The Land" tore the electronic music scene a much needed new hole in the mid-nineties.

Howlett penned and produced all twelve of the new tracks without much input from Keith Flint and Maxim Reality. There's lots of provocative guest vocals including: Kool Keith ("Wake Up Call"), Twista ("Get Up Get Off"), Juliette Lewis ("Hot Ride"), Ping Pong Bitches ("Girls"), Princess Superstar ("Memphis Bells"), Shahin "Smack My Bitch Up" Badar ("Get Up Get Off"), Paul Jackson ("Action Radar"), and the notorious Gallagher brothers ("Shoot Down").

"The last album was kind of like really representing what we did live on stage," Howlett explains. "When I wrote that album we were playing live all the time, and that really came across in the last album. This time around, because we've stopped doing gigs, the actual emphasis is more on the music...It feels more personal than the other albums, it's more me. (It's) definitely leaning more towards the electronic side than the guitar side."

But after a seven year layoff, it's obvious that giving birth to a new record wasn't coming easy. "I was just like in a rut, thinking I'm just doing the same thing that I was doing before. I was sitting in my studio...the same fucking room for like 6 years! So I had to change the way I did it," Liam Howlett admits. That change came in the form of the program Reason from Propellerheads. "(Reason) became like a sketchpad for doing this album. It literally saved my head from going mad. When I first started writing music, I used to use a W30, which is like a really basic Roland keyboard. It's what I wrote the first album and the first couple of singles on. It's pure back to basics, nothing apart from that one element, that one keyboard. And Reason reminded me a lot of that. Cause it's everything in one box and there's no confusion for sort of bringing in complicated equipment. All you're dealing with is what your brain can think of. So that has probably been the biggest help."

So what does this new production method mean for The Prodigy's tough as nails sound? "This album is definitely Liam Howlett on the beats again," he elaborates. And that's definitely a good thing.

"Always Outnumbered, Never Outgunned" Track Listing: 1. Spitfire, 2. Girls, 3. Memphis Bells, 4. Get Up Get Off, 5. Hot Ride, 6. Wake Up Call, 7. Action Radar, 8. Medusa's Path, 9. Phoenix, 10. You'll Be Under My Wheels, 11. The Way It Is, 12. Shootdown.

The Future: After a full seven year cycle, does electronic music need another good Howlett ass kicking? Hell yeah!!







Advertise on Futuremusic.com! | Privacy Policy | Employment Opportunities | Contact Us
Copyright © 2004 Futuremusic® All Rights Reserved.




As the name correctly implies, Experiments In Sound, is Futuremusic's latest endeavor for pushing electronic music technology into the far beyond. Experiments In Sound grew out of Futuremusic's cutting edge events in New York City that featured DJ's taking mixing and sound to a whole new level with the very latest gear and software. Be the first to hear about Experiments In Sound by joining Futuremusic Direct.
Part of Experiments In Sound, TestDrive will feature the lab results of our DJ Experiments so that everyone can get in on the action. Take the latest electronic music releases, mix vigorously with bleeding-edge DJ technology in a large beeker, and then cook the hell out of it! Be the first to hear about TestDrive by joining Futuremusic Direct.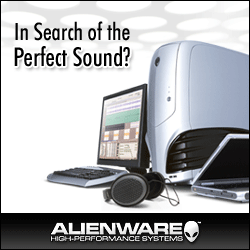 Futuremusic wants to thank everyone who participated in The Next Big Thing 2004. John Digweed, Beatport, Alienware, M-Audio, Native Instruments, IK Multimedia, PVDJ, PK Graphics, Ableton, The DubHouse, Propellerheads, Technics, FreeFloat, The Church, PCDJ and every DJ who entered this year's event thank you. From the sheer number of quality mixes, we can tell you that dance music is thriving in the United States. The amount of outstanding talent and creativity really blew us away, and every DJ who's putting their heart, mind and soul behind the music is a winner. John Digweed has made his decision and the winner is...