News Archives

September 2004
August 2004
July 2004
June 2004





August 2004
Music Trends - August 2004 Feature
../ True Convergence : A conversation with Strauss Zelnick
So Jupiter invites us to come down to their Plug-IN conference in New York City and since we were in the neighborhood, we decided to sashay down to the Crowne Plaza Times Square to hear the latest pontifications on digital music.

Once one of the more prominent events to attend, the conference, now held in basically one room, with only two companies in the "Exhibit Area," was lightly attended. Jupiter did the best they could under the circumstances, but with major label lay offs and cut backs, this affair was pretty "budget."

We took in the keynote addresses by Richard Wolpert, Chief Strategy Officer, from RealNetworks and Strauss Zelnick, CEO of ZelnickMedia. Mr. Wolpert's address was almost interesting, but with the recent announcement by Real about their Harmony technology that allows music customers on the Real store to purchase and download music to their iPods, 90% of his speech concentrated on why Harmony is good for the world and Apple shouldn't sue them for reverse engineering their product. We had hoped for some breakthrough observations and predictions instead of damage control, but Real clearly had a public relations agenda for Plug-IN.

Mr. Wolpert did make the case for subscription services that he believes will get a big boost from Microsoft's new DRM that allows users to transfer subscription based songs to their portable players. The songs will become disabled if the user doesn't connect to their computer in a specified time period. He claimed that Real has 500,000 people subscribed to its service. We think that they probably snatched those bean counters from off the WorldCom unemployment line to reach that number, but we'll let that slide.

Next up was Strauss Zelnick. Strauss Zelnick is currently the Chief Executive Officer of ZelnickMedia, a private holding company, that specializes in entertainment properties. Throughout his career, Zelnick has run practically every type of major entertainment company. As the former CEO of both BMG and 20th Century Fox, Zelnick has been there, done that when it comes to entertainment and music. Strauss Zelnick took us off guard right from the start with his rapid fire delivery that had us scrambling to accelerate up to his cruising speed, but once we caught up we were captivated (note to self, more coffee before "Zelnicking"). He has a sharp mind and distinctive viewpoints about the entertainment industry, and because of his unique perspective, he's been able to make some connections that would easily go undetected by even the most savvy of observers. Here are some of his most salient points...buckle up.

"This is easily the most creative, and the most disruptive period in history," Zelnick offered. "Three major industries are colliding. Software. Music. And movies." Zelnick feels that with these industries all suddenly overlapping, four major trends are emerging with "true convergence" as the end game: Consolidation, Fragmentation, Digitization and Globalization. "As convergence occurs," Zelnick explains, "corporate bounders are blurring. Apple, a PC maker, is making a consumer electronics device, the iPod, and offering a music service to complement it. Sony, a consumer electronics and entertainment company, make and markets PCs. Microsoft, a software company, manufactures video game hardware and entertainment software. Cable companies offer telephony; telephone companies offer internet service; and cell phone companies offer music downloads. Technology and deregulation have changed the landscape of the media business, and the revolution is just beginning."

Due to the disruptive nature of content becoming digital, major Consolidation has been taking place in the entertainment sector. Faced with a sudden loss of sales, poor results from top shelf artists and lackluster new artists, the music industry has begun to collapse onto itself and major consolidation has been the result.

Fragmentation refers to the concept of "audience disintegration" within the marketplace. With so many channels now reaching the average consumer, its getting harder and harder to reach a mass quantity of people. Television, movies and radio now must compete with dozens of alternative methods through which consumers can be reached. As a result, marketers have to become much more savvy in order to reach their customer base via specific media outlets. Content matters, targeting matters and one-to-one communication with your customers will become absolutely essential.

In the new age of digitization, any content that can become digitized will. The music industry was the first hit by this "content liberation." They were completely caught off guard and still continue to struggle today with the free-flowing transference of their products on the Internet. The industry is still struggling to catch up after the "MP3 revolution" first began, and after the recent Ninth District decision affirming that Grokster and the other Peer-To-Peer (P2P) services are not liable for copyright infringement by their users, it looks like the war is just beginning.

Remember the old mathematics formula, when A equals B, and B equals C, then A equals C? Well it applies to content. If Content becomes Digitized, and Digitized Content is distributed freely via the Internet, then Content becomes Free. Now that the Internet pipes are getting fatter, movies are next up for mass digitization, and subsequent freedom.

Globalization. When Americans realize that they are only 30% of the world market, they only begin to open the shades to the reality that is Globalization. With China opening up to the world's markets, that percentage will shrink even further. How entertainment companies will adapt to the new paradigm and continue to dominate should be the question on every executive's mind.

The other trend that Strauss Zelnick outlined was the "time shifting of media consumption." As content becomes digitized, it's becoming possible to watch TV or listen to music at a speed defined by the user. The best example of this currently is TiVo and their extremely popular Digital Video Recorder (DVR). TiVo and its rivals allow a consumer to not only watch a TV show when they want to, but also at a pace that suits their time horizon. Obviously most TiVo customers are fast forwarding through commercials in hyper-speed so they can get right back into their drama, however others are utilizing the feature to watch a sporting event in a fraction of the time it would take to watch it live. Either way, this behavior will have a serious impact on the value of sponsorships and commercials in the future.

The Future: Under Yahoo's savvy branding, marketing and advertising eye, MusicMatch should blossom nicely. The deal is real bargain for Yahoo! and gives it a huge lead over Microsoft's and Sony's immature services. Is Roxio's Napster the next acquisition target for a major concern?




../ Digidesign Buys M-Audio. Are Novation and Waldorf Next?
Digidesign, a division of Avid Technology, Inc., announced publicly that they are purchasing Midiman, Inc., also known as M-Audio. Avid will pay $80 million dollars in cash for M-Audio, a leading provider of digital audio and MIDI solutions for audio professionals and enthusiasts. M-Audio also distributes Ableton's Live software and Propellerheads Reason Software in the US. Not publicly stated was that Digidesign was also rumored to be in negotiations with Novation, a UK synthesizer manufacturer, and the concern that holds the rights to Waldorf's assets, a German synthesizer who recently went out of business.

"Over the past several years, Digidesign has established itself as the clear leader in digital audio solutions for the professional studio and home recording markets," said David Krall, Avid's President and CEO. "With this acquisition, we're bolstering our investment in the home studio market segment, the fastest growing portion of our audio business. We believe the addition of M-Audio to the Avid family will put us in a position to provide a complete set of creative tools to the market, from entry-level music hobbyists with home studios to facility owners, recording artists, audio engineers, and film sound professionals."

Digidesign who practically owns the high-end Hard Disk recording market with their ProTools suite of software and hardware, is filling in the deficit in the low end market with the purchase of M-Audio. M-Audio, one of the fastest growing, privately held music companies over the last four years, cashed in on the trend towards high-quality, computer based audio production in home studios by developing and distributing a comprehensive selection of sound cards, MIDI keyboards and MIDI controllers.

The fascinating part of this buying spree is the Novation and Waldorf rumors. Novation has never stood on firm ground financially and their over-priced synthesizers have taken a major hit as the latest crop of computers have gotten up to a comfortable speed to supply the processing hungry soft synths the cycles they require to run without latency and technical glitches. There is some overlap between M-Audio's controllers and some of Novation's products including their latest release, X-Station25, a two-octave, virtual analog synth, sound card and MIDI controller all in one. However, Ian Jannaway, MD of Novation has been allegedly been shopping Novation for some time, so he's probably very eager for a deal.

Waldorf, another manufacturer of over-priced synthesizers, went down for the count in March of this year. They were looking for a major infusion of cash at the end, but most savvy industry veterans knew that this was just a case of "Natural Selection" in an industry that is rapidly changing. Unlike M-Audio, who capitalized on the exploding home studio market, Waldorf kept telling themselves and everyone else that musicians were still willing to mortgage their homes to buy one of their synths. Wrong.

If the Novation/Waldorf deals do go down, this sudden rollup must have other manufacturers in the industry reeling. Roland, once a trendsetter with a full compliment of ground-breaking and great sounding sound modules hasn't had a hit in years. Alesis must be scratching their heads as well. Their attractively priced Ion, is a great deal for the money, but their other keyboards are based on technology from 10 years ago. Korg hasn't produced an exciting original keyboard in years. Another Triton? How boring! Nord and Access who produce great sounding keyboards at affordable prices should be the most worried. Digidesign's massive marketing muscle coupled with the combined technology of Novation and Waldorf, should give them pause. This would be major competition and they would have to completely rethink their next designs to remain market leaders.

The Future: A good purchase for Avid. M-Audio is expected to add $20 million to Avid's coffers in 2004 and has experienced a 30% growth rate in both 2003 and 2004. M-Audio completely "gets it" and they should continue to successfully produce quality products for the home studio market. The acquisition rumors surrounding Novation and Waldorf are fascinating. Not such a no-brainer fit as M-Audio is, these digital synth manufacturers could provide Avid with a suite of hardware synths for their ProTools line. The truth is that hardware synths still have a visceral quality that the soft synths are still lacking. In addition, since soft synths are everywhere, many sound designers and synthesists prefer to have hardware at their fingertips to create original sounds. For the right price, I think Waldorf is the best deal, but at this stage in its history, Novation could be a bargain.




../ Apple's iTunes Goes Mobile
Even Steve Jobs, CEO of Apple Computer of Cupertino, California knows that now's the time to make some deals in the mobile phone market. Known to shun any type of licensing deal, Jobs announced that Motorola will feature a modified version of the iTunes Store that will enable consumers to transfer songs from their Mac or PC to their next generation mobile handsets. The phones are expected to debut in the Spring of next year.

"We can't think of a more natural partnership than this one with Apple, the brand synonymous with easy-to-use, legal music downloading, and Motorola, the innovator in mobile technology," said Ed Zander, Chairman and CEO, Motorola. "Being able to transfer songs you've purchased from iTunes to Motorola mobile handsets expands the market reach for both of us and drives new revenue for customers, delivering an amazing music experience to millions of wireless users." Steve Jobs, responded in kind stating, "the mobile phone market, with 1.5 billion subscribers expected worldwide by the end of 2004, is a phenomenal opportunity to get iTunes in the hands of even more music lovers around the world and we think Motorola is the ideal partner to kick this off."

The Future: Call this a pre-emptive strike. Apple is starting to feel the pressure from Sony and Microsoft and doesn't want to lose its market dominance but making the same licensing mistake twice. Good move Apple, just make sure your usability experts are on hand from the get go so that Motorola actually makes the hardware controls intuitive...unlike some of their phones.




../ Roxio Is All About Napster
Roxio, the parent company behind Napster and the CD burning software Toast, is selling its consumer software division to Sonic Solutions for $80 million dollars. Roxio will then officially change its name to Napster, and focus solely on the digital download business.

The change in strategy comes as Napster grossed close to $8 million dollars this past quarter and the demand for stand alone CD burning software has steadily eroded. The main reason is that several jukebox and music management software programs, such as iTunes and MusicMatch, now have CD burning built in and thus the need for a application with that single focus is redundant. The sale adds to Roxio's coffers and gives them almost $130 million dollars to concentrate on marketing Napster.

Details of the sale yielded some interesting information on Napster's performance over the last year. $1.1 million came in from Napster branded Samsung digital music players, Over 50% of Napster's revenue comes from its music subscription service as opposed to a-la-carte downloads where the margin is less than 10%. The sale and new identity come just as Napster readies a new version of their service which will offer Microsoft's Janus Digital Rights Management (DRM) scheme. The new DRM technology will allow subscription-based downloads to be moved to portable devices for the first time.

Even with the big bank account, Napster has a lot of work to do if they want to successfully compete with iTunes. There current marketing crusade is downright idiotic compared to iTunes sophisticated branding campaign with its stylish, iPod wearing silhouettes dancing to the latest hits. Roxio just banked (literally to the tune of $5 million) on the fact that the Napster name would send droves of former illegal downloaders to its service. Didn't happen. Even after a couple of rounds of management changes, a Napster branded iPod from Samsung, practically giving away their service to college campuses and a list of several other lackluster endeavors, the service still can't seem to get up to speed. Unless the new Roxio can regain the underground attitude that led to the music file trading ground swell, they're never going to be the primary music download destination.

The Future: Dumping their software division to concentrate on building Napster will only work if they can completely revamp their internal philosophy. The first order of business should be to hire a new ad agency that can tap directly into the mindset of the 18-29 year old market. Kill the "KittyHead with legs" and hit us with something fresh and outlaw. The second order of business would be to completely redesign the Napster interface so that the service is as easy to use as iTunes, but extends the music experience beyond just listening and burning. The new Napster should be about immersion into each genres culture, and support ancillary revenue streams like ticketing and merchandise.




../ Real Networks Gives iTunes a Lobotomy
After his personal appeal to Apple's CEO Steve Jobs to work together was brushed aside, Rob Glaser, CEO of Real Networks, took off the gloves and released "Harmony," a way for the customers of Real's online music store, to put songs on Apple's best selling iPod.

Apple's iTunes and iPod work on a closed system that only allows iPod owners to put music on their devices via iTunes. By releasing the Harmony technology, Real has essentially broken that closed circle. Real refuses to divulge how it converts Real's songs into the proprietary Apple format, but Richard Wolpert, Chief Strategy Officer at Real, insisted that it wasn't all the involved when he delivered his keynote at Jupiter's PLUG-In conference. FairPlay, Apple's copyright protection scheme puts limitations on how its consumers can move and duplicate music on iTunes and the iPod. With Harmony, a customer will be able to chose what format they'd prefer when purchasing music from Real's online music store: Apple's format, Real's own proprietary format or Microsoft's format, and then deliver the song to that device instantly.

How essential to Apple's model is their closed system? Well this will certainly weigh into Apple's decision whether or not to sue Real over Harmony. Apple's current position in the marketplace has been built on it's tight relationship between the iPod and iTunes, but many industry analysts have been wondering aloud if this is another major licensing misstep for the company who lost out big to Microsoft when it refused to unfetter the MacOS from its computers in the early days of personal computing.

In the end, Apple will have to look realistically at the marketplace and whether or not liberating the iPod is good for Apple. Apple is currently selling an astounding 800,000 iPods per month. This accounts for approximately 12% of their annual sales. Steve Jobs has publicly acknowledged that iTunes doesn't make money, so is it really a big deal for other online stores to be able to support the iPod?

Apple clearly isn't completely adverse to licensing their technology. Earlier in the year, Hewlett-Packard reached an agreement under which HP will sell its own branded version of the iPod and pre-install iTunes for Windows on its computers. However, Jobs doesn't like to be told what to do or being pushed around, which is exactly what Glaser is doing.

Glaser is going on the offensive by shoring up support within the music community and pushing an end to the "format wars." Glaser with the backing of several of the major label's digerati has stated that "online music will never flourish until uniform standards make it possible to play any file on any device, as in the case with CD's and DVD's."

The Future: Look for Apple to sue Real for violating the Digital Millennium Copyright act by reverse engineering their technology. The law specifically prohibits circumvention of copy protection technologies and Real most certainly had to break the proprietary FairPlay code in order to make it work with Harmony. However, Apple should then license FairPlay to everyone since clearly the name of the game is iPod sales, not a closed system. Hopefully, Apple will learn from past mistakes.




../ Crystal Method Get Surrounded
DTS Entertainment announced it will release a DTS-ES surround sound mix of The Crystal Method's Legion Of Boom on DVD-Audio on August 3rd. This title marks the first surround music release from The Crystal Method for commercial release.

Legion Of Boom is the most recent release from big beat duo Ken Jordan and Scott Kirkland. Legion Of Boom features collaborations with Limp Bizkit guitarist Wes Borland, John Garcia of desert rock band Kyuss, Bay area poet Hanifah Walidah, DJ Swamp and many more. The name of the album was reportedly dubbed Legion of Boom because it was created in a bomb shelter that was turned state-of-the-art recording studio.

The surround DVD-A from DTSE is packed with extras, including: Exclusive surround re-mixes of all 12 Legion Of Boom tracks, two special remixes of "Born To Slow" as bonus tracks, DTS ES 6.1-channel for DVD-Video players, the"Born Too Slow" music video in DTS-ES, Director's cut of "Born Too Slow" video in DTS-ES, The Making Of Legion Of Boom featurette in DTS-ES, Special "Mix Breakdown" of "True Grit" track, and a visual biography and live photo gallery.

The Future: Electronic music is tailor-made for taking advantage of Surround Sound in the DVD-A format. Whereas conventional rock recordings often wrestle with where to "place" the listener (in the front of the "stage" or on stage in the middle of the musicians), electronic music can push the envelope and get experimental with the format. Look for DVD-A releases from any electronic music album that hits a sales threshold of 200,000 in the future.



../ iMesh Settles With Majors
iMesh has quietly agreed to settle their ongoing copyright infringement suit with 18 members of the Recording Industry Association of America (RIAA) for $4.1 million.

The suit which was filed in September of last year alleges that iMesh, the third most popular peer-to-peer (P2P) file sharing service in the United States, promoted illegal downloading of copyrighted music on its system. In addition to paying $4.1 million, iMesh will change its technology to filter copyrighted works and move to new business model to distribute entertainment legally.

The Future: How much will this influence the RIAA's appeal of a US District Court ruling that competitors, Grokster and StreamCast, were not breaking copyright laws by distributing their P2P products is not known. However, iMesh probably decided not to wait for a final decision in that case, so that they could work out a mutually beneficial arrangement with the RIAA to disseminate legal works.







Advertise on Futuremusic.com! | Privacy Policy | Employment Opportunities | Contact Us
Copyright © 2004 Futuremusic® All Rights Reserved.




As the name correctly implies, Experiments In Sound, is Futuremusic's latest endeavor for pushing electronic music technology into the far beyond. Experiments In Sound grew out of Futuremusic's cutting edge events in New York City that featured DJ's taking mixing and sound to a whole new level with the very latest gear and software. Be the first to hear about Experiments In Sound by joining Futuremusic Direct.
Part of Experiments In Sound, TestDrive will feature the lab results of our DJ Experiments so that everyone can get in on the action. Take the latest electronic music releases, mix vigorously with bleeding-edge DJ technology in a large beeker, and then cook the hell out of it! Be the first to hear about TestDrive by joining Futuremusic Direct.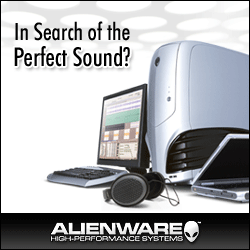 Futuremusic wants to thank everyone who participated in The Next Big Thing 2004. John Digweed, Beatport, Alienware, M-Audio, Native Instruments, IK Multimedia, PVDJ, PK Graphics, Ableton, The DubHouse, Propellerheads, Technics, FreeFloat, The Church, PCDJ and every DJ who entered this year's event thank you. From the sheer number of quality mixes, we can tell you that dance music is thriving in the United States. The amount of outstanding talent and creativity really blew us away, and every DJ who's putting their heart, mind and soul behind the music is a winner. John Digweed has made his decision and the winner is...