CD Spotlight




ARTiFACT: Proof of existence in an evolving world. An ode to preservation and change. The 20 songs on ARTiFACT reflect a songwriting style that approaches composition through what can best be described as sound sculpture, providing a perfect balance to STS9's unique approach to live performance and improvisation with the hooks and melodies of traditional song structures. LISTEN!


Digital Spotlight



Soaring melodies fuel a music time machine launching the listener to the top of a world yet discovered. Reminiscent of the early works of Sasha and BT, My Piano's uplifting melody, combined with a funky, asymmetrical bass line creates a progressive, feel-good vibe on the floor while providing a memorable hook to take home until you next adventure in club land. LISTEN!


Vinyl Spotlight




Killer Progressive Tribal House from Spain's BeatFreak Recordings. Dark Iberican beast, dense pulsing basslines, it doesn't get much better than this Black Magic! LISTEN!




January 18, 2005
../ Rogue Amoeba "Pumps Up The Volume"
A pair of products introduced by Rogue Amoeba are revolutionizing Internet audio streaming, making it possible for even the most cash-strapped DJs to run their own radio shows a la Christian Slater's character in the cult classic "Pump Up The Volume"
By Kevin Greenstein
Televisions became prevalent nearly forty years before VCRs started making their way into homes. When the VCR finally arrived, it addressed a very obvious need. Viewers could watch their favorite programs on their own time, and were no longer held prisoner to the networks' schedules. Twenty years later, TiVo took that time-shifting revolution even further, adding very useful artificial intelligence and an exceptionally easy-to-use interface.
Internet audio streaming is still a relatively new concept, first introduced less than ten years ago by Real Networks. There are thousands of Internet radio broadcasts, and many musical artists post previews of their upcoming album releases through website audio streams. With the advent of broadband Internet connections, users can today experience high-quality audio streams, no longer suffering through AM radio-quality broadcasts and near-constant re-buffering.
A natural extension of the VCR and TiVo, Audio Hijack enables computer users to easily record these audio streams and listen to them on portable audio devices and through their home stereos. First released in 2002 by Amoeba Software, Audio Hijack was initially intended to be used solely by users sitting in front of their computers.

"The basic issue was that people wanted to be able to record Real Player - live Internet streams - and play them later or play them on a portable device or CD player," said Paul Kafasis, CEO of Rogue Amoeba Software. "It was designed to free people from being stuck to an Internet connection to listen to streams."
Of course, one of the greatest advantages of the VCR and TiVo is that you don't need to be sitting in front of the television to operate them. In fact, many users actually program their TiVos over the telephone.
Aside from their obvious Hacker Vibe, Rogue Amoeba has been in the sight hairs of many anti-piracy groups who feel that the technology was developed solely to steal audio streams. Many record labels and artists present their music in streaming only formats to thwart piracy. With Audio Hijack, it's now very easy to grab these streams from the Internet ether and store them permanently on a hard drive. In presenting the reasons why Audio Hijack is a perfectly legal product, Kafasis referenced a lawsuit filed against an early VCR manufacturer.
"Vivendi sued Sony for making the VCR, because they didn't want people to be able to save things and watch them later," he said. "If you can watch it now, you can watch it later. Audio Hijack and Audio Hijack Pro have done essentially the same thing. If something's on at 3am and you can't be there to listen, you can record it and listen at a preferred time."
Kafasis also took exception to the notion that Audio Hijack could be a tool for music theft. "Audio Hijack does not really make it easier to steal music," he said. "Storing it for future use has absolutely nothing to do with theft. We haven't faced anything directly, because in terms of a legal standpoint, we're not accountable for use."
"Merely the fact that they're streaming via Real Player is a deterrent," he continued, "but it's never said 'absolutely cannot be recorded.' If you're sending out a stream like that, chances are it's not going to be close to the same quality as a CD or a high-res MP3. If you're doing some sort of promotion, transmitting at a low bit rate will ensure that people will still be interested in buying the full album."
I tested Audio Hijack by using it to record Bob Schneider's latest record, "I'm Good Now," available on his website via a Flash audio stream. Even with my high-speed Internet connection and high-quality JBL Soundstick speakers and subwoofer, it's quite clear that the audio stream is far below CD-quality - on this point, Kafasis is 100% correct. When Schneider's album is released, this will be an important reason to shell out the $18.
Another reason I discovered why Audio Hijack will not be used to pirate music has to do with tracking. When you buy a CD, each song is conveniently housed in its own audio track. With Audio Hijack, the only way to separate an entire streamed album into distinct audio tracks is by pressing the "split" button during the space in between each song. While that is not a particularly labor-intensive process, it does require that the user sit at the computer for the duration of the recording.
So, it's clear that Audio Hijack's most useful application - at this point - is to record Internet radio programs that are broadcast at inconvenient times. However, the souped-up Audio Hijack Pro has some other valuable uses. A built-in effects processor makes it possible to do everything from modifying bass and treble levels to adding reverb.
Hundreds of thousands of copies of Audio Hijack have been downloaded since its release, and some of the unexpected uses for the product have absolutely thrilled Kafasis. "The absolute coolest thing - a blind user used his computer to read him the news. He used Audio Hijack Pro to adjust the voices so that they sound more pleasing to him. The computer reading the news sounded too computerized, and Audio Hijack Pro made it sound better."
Needless to say, Audio Hijack has grown far beyond Kafasis' original vision. "At the time (of Audio Hijack's release), we didn't realize just how large a market this would be. It was just a plug-in for another product on Mac OS9, and we didn't realize that it would be able to grow into two full products, with the technologies used in other products as well."
One such product is Nicecast, an application that lets any Internet-connected user create their very own radio station. "It lets you take any audio and broadcast it out," Kafasis said. "It lets you save audio yourself from any application and then broadcast to the world. This way, artists can stream their music library - tracks off an album or from a live show - to give a taste of their music style."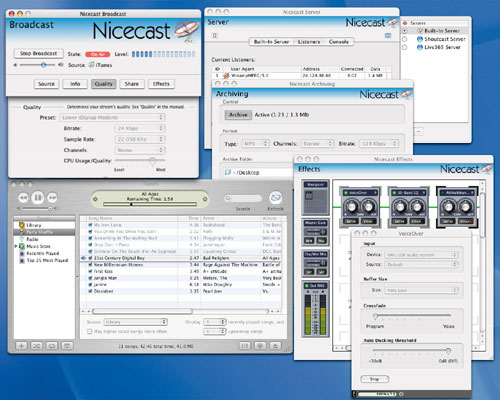 "It's also a great promotional tool," he continued, "and it can be used by people running talk shows and play-by-play for sporting events. It can also pull audio from iTunes or from popular DJ applications like DJ1800 and Megaseg, letting users easily create a stream so that the rest of the world can tune in."
Of course, this naturally led to questions about the legal issues involved with running such an enterprise. A major source of income for musicians and songwriters is when their music gets played on the radio. If everyone can suddenly begin sharing their iTunes libraries with the world, will artists get the short end of the stick?
"When using Nicecast, you can record to a text file all the tracks that are played," Kafasis countered. "The onus is on you to take care of those fees. You can also use Nicecast with Live365, and they will pay the fees to BMI and ASCAP. Unless a service like Live365 is utilized, licensing fees for popular streams need to be taken care of by the user."
Though the name of the company (Rogue Amoeba) and their most-popular software program (Audio Hijack) both invoke visions of theft and rebellious behavior, it is clear that Rogue Amoeba has a strong vision for the future. By making it possible for users to record Internet audio streams, Audio Hijack will make those streams much more accessible and enjoyable. More importantly, as their technology evolves, a TiVo-style interface will make it possible for users to take advantage of the vast array of excellent Internet programs.
Finally, by merging that technology with Nicecast, it will be possible for even the most cash-strapped aspiring DJ to run his own radio show, a la Christian Slater's character in the cult classic, "Pump Up The Volume." Whether competing with top-40 radio or launching niche-format stations to hype unknown artists, Rogue Amoeba's Nicecast product makes running an Internet radio station incredibly easy.
The Future: Rogue Amoeba is a company that clearly has a firm grasp of the Internet audio landscape. Their products, while still in need of improvement, are much desired by the online community and satisfy a distinctive niche. Whether they can continue to push the audio envelope without licking a few legal stamps is the real question.

Advertise on Futuremusic.com! | Privacy Policy | Employment Opportunities | Contact Us
Copyright © 2004 Futuremusic® All Rights Reserved.





As the name correctly implies, Experiments In Sound, is Futuremusic's latest endeavor for pushing electronic music technology to the very edge of what's possible. Experiments In Sound grew out of Futuremusic's avant-garde events in New York City that featured DJ's taking mixing and live sound reinforcement to a whole new level with the very latest gear and software. Be the first to hear about Experiments In Sound by joining Futuremusic Direct.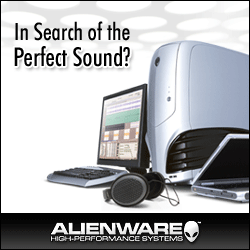 Part of Experiments In Sound, TestDrive will feature the lab results of our DJ Experiments so that everyone can get in on the action. Take the latest electronic music releases, mix vigorously with bleeding-edge DJ technology in a large beeker, and then cook the hell out of it! Be the first to hear about TestDrive by joining Futuremusic Direct.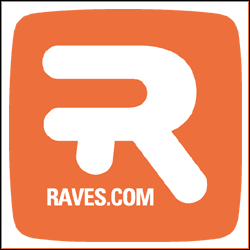 Futuremusic wants to thank everyone who participated in The Next Big Thing 2004. John Digweed, Beatport, Alienware, M-Audio, Native Instruments, IK Multimedia, PVDJ, PK Graphics, Ableton, The DubHouse, Propellerheads, Technics, FreeFloat, The Church, PCDJ and every DJ who entered this year's event thank you. From the sheer number of quality mixes, we can tell you that dance music is thriving in the United States. The amount of outstanding talent and creativity really blew us away, and every DJ who's putting their heart, mind and soul behind the music is a winner. John Digweed has made his decision and the winner is...
News Archives



Digihear? Stories: December 2004
Digihear? Stories: November 2004
Digihear? Stories: October 2004
Digihear? Stories: September 2004
Digihear? Stories: August 2004
Digihear? Stories: July 2004
Digihear? Stories: June 2004