CD Spotlight




ARTiFACT: Proof of existence in an evolving world. An ode to preservation and change. The 20 songs on ARTiFACT reflect a songwriting style that approaches composition through what can best be described as sound sculpture, providing a perfect balance to STS9's unique approach to live performance and improvisation with the hooks and melodies of traditional song structures. LISTEN!


Digital Spotlight



Soaring melodies fuel a music time machine launching the listener to the top of a world yet discovered. Reminiscent of the early works of Sasha and BT, My Piano's uplifting melody, combined with a funky, asymmetrical bass line creates a progressive, feel-good vibe on the floor while providing a memorable hook to take home until you next adventure in club land. LISTEN!


Vinyl Spotlight




Killer Progressive Tribal House from Spain's BeatFreak Recordings. Dark Iberican beast, dense pulsing basslines, it doesn't get much better than this Black Magic! LISTEN!




February 3, 2005
../ 2005 NAMM Report: IK Multimedia
IK Multimedia announced two significant new products at the show, AmpliTube 2 and Ampeg SVX. Feeling the heat from Native Instruments' stellar Guitar Rig, IK has released a completely new version of AmpliTube that touts up to 20,000 amp combinations, a better modeling engine, more routing flexibility, and more effects. The goal behind the second embodiment of AmpliTube was to reproduce the musicality and "live" performance of real components and even the effect of age on electronics.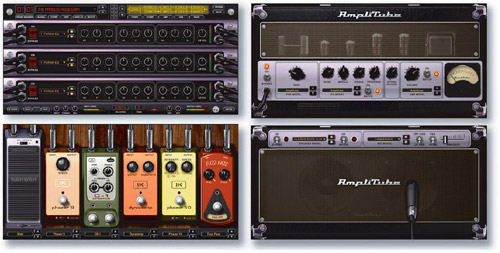 Screenshot of IK's new Amplitube 2.0

AmpliTube 2 now has two completely independent signal chains so you can route your sound through two separate effect paths at once. The new version now has 30 effects including compressors, pitch shifters, delays, reverbs, modulators, fuzz boxes, stomp pedals, limiters, overdrives and much more. One really cool thing is the customizable stompbox pedal board. You can add up to 6 pedals and then save the preset for future use. AmpliTube 2's effects all sync to MIDI clock and the new modeled microphone section has six different mics with a multitude of mic positions. AmpliTube 2 will be available in April for a retail price of $399.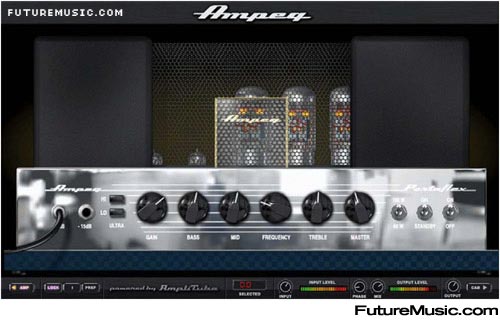 Screenshot of IK's new Ampeg SVX

IK has teamed up with Ampeg to develop a bass amp plug-in suite that will model 20 different configurations of their renowned bass amps. Included bass amps consist of the SVT Classic, the SVT 5 Pro, the BA500 and the B15R and come in five signature modeled cabinets. Four modules are also included: Tuner, Stomp, Amp, Cabinet/Mic selection/placement. The Ampeg SVX will be available some time this summer; a price has not been announced.
www.ikmultimedia.com

>>> Next: Propellerhead Software
< NAMM 2005 Index >

Advertise on Futuremusic.com! | Privacy Policy | Employment Opportunities | Contact Us
Copyright © 2005 Futuremusic® All Rights Reserved.





As the name correctly implies, Experiments In Sound, is Futuremusic's latest endeavor for pushing electronic music technology to the very edge of what's possible. Experiments In Sound grew out of Futuremusic's avant-garde events in New York City that featured DJ's taking mixing and live sound reinforcement to a whole new level with the very latest gear and software. Be the first to hear about Experiments In Sound by joining Futuremusic Direct.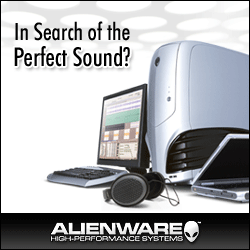 Part of Experiments In Sound, TestDrive will feature the lab results of our DJ Experiments so that everyone can get in on the action. Take the latest electronic music releases, mix vigorously with bleeding-edge DJ technology in a large beeker, and then cook the hell out of it! Be the first to hear about TestDrive by joining Futuremusic Direct.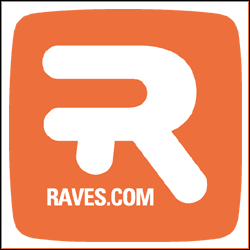 Futuremusic wants to thank everyone who participated in The Next Big Thing 2004. John Digweed, Beatport, Alienware, M-Audio, Native Instruments, IK Multimedia, PVDJ, PK Graphics, Ableton, The DubHouse, Propellerheads, Technics, FreeFloat, The Church, PCDJ and every DJ who entered this year's event thank you. From the sheer number of quality mixes, we can tell you that dance music is thriving in the United States. The amount of outstanding talent and creativity really blew us away, and every DJ who's putting their heart, mind and soul behind the music is a winner. John Digweed has made his decision and the winner is...
News Archives



Digihear? Stories: January 2005
Digihear? Stories: December 2004
Digihear? Stories: November 2004
Digihear? Stories: October 2004
Digihear? Stories: September 2004
Digihear? Stories: August 2004
Digihear? Stories: July 2004
Digihear? Stories: June 2004