CD Spotlight




ARTiFACT: Proof of existence in an evolving world. An ode to preservation and change. The 20 songs on ARTiFACT reflect a songwriting style that approaches composition through what can best be described as sound sculpture, providing a perfect balance to STS9's unique approach to live performance and improvisation with the hooks and melodies of traditional song structures. LISTEN!


Digital Spotlight



Soaring melodies fuel a music time machine launching the listener to the top of a world yet discovered. Reminiscent of the early works of Sasha and BT, My Piano's uplifting melody, combined with a funky, asymmetrical bass line creates a progressive, feel-good vibe on the floor while providing a memorable hook to take home until you next adventure in club land. LISTEN!


Vinyl Spotlight




Killer Progressive Tribal House from Spain's BeatFreak Recordings. Dark Iberican beast, dense pulsing basslines, it doesn't get much better than this Black Magic! LISTEN!




February 3, 2005
../ 2005 NAMM Report: Alesis
Alesis, another company whose recent design makeover was clearly inspired by Apple Computer, announced many new products at the show. The rumor about a new Alesis workstation turned out to be true. Alesis flaunted two versions of their new Fusion workstation the 6HD and the 8HD. The only difference is the 6HD has 61 semi-weighted keys and the 8HD has 88 fully-weighted keys. Both keyboards have a nice feel and the build quality is first rate. The Fusion sports four synthesis types: virtual analog, FM, sample playback and physical modeling. It includes a 24bit sampler with up to 192MB of onboard storage and 8 tracks of 24bit hard disk recording with the onboard 40 GIG drive. A 32 track MIDI sequencer with digital audio tracks is also featured, and the board has multichannel analog and digital inputs/outputs. A special Fusion DVD, CD-R and/or external hard disk storage capability will be available by Christmas 2005 when version 2.0 of the software bows. We weren't blown away by the demo, but the synth sounded good for a full-featured workstation. Hopefully the synth will have the ability to attach a third-party external drive or a CD-R. If not, it is a major misstep and will definitely be a deterrent to musicians who are in the market for a new workstation.




Alesis joined the keyboard controller fray with the Photon X49. This slick 49 key velocity sensitive USB/MIDI controller features 60 assignable buttons, knobs and faders. The pitch bend and modulation wheel, as well as many of the buttons, have Star Trek backlighting. The Photon X49 also sports, what Alesis calls, an AXYZ dome controller that utilizes infrared technology to modulate plug-ins, effects or anything other parameter you can assign to it in your software program. The Photon can be powered by the USB bus, or via batteries so it won't drain your laptop if you take it on the road.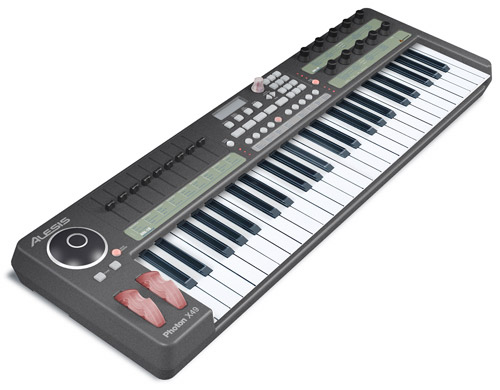 The Alesis Photon X49. The dome on the upper left is the AXYZ controller.

We all really liked Alesis' new line of compact FireWire mixers which come in 8, 12 and 16 channel incarnations. We weren't able to assess the sound quality, but the build was top notch. The mixers feature 24bit, 44.1/48 kHz operation with A/D and D/A conversion taking place through their Dice II FireWire chipset. Each channel features 60mm faders, 3 band EQ and an aux send. A handful of the channels also feature a high gain mic/line XLR and balanced 1/4" inputs with phantom power. Each mixer also features 100 28bit onboard effects including delays, reverbs, pitch, chorus, flange and multieffects.
www.alesis.com

>>> Next: Damage Control
< NAMM 2005 Index >

Advertise on Futuremusic.com! | Privacy Policy | Employment Opportunities | Contact Us
Copyright © 2005 Futuremusic® All Rights Reserved.





As the name correctly implies, Experiments In Sound, is Futuremusic's latest endeavor for pushing electronic music technology to the very edge of what's possible. Experiments In Sound grew out of Futuremusic's avant-garde events in New York City that featured DJ's taking mixing and live sound reinforcement to a whole new level with the very latest gear and software. Be the first to hear about Experiments In Sound by joining Futuremusic Direct.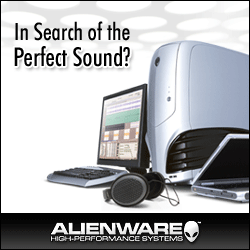 Part of Experiments In Sound, TestDrive will feature the lab results of our DJ Experiments so that everyone can get in on the action. Take the latest electronic music releases, mix vigorously with bleeding-edge DJ technology in a large beeker, and then cook the hell out of it! Be the first to hear about TestDrive by joining Futuremusic Direct.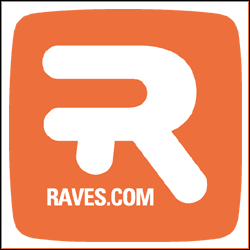 Futuremusic wants to thank everyone who participated in The Next Big Thing 2004. John Digweed, Beatport, Alienware, M-Audio, Native Instruments, IK Multimedia, PVDJ, PK Graphics, Ableton, The DubHouse, Propellerheads, Technics, FreeFloat, The Church, PCDJ and every DJ who entered this year's event thank you. From the sheer number of quality mixes, we can tell you that dance music is thriving in the United States. The amount of outstanding talent and creativity really blew us away, and every DJ who's putting their heart, mind and soul behind the music is a winner. John Digweed has made his decision and the winner is...
News Archives



Digihear? Stories: January 2005
Digihear? Stories: December 2004
Digihear? Stories: November 2004
Digihear? Stories: October 2004
Digihear? Stories: September 2004
Digihear? Stories: August 2004
Digihear? Stories: July 2004
Digihear? Stories: June 2004