CD Spotlight




Suphala, along with an impressive array of collaborators including Norah Jones, Veron Reid and the very talented violinist Mazz Swift, wrote and produced all of the tracks on The Now. Suphala, a tabla goddess, artist, composer, and producer who's debut is a modern, otherworldly, sensual, cinematic, high-tech, and timeless. LISTEN!


Digital Spotlight



Soaring melodies fuel a music time machine launching the listener to the top of a world yet discovered. Reminiscent of the early works of Sasha and BT, My Piano's uplifting melody, combined with a funky, asymmetrical bass line creates a progressive, feel-good vibe on the floor while providing a memorable hook to take home until you next adventure in club land. LISTEN!


Vinyl Spotlight




Killer Progressive Tribal House from Spain's BeatFreak Recordings. Dark Iberican beast, dense pulsing basslines, it doesn't get much better than this Black Magic! LISTEN!




May 16, 2005
../ DJ Hardware Technology Eclipsing Software
Music Trends May 2005
The DJ hardware industry appears to be about 9 to 18 months ahead of the software offerings and this has prevented digital DJing from exploding into wide-scale adoption.

The MusicMisse show at Frankfurt confirmed that the music hardware industry is far ahead of the software concerns in providing cutting-edge technology to mixologists around the globe. Two new significant launches by Allen & Heath and Mawzer (see pictures below) detailed how the hardware manufacturers' long term horizon is much more far-sighted then the leading software developers who have just attempted to duplicate the physical mixing experience instead of taking the model the next level.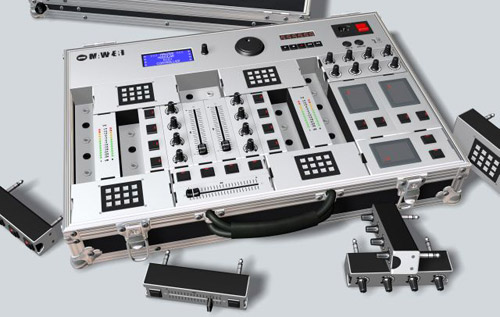 The Mawzer lets you customize the controller to suit your style via Lego-like plug-in modules

Even with Ableton's Live music production software, which several high-profile mixers have adapted to their particular style via Evolution's controllers or their own custom creations, the DJ software offerings have come up wanting in several very basic areas. And to be honest, Ableton Live is not all that live when it comes to DJing. Visiosonic's PCDJ, who had an early market lead, squandered the opportunity by releasing buggy new versions that lacked quality control and investing in a controller that merely duplicated the lackluster dual CD deck interface.


Sasha DJing with Ableton Live and his own custom Maven Controller at Crobar

When Native Instruments made the announcement that they were entering the market, many assumed that they would level the competition in one swift blow. While their Traktor software did quickly rise to the top, it wasn't because of the features or reliability. The software was hampered by an uninspired graphical user interface (GUI), weak effects, poor playback, reliability issues, and a host of other missteps. The same company that brought us the ground-breaking Reaktor, had failed to come up big in the DJ realm. However, NI's marketing muscle and brand awareness enabled it to make a high profile deal with Stanton to allow Traktor to become the computer brains behind FinalScratch. FinalScratch's pioneering time-coded records and ScratchAmp interface, perfectly translated the mechanics of analog DJing into the digital world. In other words, it made DJing digital music files fun, creative and very in the moment.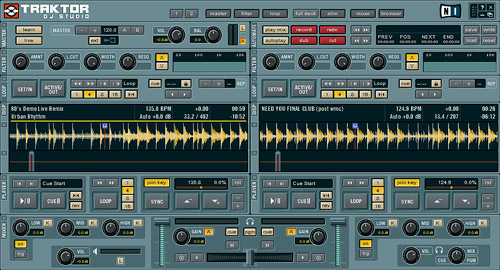 NI's Traktor interface - Am I supposed to be DJing or flying a F-16 Fighter Jet?

Serato, a small concern out of New Zealand, followed up FinalScratch with their own model, except they didn't outsource the software. Serato developed the software in-house, and they gave it a lot of thought. The big difference is that they placed the running waveforms in the GUI to look like the dividing yellow lines on a highway, so that you could see the waveforms right next to each other, and thus mix visually. Everyone else was showcasing each source's waveforms, but side by side. By placing the waveforms next to each other, a DJ could not only utilize his/her ears, but also could view how the songs transients lined up visually.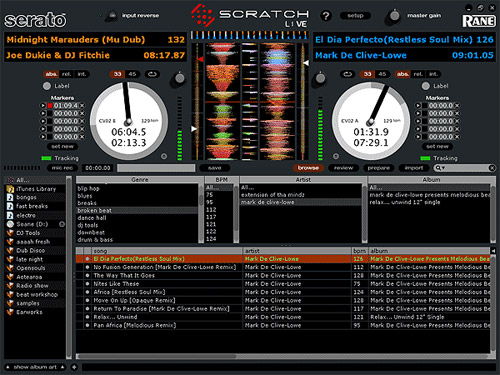 The Serato interface. Beat-driven effects please...

Other DJ software followed suit. VirtualDJ from France placed the two different waveforms on top of each other, each depicted by two different colors, and stacked the two track's transients for an exciting new visual metaphor. VirtualDJ's open source philosophy has also enabled enthusiasts to develop their own GUIs via downloadable "skins," as well as effect plug-ins. This has resulted in a fervent community and VirtualDJ taking market share from other products, most notably PCDJ.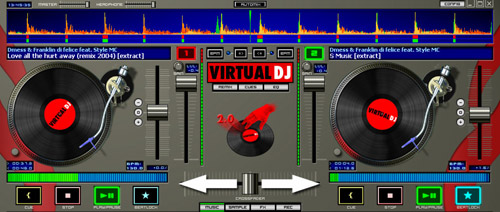 The Virtual DJ default interface. Hokey yes, but the merged waveforms rock!

However, none of these software products have created a new paradigm for mixing. None of them can mix more than two sources, the effects are downright lame, and DJing on a computer is just not that engaging. Yes, you can achieve incredible results easily, but it's still boring. Most mixers rather develop a mix in Live or ProTools, then in any of the dedicated DJ software since you can get very precise with the transitions, and utilize a wealth of sophisticated effects.
Some companies have tried to develop dedicated controllers to make using the computer software fun and exciting. The best product right now is the EKS XP10 controller. It's a USB controller with a Pioneer CDJ-1000-like wheel and several additional buttons. The product comes bundled with its own Bison DJ software, but its still in Beta and very immature. However, you can use the XP10 with VirtualDJ and this is the best combo at the time of this writing. Each XP10 is a dedicated sound card with a high-output RCA stereo connection. By plugging in two XP10s into a DJ mixer, the user has a great solution for tactile mixing. Several hip-hop DJs have adopted this approach because the XP10's can be used for basic scratching. It still isn't instantaneous like vinyl, but if they can reduce the latency even further, it can be an effective portable solution.
Allen & Heath demonstrated the Xone:3D at Frankfurt which is half DJ mixer and half software controller. The prototype was controlling Ableton's Live program and piqued the interest of many DJs sashaying through the exhibit (the unit was developed with Richie Hawtin who lent his expertise to the CNTL:92, a mixer with MIDI training wheels). Many were quite surprised at a product of this nature coming from the analogy Allen & Heath camp.


The Xone:3D Prototype at MusicMisse

Mawzer, a new company from Germany, debuted an inspired approach to a DJ/MIDI controller which allowed the user to completely customize the physical interface via separate modules that plug into a master board. Futuremusic has been following the FaderFox micromoduls - which are only available in Europe and have a similar approach - but Mawzer has taken the concept a step further.
The takeaway from this is that the DJ software market is very much up to grabs. Without one killer app to inspire DJs to move over to the digital realm in droves, anyone can come in and take the industry by storm. In the next 12 months, the market is going to see some substantial new products and we'll outline a few of them here.
Native Instruments should have version 3 of their Traktor software out by Christmas. Hopefully, they've learned from their past mistakes and will address several key deficits to make a serious impression on the industry. Version 3 should see at least four sources available with better sampling "pads", stacked waveforms, and hopefully much, much better effects. Native has been incorporating 5.1 surround sound features in their last couple of updates and hopefully this will make it into version 3. A dedicated hardware controller should be available in 2006 which could make using Traktor a seamless and entertaining experience.
Serato's Scratch Live will probably be updated by the end of the year. This sleeper product out of the Rane camp could move the industry decidedly forward with more innovations, effects and even tighter control. An all-in-one mixer/controller solution from Rane's hardware division would make a lot of sense and broaden the Serato's reach. This seems likely. Rane recently released the one unit rack mount MP-4, a new unit that nicely integrates analog and digital mixing into a single DJ rig, demonstrating that they're already thinking about a comprehensive solution. In addition, Serato has been a big hit for Rane and it make sense that they would focus on this profit center with more ancillary products.



Rane's MP-4 rack module - Front and Back

Pioneer could also stun the industry with an updated CDJ-1000. If it was up to us, the CDJ-1000 Mark III would have a USB/Firewire port that would allow the deck to not only play CDs, but also control several of the software solutions mentioned. As the industry-standard CD "turntable" with an incredible club install base, the new CDJ could help digital DJs easily incorporate their laptops without having to go through the elaborate setup process that Serato and FinalSratch require.
However, the real money is on Ableton. With updates to Live coming fast and furiously (every 9 months or so), Live 5 could surprise everyone by incorporating significant mixing tools to make the product much more DJ friendly. Stacked waveforms, an updated DJ-oriented GUI that would showcase all mixing attributes on one screen (including effects), the ability to needle-drop on the fly, 5.1 surround sound options, and advanced beat-oriented processing specifically designed for mixing would make this product a category killer. With its substancial remix and production muscle, Ableton Live could also own the DJ software vertical by making the learning curve to a DJ interested in dipping their toe into production, worth the investment. Sasha, a high-profile DJ who has gone entirely over to digital mixing via Live, has pretty much lifted the stigma of using a laptop to mix opening the club doors for DJs who are both new to the digital game, as well as those who have been on the computer mixing bandwagon for some time.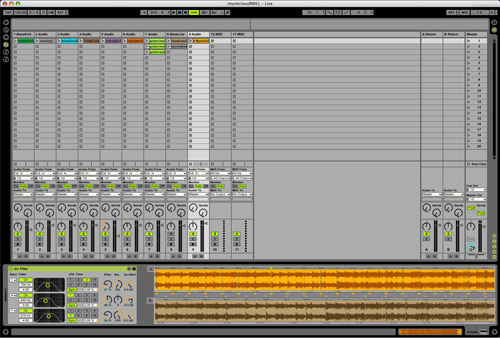 Current Ableton Live 4.1 Interface with our proposed additions of better DJ effects and stacked waveforms for Live 5.




Close-up of the stacked waveforms with transient arrows and the ability to instantaneously play from any point in the song.

The DJ hardware industry appears to be about 9 to 18 months ahead of the software offerings and this has prevented digital DJing from exploding into wide-scale adoption. Very few of the software concerns are thinking out of the two turntables and a mixer paradigm causing DJs to sit back and wait before jumping into the fray. Beyond the close hardware/software collaborations of FinalScratch2 and Serato Live, there is a real lack of quality software to match up with the new wave of hardware controllers. The coming year will be quite exciting as the software leaders debut new versions, and a few entities come out of the woodwork to challenge for the title.
The Future: Rocky! Rocky! Rocky!

Advertise on Futuremusic.com! | Privacy Policy | Employment Opportunities | Contact Us
Copyright © 2005 Futuremusic® All Rights Reserved.



Trends Counter-Point
If DJ software is so far behind DJ hardware, then how come Sasha developed his own hardware controller to work with Ableton Live?
Good question. There are two valid reasons...
First off, he has the resources to do so. There are many viable MIDI controller solutions for Live including hardware from M-Audio, Evolution, FaderFox, etc. which work just as well as Sasha's Maven for the average DJ. According to Sasha, his decision to build his own controller came about from using Ableton's Live to produce his recent Involver CD. Using Live to both remix his own tracks and then mix the songs within one program opened his eyes up to the possibility of using the software for his DJ sets. At first, he played his DJ sets using an Evolution UC-33 controller and a M-Audio Firewire 410 external sound card. However, he found that the combo came up wanting in terms of how he wanted to mix. So when you're making 5 figures to DJ, you can spend a few bucks to develop your own. If I was a hardware manufacturer, there's no doubt that I would certainly try and woo Sasha to a R&D position in my company. The fit and finish on his Maven is first rate.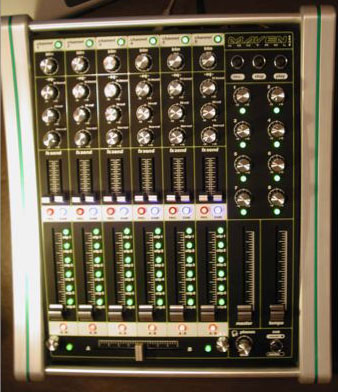 Close-up of Sasha's Maven controller for Live

The second reason is that Live 4.1 is not perfectly suited for DJing. It certainly can be used to DJ, but there are many aspects of mixing that are missing from the program. By developing a custom controller and changing the physical aspects of how he mixed, Sasha was able to migrate into the digital realm on his own terms. Ask him what Ableton can do to make Live 5 more suitable for mixing, and you're in for a lengthy conversation.
Sasha is currently working on a new version of his Maven controller. Based on his experience with the first prototype, he's incorporating several new ideas to take his mixing even further. The Special Edition of Sasha's Involver is out now!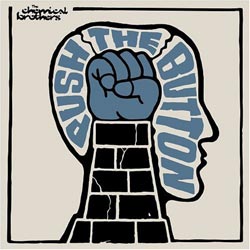 As the name correctly implies, Experiments In Sound, is Futuremusic's latest endeavor for pushing electronic music technology to the very edge of what's possible. Experiments In Sound grew out of Futuremusic's avant-garde events in New York City that featured DJ's taking mixing and live sound reinforcement to a whole new level with the very latest gear and software.
Now Experiments In Sound has become The Ultimate Mix Contest...
After the tremendous success of our groundbreaking The Next Big Thing DJ Contest, Futuremusic has decided to once again create a new paradigm...
Learn more about Experiments In Sound!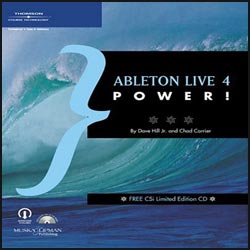 Futuremusic wants to thank everyone who participated in The Next Big Thing 2004. John Digweed, Beatport, Alienware, M-Audio, Native Instruments, IK Multimedia, PVDJ, PK Graphics, Ableton, The DubHouse, Propellerheads, Technics, FreeFloat, The Church, PCDJ and every DJ who entered this year's event thank you. From the sheer number of quality mixes, we can tell you that dance music is thriving in the United States. The amount of outstanding talent and creativity really blew us away, and every DJ who's putting their heart, mind and soul behind the music is a winner. John Digweed has made his decision and the winner is...
Think you got skills?? Then start practicing! The Next Big Thing 2005 will kick off at the end of the summer!!
News Archives



Digihear? Stories: April 2005
Digihear? Stories: March 2005
Digihear? Stories: February 2005
Digihear? Stories: January 2005
Digihear? Stories: December 2004
Digihear? Stories: November 2004
Digihear? Stories: October 2004
Digihear? Stories: September 2004
Digihear? Stories: August 2004
Digihear? Stories: July 2004
Digihear? Stories: June 2004