CD Spotlight




ARTiFACT: Proof of existence in an evolving world. An ode to preservation and change. The 20 songs on ARTiFACT reflect a songwriting style that approaches composition through what can best be described as sound sculpture, providing a perfect balance to STS9's unique approach to live performance and improvisation with the hooks and melodies of traditional song structures. LISTEN!


Digital Spotlight



Soaring melodies fuel a music time machine launching the listener to the top of a world yet discovered. Reminiscent of the early works of Sasha and BT, My Piano's uplifting melody, combined with a funky, asymmetrical bass line creates a progressive, feel-good vibe on the floor while providing a memorable hook to take home until you next adventure in club land. LISTEN!


Vinyl Spotlight




Killer Progressive Tribal House from Spain's BeatFreak Recordings. Dark Iberican beast, dense pulsing basslines, it doesn't get much better than this Black Magic! LISTEN!




January 11, 2005
../ Apple Introduces New Flash iPods
Updated January 24, 2005
Apple solidified its dominance in the portable digital music player market by introducing a new flash memory iPod in 512 MB and 1 Gig memory configurations. The new model, called the iPod Shuffle for the way it can play a set list, is about the size of a pack of gum and weighs less than an ounce.
The 512 MB iPod Shuffle costs $99 dollars and holds about 120 songs, the 1 Gig comes in at $149 and holds approximately 240 songs. Both price points snuggly fit into the lower end of the iPod line, and undercut it's competitors in the Flash memory music player market - something quite uncharacteristic for the normally premium-priced Apple brand.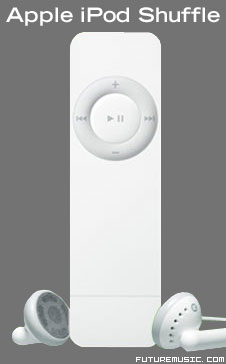 Apple saved production costs by not including a LCD screen, which is common on most Flash players. The small screens are included to inform the user what song is playing, or to tee up a particular song or playlist. Instead, in their infinite marketing wisdom, Apple decided to use the concept of the "Shuffle" feature as the main selling point. Instead of just listening to the same songs in the same order, Apple feels that the listener should shuffle and listen to a new mix every time. Apple promotes the concept with a new feature on iTunes called "Autofill" that downloads exactly the right amount of music to the Shuffle without the painstaking process of drag 'n' dropping one song at a time. However, the user can manually pick what music they want and also play the songs in a particular order if they so desire.
The iPod Shuffle comes with a neck lanyard and a pair of headphones. Additional accessories like a dedicated charger and an arm-band are $29 extra. Ouch. The units can be charged via the USB port, so the charger is not mandatory, but it would be useful if you decided to take the Shuffle on a trip that doesn't include your computer. Battery life is said to be 12 hours, but is rumored to be more in the 15 hour range. After being lambasted for exaggerated battery life claims in the past, Apple probably understated the life span to pleasantly surprise instead of disappoint buyers.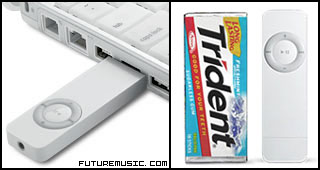 Many critics site the lack of a screen as a major drawback of the unit. However, we don't feel that this will be much of an issue to the buying public. First off, Flash memory digital music players are often used by individuals who exercise. How many times does one refer to the screen when under strenuous activity? Not often. Second, the unit is equipped with basic playback controls, so if you don't like the current song being played, you can easily fast forward without having to look at the unit. Third, the screens on many Flash memory players are extremely small anyway. Having to strain your eyes to see the information and wait for the song to slowly scroll its way across the screen isn't that rewarding. Finally, the screens are often cheaply made, and thus a source of problems. Eliminating the info screen not only saves money, but also saves customer service issues.
Update:
We got our hands on an early release 1 Gig iPod Shuffle and found the sound quality to be excellent. The unit came beautifully packaged in a distinctive green color and included a set of headphones and a lanyard. Setup was extraordinarily simple and 190 songs from our collection were loaded in about 20 minutes via the AutoFill feature. We have to agree with Apple, shuffling from one song to another was fun and yielded some unexpected playlists. The one thing that everyone agreed upon was the on/off button in the back was hard to operate. It has a very smooth surface making it difficult to slide into the desired position. The next generation device will definitely be upgraded to include a grooved switch for easy operation because Apple is going to be inundated with complaints. The other item, which the Shuffle needs desperately, is a way to "bookmark" a song that is currently playing. There were countless times I was enjoying a song from the Futuremusic collection that I was unfamiliar with. If I had a way to bookmark the song so that next time I plugged the Shuffle into iTunes I could familiarize myself with the new discoveries, then the Shuffle concept would blossom into a truly rewarding experience. Without a LCD screen to tell you what song is playing or a bookmark system, I was left wanting after every iPod Shuffle interaction. This doesn't seem like a hard thing to achieve with a software update, and would be a huge boost to the Shuffle concept.
The Future: Another huge hit for Apple. Perfectly priced. Large storage options. Easy to use. You know it's going to work (unlike many of the other Flash memory players on the market). Fun and fashionable. Established brand name. The iPod Shuffle will certainly be a category killer.

Advertise on Futuremusic.com! | Privacy Policy | Employment Opportunities | Contact Us
Copyright © 2004 Futuremusic® All Rights Reserved.





As the name correctly implies, Experiments In Sound, is Futuremusic's latest endeavor for pushing electronic music technology to the very edge of what's possible. Experiments In Sound grew out of Futuremusic's avant-garde events in New York City that featured DJ's taking mixing and live sound reinforcement to a whole new level with the very latest gear and software. Be the first to hear about Experiments In Sound by joining Futuremusic Direct.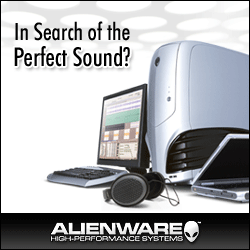 Part of Experiments In Sound, TestDrive will feature the lab results of our DJ Experiments so that everyone can get in on the action. Take the latest electronic music releases, mix vigorously with bleeding-edge DJ technology in a large beeker, and then cook the hell out of it! Be the first to hear about TestDrive by joining Futuremusic Direct.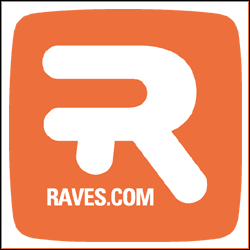 Futuremusic wants to thank everyone who participated in The Next Big Thing 2004. John Digweed, Beatport, Alienware, M-Audio, Native Instruments, IK Multimedia, PVDJ, PK Graphics, Ableton, The DubHouse, Propellerheads, Technics, FreeFloat, The Church, PCDJ and every DJ who entered this year's event thank you. From the sheer number of quality mixes, we can tell you that dance music is thriving in the United States. The amount of outstanding talent and creativity really blew us away, and every DJ who's putting their heart, mind and soul behind the music is a winner. John Digweed has made his decision and the winner is...
News Archives



Digihear? Stories: December 2004
Digihear? Stories: November 2004
Digihear? Stories: October 2004
Digihear? Stories: September 2004
Digihear? Stories: August 2004
Digihear? Stories: July 2004
Digihear? Stories: June 2004