CD Spotlight




ARTiFACT: Proof of existence in an evolving world. An ode to preservation and change. The 20 songs on ARTiFACT reflect a songwriting style that approaches composition through what can best be described as sound sculpture, providing a perfect balance to STS9's unique approach to live performance and improvisation with the hooks and melodies of traditional song structures. LISTEN!


Digital Spotlight



Soaring melodies fuel a music time machine launching the listener to the top of a world yet discovered. Reminiscent of the early works of Sasha and BT, My Piano's uplifting melody, combined with a funky, asymmetrical bass line creates a progressive, feel-good vibe on the floor while providing a memorable hook to take home until you next adventure in club land. LISTEN!


Vinyl Spotlight




Killer Progressive Tribal House from Spain's BeatFreak Recordings. Dark Iberican beast, dense pulsing basslines, it doesn't get much better than this Black Magic! LISTEN!




January 26, 2005
../ Beatport Launches Version 2.0
Beatport officially launched Version 2.0 of their best-in-class electronic music online store. The second generation of their service includes many significant improvements to the user interface, added navigation options, and a major upgrade to the embedded audio player.

Corresponding with 2.0 and in association with their new partner Native Instruments, Beatport will offer a free software audio player based on Traktor, Native Instruments computer based DJ solution. The Traktor Beatport Player allows users to play back and mix all of their digital audio files as well as organize and catalog their collection into playlists and libraries. Additionally, the software supports playback of DJ mix files, which recreate a pre-recorded DJ performance from a set of regular audio files.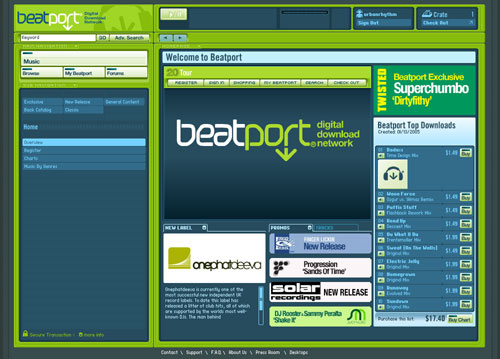 "We are continually striving to evolve and improve our content and service. Beatport 2.0 represents a complete make over of the Beatport user shopping experience. As evidenced by our new site and our partnerships with the industry leading companies like Native Instruments, Beatport has significantly raised the standard by offering the most relevant, integrated, hassle-free, online solution for DJs and consumers looking to purchase up-front club music." stated Jonas Tempel, CEO of Beatport and a fine DJ himself.
Other new features include: Added support for video, ringtones, DJ mix files, and 320 kpbs bit rate MP3s, a user customizable section allowing subscription to label or artist releases and syndication of specific music to third party web sites. The most noticeable change is to the interface. Version 2.0 has a more horizontal graphical user interface making navigation more intuitive. However, due to an all Flash interface the system still could use some refinement. Browser navigation is rendered useless, and the back/forward buttons on the Flash interface are small and easily missed. The hype area on the homepage doesn't leave much room for individual label/track promotion, and there appears to be a large area of dead space on the left hand side. In addition, my crate, which had several gems that I mined from the Beatport library of music, has unfortunately vanished. These issues are minor and pale in comparison to the overall improvement to the interface and user experience.
The Future: One small step for man, one giant leap for mankind. Version 2.0 increases the already sizable lead that Beatport has on its competitors in the dance music download space. The mature service once again raises the high watermark for an industry that is still in the shallow end of the feature pool. Apple's programmers could certainly learn a few things by giving Beatport 2.0 a thorough evaluation.

Advertise on Futuremusic.com! | Privacy Policy | Employment Opportunities | Contact Us
Copyright © 2004 Futuremusic® All Rights Reserved.





As the name correctly implies, Experiments In Sound, is Futuremusic's latest endeavor for pushing electronic music technology to the very edge of what's possible. Experiments In Sound grew out of Futuremusic's avant-garde events in New York City that featured DJ's taking mixing and live sound reinforcement to a whole new level with the very latest gear and software. Be the first to hear about Experiments In Sound by joining Futuremusic Direct.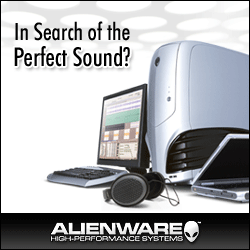 Part of Experiments In Sound, TestDrive will feature the lab results of our DJ Experiments so that everyone can get in on the action. Take the latest electronic music releases, mix vigorously with bleeding-edge DJ technology in a large beeker, and then cook the hell out of it! Be the first to hear about TestDrive by joining Futuremusic Direct.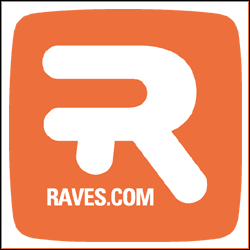 Futuremusic wants to thank everyone who participated in The Next Big Thing 2004. John Digweed, Beatport, Alienware, M-Audio, Native Instruments, IK Multimedia, PVDJ, PK Graphics, Ableton, The DubHouse, Propellerheads, Technics, FreeFloat, The Church, PCDJ and every DJ who entered this year's event thank you. From the sheer number of quality mixes, we can tell you that dance music is thriving in the United States. The amount of outstanding talent and creativity really blew us away, and every DJ who's putting their heart, mind and soul behind the music is a winner. John Digweed has made his decision and the winner is...
News Archives



Digihear? Stories: December 2004
Digihear? Stories: November 2004
Digihear? Stories: October 2004
Digihear? Stories: September 2004
Digihear? Stories: August 2004
Digihear? Stories: July 2004
Digihear? Stories: June 2004