Cheers:


+Simple, Yet Powerful
+Versatile
+Sound Quality
+Automation
+Oscillator Matrix
+Excellent Tutorials
+Envelope/Loop/Sync


Jeers:


-Presets Are So So
-Can't Be Used As A Stand Alone Synth
-No Built-in Effects
-Need 8 Arms For Live Performance


Off The Record:


Although Operator feels like an afterthought when looking at the entire Live package, it is a solid soft synth that works well in the Live environment. While some may say it's a square peg jammed into a round hole, it does have the look and feel of a native Ableton product and is definitely worth a look.




June 15, 2005
../ TestDrive: Ableton Operator
When Ableton released an update to their latest version of Live 4, their outstanding and versatile audio loop workstation, no one thought it was going to include a new, built-in soft synth. Instead of getting a few additional choice effects, or even an innovative way to manipulate MIDI mathematically like many thought, we got Operator, a FM-based virtual synth. We scratched our heads and wondered if one of Live's engineers secretly developed this compelling synth in his garage and then sprung it on CEO Gerhard Behles when he was just about to bite into a nice piece of Kugel. Behles may have thought it was so great that Ableton should not only add it to the update, but also charge $149. Tweak some bugs, offer a new built in synth, and also line the coffers between major releases? Sounds good to me...but does it sound good to us? Let's find out.

The first thing about Operator is that you should not be fooled by the very simple interface. With what looks like only a handful of controls, the first impression is that there's not much to it. However, the program is a real rabbit hole that can only be truly discovered if you delve deep into the program. Some musicians may only want to tee up the presets to get rolling quickly, but they're missing Operator's real power, the oscillator routing section. More specifically, it is Operator's ability to matrix any of the four oscillators so that they can generate audio or modulate each other in any order. So you can have Osc 1, generate a Saw Waveform and then have Osc 2 modulate the filter, while Osc 3 loops the result back into Osc 1, and so on.






Ableton's Operator Interface

FM synthesis is the basis for Operator, but it also has subtractive attributes and full on filtering for a wide variety of sonic possibilities. I was able to achieve rich ambient textures, solid, thick sounding percussion, and chalkboard scratching leads once I had a full grasp of the routing matrix. Another nice feature is the ability to create rhythmic pads by incorporating the envelope/loop/sync feature into the matrix. Meaty, throbbing basses, great for Drum'n'Bass and other heavy genres, were easy to generate once I began using the LFO and filters for aural movement. I wasn't thrilled with many of the presets, but they are a great foundation for constructing your own unique sounds.
Speaking of the presets, the one great thing about Live's fervent user base is that there are tons of great sounds that you can download from the Net. Hit up Ableton's user forums for the latest patches and you'll be pleasantly surprised what many users have developed. You can even post some of your own creations. But be advised, if the group doesn't dig on your sounds, you'll hear about it. For users new to synthesis, I would definitely recommend the tutorials that come with the program. They are well thought out and will have you rocking Operator in short order.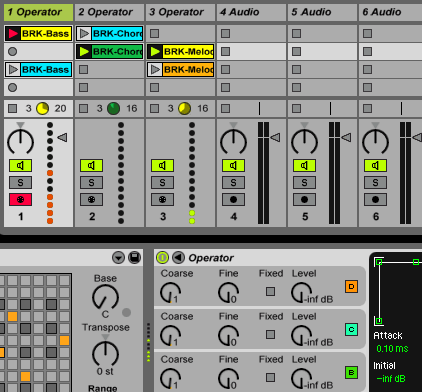 Operator Integrated in Live's Session Edit View

With all these fabulous parameters to tweak, you would think you need to have multiple arms like Shiva, but that's where Ableton's Everything Must Be Automated, philosophy really shines. Almost all parameter moves can be recorded and this allows for detailed sonic manipulation. This powerful facet makes Operator really shine and show be taken advantage of whenever possible.
Operator does have some downsides. It cannot be used as a stand alone application or launched without Live if you wanted to use it with other sequencers or digital audio workstations, like Apple's Logic or Steinberg's Cubase. The presets didn't really do it for me and I found some of them to sound thin and uninspired.
The Future: : I'd like to see the next version of Operator be able to route effects into the Oscillator matrix. Even some basic meat'n'potatoes effects built into the program could significantly add to the sonic palette, and allow even greater sound design possibilities.
By Greg Geller

Advertise on Futuremusic.com! | Privacy Policy | Employment Opportunities | Contact Us
Copyright © 2005 Futuremusic® All Rights Reserved.






Ableton's Operator receives an 80% PowerRating - We recommend the Live 4.1 update with Operator for anyone interested in taking their audio loop workstation skills to the next level with one of the best music production packages on the market.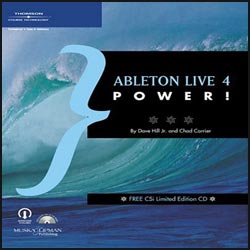 As the name correctly implies, Experiments In Sound, is Futuremusic's latest endeavor for pushing electronic music technology to the very edge of what's possible. Experiments In Sound grew out of Futuremusic's avant-garde events in New York City that featured DJ's taking mixing and live sound reinforcement to a whole new level with the very latest gear and software.
Now Experiments In Sound has become The Ultimate Mix Contest...
After the tremendous success of our groundbreaking The Next Big Thing DJ Contest, Futuremusic has decided to once again create a new paradigm...
Learn more about Experiments In Sound!

Futuremusic wants to thank everyone who participated in The Next Big Thing 2004. John Digweed, Beatport, Alienware, M-Audio, Native Instruments, IK Multimedia, PVDJ, PK Graphics, Ableton, The DubHouse, Propellerheads, Technics, FreeFloat, The Church, PCDJ and every DJ who entered this year's event thank you. From the sheer number of quality mixes, we can tell you that dance music is thriving in the United States. The amount of outstanding talent and creativity really blew us away, and every DJ who's putting their heart, mind and soul behind the music is a winner. John Digweed has made his decision and the winner is...
Think you got skills?? Then start practicing! The Next Big Thing 2005 will kick off at the end of the summer!!
News Archives



Digihear? Stories: May 2005
Digihear? Stories: April 2005
Digihear? Stories: March 2005
Digihear? Stories: February 2005
Digihear? Stories: January 2005
Digihear? Stories: December 2004
Digihear? Stories: November 2004
Digihear? Stories: October 2004
Digihear? Stories: September 2004
Digihear? Stories: August 2004
Digihear? Stories: July 2004
Digihear? Stories: June 2004