CD Spotlight



Take the self-indulgent and anything but self-conscious attitude of the 70's, not to mention the decade's melodic songwriting considerations and the unafraid-to-go-falsetto sexiness, mix with a snippet of today's electronic dance qualities and there you go. LISTEN!


Digital Spotlight



"Your Light" available from Beatport.com is the top download of the week. It has a groovy, progressive vibe with a haunting female vocal and a grinding bassline. LISTEN!


Vinyl Spotlight



La Noche Remixes by Coca & Villa Featuring Pepe Rubio, Remixes By D-Formation, Julian Poker. Another standout release from BeatFreak with heavy percussion and a Euro feel without the trash. LISTEN!







October 28, 2004
../ The Native Instruments, Beatport, Stanton Partnership
Is This The Future Of Digital Distribution?
Native Instruments, Beatport.com and Stanton recently announced, in a very vague press release, that they were partnering. The release had no specifics on exactly what they were collaborating on or any details as to how it would affect their product lines. However, their strategy became clearer at AES in San Francisco with the release of Beatport 2.0, the next generation of the well-executed Beatport online dance music store.

At the beginning of the year, we raved about Beatport and felt that it was two generations ahead of its competitors in the dance music space. With the release of Beatport 2.0 and the recent partnership with Native Instruments and Stanton, Beatport is now so far ahead of their competition, that it's doubtful that anyone will catch them. In addition, the amount of control the consumer has over the actual mixing, now gives the major online stores and jukeboxes, like iTunes and MusicMatch, a serious wake up call. This is the future of digital distribution.

In one year, Beatport has put together a sophisticated vertical in a genre of music that the major labels don't even take seriously. However, don't pigeonhole Beatport for just electronic music. Now that they've created a robust engine, their technology can easily translate to DJ-friendly hip-hop, and then to other more commercial genres of music.

Beatport is built with Macromedia's Flash, on top of a MySQL database utilizing XML. The interface is clean, distinctive and, for the most part, user friendly. They've signed up hundreds of independent dance music labels, and have a wide selection of the many micro genres that make up electronic music. Native Instruments, a German concern, is the company behind the suite of Traktor DJ products. Their latest release is the Traktor DJ Player, a free DJ program based on the Traktor platform that you can download from their site. The big feature is the Automix Mode which allows the TRAKTOR DJ Player to seamlessly mix all of a user's favorite tracks using selectable cross fade times and modes. However, the user can manually drive the built-in crossfader, just like a hardware DJ mixer, if they prefer to do the mixing themselves. Now here's the kicker: You will be able to purchase Beatport's library of music within the Traktor DJ Player interface. A slam dunk for Beatport.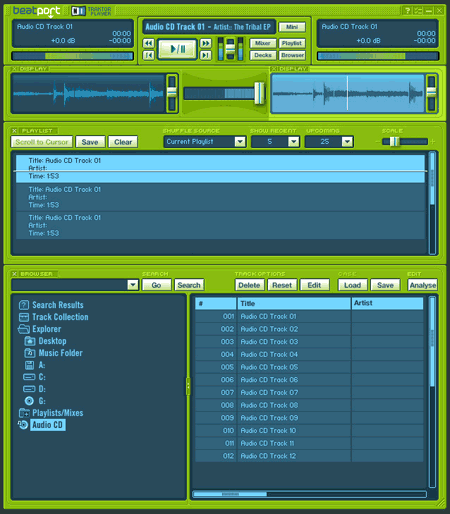 The Beatport/Native Instruments Traktor DJ Player

Stanton, not to be left in the dark, has just announced FinalScratch 2. Stanton and Native Instruments have been working together for a while, since the Traktor DJ engine powers the computer digital music file management system in FinalScratch. Now add the ability to purchase Beatport's library into the FinalScratch system and the fog clears from that initial press release. We'll devote a full-on review to FinalScratch 2 in Experiments In Sound, but here's a quick overview. The all new ScratchAmp2 is a Firewire sound card with 24 bit / 96 kHz sound quality, two RCA inputs, a 1/4" and XLR Mic input, two outputs, headphone jack with volume and MIDI in/out. The MIDI implementation is a particularly nice feature, not only to allow additional MIDI based controllers to manipulate the audio controls on the software, but also to send out MIDI to instruments, drum machines and video rigs.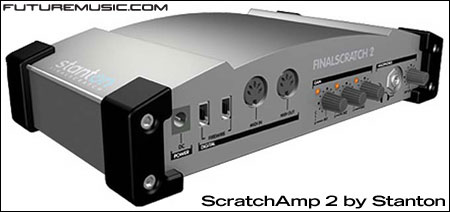 Stanton's ScratchAmp2 Sound Card for FinalScratch 2

This dynamic partnership has big implications for the digital distribution of music. Beatport and its partners have really showcased how flexible digital music companies can be and how quickly complete vertical systems can be put in place. In fact, this entire deal and new version of Beatport was put together in a matter of months. It will also open the eyes of companies like Apple. Consumers want better control of their music and the new Traktor DJ Player is a great start.
The Future: The partnership is a huge win for Beatport. In fact, the full weight of this relationship, when it fully blooms, will give many of the other online dance music stores great pause. This is a category destroyer. Now it's up to Native Instruments to really improve the Traktor line which could use some serious enhancements. Hopefully with this new momentum, they'll rise to the occasion; Traktor Studio 3 is due in the next few months.


Advertise on Futuremusic.com! | Privacy Policy | Employment Opportunities | Contact Us
Copyright © 2004 Futuremusic® All Rights Reserved.






As the name correctly implies, Experiments In Sound, is Futuremusic's latest endeavor for pushing electronic music technology to the very edge of what's possible. Experiments In Sound grew out of Futuremusic's avant-garde events in New York City that featured DJ's taking mixing and live sound reinforcement to a whole new level with the very latest gear and software. Be the first to hear about Experiments In Sound by joining Futuremusic Direct.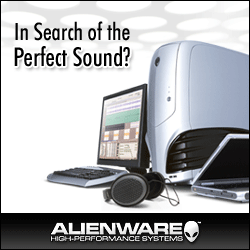 Part of Experiments In Sound, TestDrive will feature the lab results of our DJ Experiments so that everyone can get in on the action. Take the latest electronic music releases, mix vigorously with bleeding-edge DJ technology in a large beeker, and then cook the hell out of it! Be the first to hear about TestDrive by joining Futuremusic Direct.

Futuremusic wants to thank everyone who participated in The Next Big Thing 2004. John Digweed, Beatport, Alienware, M-Audio, Native Instruments, IK Multimedia, PVDJ, PK Graphics, Ableton, The DubHouse, Propellerheads, Technics, FreeFloat, The Church, PCDJ and every DJ who entered this year's event thank you. From the sheer number of quality mixes, we can tell you that dance music is thriving in the United States. The amount of outstanding talent and creativity really blew us away, and every DJ who's putting their heart, mind and soul behind the music is a winner. John Digweed has made his decision and the winner is...
News Archives



Digihear? Stories: September 2004
Digihear? Stories: August 2004
Digihear? Stories: July 2004
Digihear? Stories: June 2004