CD Spotlight



Take the self-indulgent and anything but self-conscious attitude of the 70's, not to mention the decade's melodic songwriting considerations and the unafraid-to-go-falsetto sexiness, mix with a snippet of today's electronic dance qualities and there you go. LISTEN!


Digital Spotlight



"Your Light" available from Beatport.com is the top download of the week. It has a groovy, progressive vibe with a haunting female vocal and a grinding bassline. LISTEN!


Vinyl Spotlight



La Noche Remixes by Coca & Villa Featuring Pepe Rubio, Remixes By D-Formation, Julian Poker. Another standout release from BeatFreak with heavy percussion and a Euro feel without the trash. LISTEN!






October 15, 2004
../ 2004 Billboard Dance Music Summit
The Billboard Dance Music Summit was held this past week in New York City and featured some of the biggest names in the business. Although, it doesn't have the biggest turnout of the yearly dance industry conferences, it's easily the most intelligent and sophisticated gathering, and offers a plethora of valuable insights and observations.

Spearheaded by Michael Paoletta, Dance Music Editor of Billboard magazine, the conference covered a wide array of pertinent industry topics from digital distribution to the Art of the Deal. Due to the fact that the panelists were hand selected by Paoletta, each industry veteran was able to meaningfully contribute to the discussions and present a wealth of knowledge based on their specific experience.

The Art of the Deal: Endorsements and Branding was one of the standout panels at the conference. Moderated by a good-natured Tamara Conniff, Co-Executive Editor at Billboard, the panel showcased a wide variety of panelists from artists to savvy marketing directors. Advertising, licensing and endorsement deals are becoming an extremely important way for dance music artists and labels to supplement their revenues. With traditional revenue streams contracting due to downloading, bootlegging, store closures and other circumstances, its very important for artists to explore every facet of this substantial avenue.

Each panelist had their own specific view of this burgeoning industry, but Gary "Housewives" Salzman from BIG Management provided the comic relief that gave the entire panel a nice levity. Salzman, mentioned, reiterated, and then stressed again and again, the importance of the "housewives" market. Salzman felt this market was "not getting enough attention" and that they were being "under serviced" by dance labels. While, this writer strongly disagrees with this advice since we already have way too many cheesy dance music compilations that damage our industry by misrepresenting the substantial and innovative dance music being created by our artists, Salzman's comments are correct in the fact that there are many market niches that haven't been tapped.

DJ Rap commented that appearing in a commercial for Twix candy bars presented her to a whole new market that may have been unfamiliar with her work. However, the most important comments came from Dana Dynamite, Entertainment Marketing Manager for the UK's Ben Sherman brand, and Patrick Doddy, Senior Director of Marketing at Armani Exchange. These two forward-thinking companies are constantly on the lookout for new music and artists who can represent their brands to the vibrant underground market. It's not just the more established artists like Rap who are being solicited by these companies, they're actively looking for new material.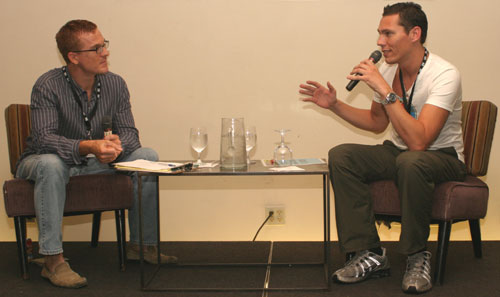 Michael Paoletta (left) and DJ Tiesto (right) at the Billboard Dance Summit

A theme that emerged from most of the panels, and this is nothing new, was dance music needs identifiable personalities to represent the genre. Many in the industry feel that "faces" are the only way to gain a bigger audience and wider appreciation. Eddie O'Loughlin, president of Next Plateau Entertainment, summed it up best when he stated, "what dance music needs is more real performers with real stories" at the Master Class panel.
Although dance music hasn't been as faceless as many contend, O'Loughlin, and others like him, often harp on the lack of personalities as an excuse for the disinterest of mainstream America. However, the real hurdles for wide acceptance are 1) DJing is visually boring and 2) the dance music being showcased on the radio is the absolute worst representation of what the genre has to offer. Without a more compelling and memorable total sensory experience at clubs and events (such as Roni Size), the DJ as artist will continue to remain a non-personality. As far as NRG Radio goes (what they like to call Dance Music oriented stations), it's going to be an arduous task to expand the listening audience when you consistently hear the same 15 unctuous songs, such as Jordan James' nauseating cover of Bon Jovi's "Living On A Prayer," every hour. What radio needs is more adventurous shows like Jason Bentley's Metropolis on KCRW that feature a wide range of advanced, yet accessible, electronic music.
The biggest highlights of the Billboard Dance Summit came in the form of Michael Paoletta's one-on-one interviews with Paul Van Dyk and Tiesto, two of the top five DJ's in the world. Paoletta stated to Futuremusic that interviewing artists "is one of my favorite parts of the job" since he "loves to get inside an artist's head to see what makes then uniquely creative." Paul Van Dyk, currently on tour with Rock The Vote, flew in especially for the evening. Paoletta asked a variety of intriguing questions to Van Dyk that focused on his East German background and his current political involvement in the upcoming US election. Van Dyk, without openly committing to a particular candidate, stressed the importance of voting. "It's important that the youth get involved with politics so they can help shape their own future." Described as one of the more "peaceful" dance music artists, many in the audience were astounded when Van Dyk hinted that he may collaborate with Linkin Park in the near future.
Tiesto, voted the number one DJ in the world by DJ Magazine two years running, is a full fledged rock star in Europe. In fact, he's so big that the organizers of the Olympic opening ceremony tapped Tiesto to compose music specifically for the event and perform the first ever Olympic DJ set. "Having 4.6 billion people listen to my music at the Olympics was an incredible experience for me," Tiesto reflected. "This has been one of the best year's for me professionally." Tiesto also revealed that his recent DVD release, "Tiesto In Concert," is going to be a series that incorporates many different styles of music including live instrumentation. In addition, he just acquired a Pioneer DVJ-X1 DVD DJ deck and will be "getting into VJing" in the near future. When asked by Paoletta about what he likes best about DJing, Tiesto stated that it was the ability to "control the crowd."
However, Tiesto was forced to watch from the side lines as Sasha, Paul Van Dyk, DJ Rap, and others played Crobar New York for the Billboard/NARAS event. Not usually known for a blow out club night with the industry's best talent, this year's Billboard Dance Music Summit showcase was incredible. Outstanding sets from Sasha and Van Dyk got everyone in the packed main room grooving. The vibe was so great that even Tiesto commented on how much he "really wanted to play." Hopefully next year they'll be able to squeeze him into the lineup.
The Future: Only once the DJ incorporates visual elements into his/her performance, and dance music radio begins to challenge the listener with a variety of provocative music, will the genre move forward as a widely accepted art form in the US.


Advertise on Futuremusic.com! | Privacy Policy | Employment Opportunities | Contact Us
Copyright © 2004 Futuremusic® All Rights Reserved.






As the name correctly implies, Experiments In Sound, is Futuremusic's latest endeavor for pushing electronic music technology to the very edge of what's possible. Experiments In Sound grew out of Futuremusic's avant-garde events in New York City that featured DJ's taking mixing and live sound reinforcement to a whole new level with the very latest gear and software. Be the first to hear about Experiments In Sound by joining Futuremusic Direct.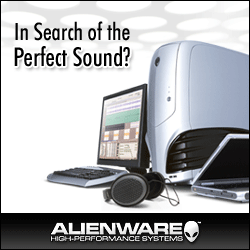 Part of Experiments In Sound, TestDrive will feature the lab results of our DJ Experiments so that everyone can get in on the action. Take the latest electronic music releases, mix vigorously with bleeding-edge DJ technology in a large beeker, and then cook the hell out of it! Be the first to hear about TestDrive by joining Futuremusic Direct.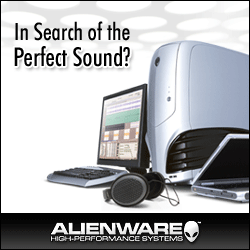 Futuremusic wants to thank everyone who participated in The Next Big Thing 2004. John Digweed, Beatport, Alienware, M-Audio, Native Instruments, IK Multimedia, PVDJ, PK Graphics, Ableton, The DubHouse, Propellerheads, Technics, FreeFloat, The Church, PCDJ and every DJ who entered this year's event thank you. From the sheer number of quality mixes, we can tell you that dance music is thriving in the United States. The amount of outstanding talent and creativity really blew us away, and every DJ who's putting their heart, mind and soul behind the music is a winner. John Digweed has made his decision and the winner is...
News Archives



Digihear? Stories: September 2004
Digihear? Stories: August 2004
Digihear? Stories: July 2004
Digihear? Stories: June 2004