CD Spotlight



Take the self-indulgent and anything but self-conscious attitude of the 70's, not to mention the decade's melodic songwriting considerations and the unafraid-to-go-falsetto sexiness, mix with a snippet of today's electronic dance qualities and there you go. LISTEN!


Digital Spotlight



"Your Light" available from Beatport.com is the top download of the week. It has a groovy, progressive vibe with a haunting female vocal and a grinding bassline. LISTEN!


Vinyl Spotlight



La Noche Remixes by Coca & Villa Featuring Pepe Rubio, Remixes By D-Formation, Julian Poker. Another standout release from BeatFreak with heavy percussion and a Euro feel without the trash. LISTEN!







October 10, 2004
../ Micro Soft Launch
Microsoft has quietly launched its new Download Music store on MSN without the multimedia fanfare that usually accompanies such debuts. MSN Music states that it has one million tracks for download and will sell album only downloads from such artists as Madonna, Radiohead and Metallica, something Apple's iTunes has refused to do.

First the Facts: MSN Music has the same pricing structure as industry leader iTunes, 99 cents for a download and $9.99 for most albums. Personal usage rights are also similar, song library transfers to five computers, seven burns per playlist, and an unlimited number of portable devices can be supported by one library.

MSN Music will support over seventy different MP3 players that support Windows Music Audio, but not the iPod. The iPod has over 50% of the portable digital music player market and iTunes has a dominating 70% of the digital download market. However, Microsoft's Windows operating system is on 95% of personal computers which all have a copy of Windows Media Player already installed. And this is exactly how Microsoft will slowly strangle its competition.

Now the Strategy: Instead of using MSN Music as a loss-leader for a portable music player like Apple does with iTunes and the iPod, Microsoft will use its MSN Music site as a persuasive argument for customers to utilize the latest Windows Media Player technology. Again, Microsoft wants to "own" the online music store operating system and license the technology to the many online music stores. This strategy is revealed by the simple fact that the new version of Microsoft's Window's Media Player (WMP) will allow users to purchase from several different online stores including WalMart, MusicNow, Napster and Yahoo's MusicMatch, from inside the single WMP interface.

The new version of the Windows Media Player will also feature the Janus digital-rights-management technology that will enable online stores to offer portable subscription services. (see Napster A-Go-Go story above) Microsoft is banking on these new features to chop the mighty iTunes tree down over the coming year.

So why not come out with a splashy advertising campaign to signal the launch of MSN Music? Microsoft can certainly afford it. Well it makes sense if you look at MSN Music as an advertising vehicle for the Windows Media platform. Why advertise the advertisement?

The Future: Microsoft plays full contact ball and has a long history of making its competitors look sissy real fast. They know that the iPod can only be a media darling for so long, especially with portable video just around the corner. Microsoft is focusing all its engineering muscle on making Windows Media the multimedia operation system of choice. And with a plethora of manufacturers coming out with audio/video gadgets that run on Microsoft's Windows Media based Portable Media Center, they're once again, ready to deliver Apple, the death blow.





Advertise on Futuremusic.com! | Privacy Policy | Employment Opportunities | Contact Us
Copyright © 2004 Futuremusic® All Rights Reserved.






As the name correctly implies, Experiments In Sound, is Futuremusic's latest endeavor for pushing electronic music technology to the very edge of what's possible. Experiments In Sound grew out of Futuremusic's avant-garde events in New York City that featured DJ's taking mixing and live sound reinforcement to a whole new level with the very latest gear and software. Be the first to hear about Experiments In Sound by joining Futuremusic Direct.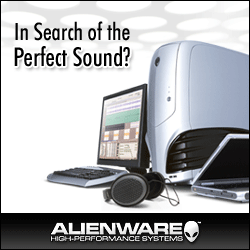 Part of Experiments In Sound, TestDrive will feature the lab results of our DJ Experiments so that everyone can get in on the action. Take the latest electronic music releases, mix vigorously with bleeding-edge DJ technology in a large beeker, and then cook the hell out of it! Be the first to hear about TestDrive by joining Futuremusic Direct.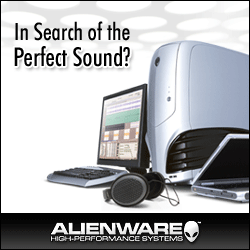 Futuremusic wants to thank everyone who participated in The Next Big Thing 2004. John Digweed, Beatport, Alienware, M-Audio, Native Instruments, IK Multimedia, PVDJ, PK Graphics, Ableton, The DubHouse, Propellerheads, Technics, FreeFloat, The Church, PCDJ and every DJ who entered this year's event thank you. From the sheer number of quality mixes, we can tell you that dance music is thriving in the United States. The amount of outstanding talent and creativity really blew us away, and every DJ who's putting their heart, mind and soul behind the music is a winner. John Digweed has made his decision and the winner is...
News Archives



Digihear? Stories: September 2004
Digihear? Stories: August 2004
Digihear? Stories: July 2004
Digihear? Stories: June 2004