CD Spotlight



Take the self-indulgent and anything but self-conscious attitude of the 70's, not to mention the decade's melodic songwriting considerations and the unafraid-to-go-falsetto sexiness, mix with a snippet of today's electronic dance qualities and there you go. LISTEN!


Digital Spotlight


"Your Light" available from Beatport.com is the top download of the week. It has a groovy, progressive vibe with a haunting female vocal and a grinding bassline. LISTEN!


Vinyl Spotlight



La Noche Remixes by Coca & Villa Featuring Pepe Rubio, Remixes By D-Formation, Julian Poker. Another standout release from BeatFreak with heavy percussion and a Euro feel without the trash. LISTEN!







October 2, 2004
../ Focusrite Buys Novation
Focusrite Audio has agreed to purchase Novation Electronic Music Systems, Ltd. effective immediately. As reported earlier in Digihear?, Ian Jannaway, Novation's Managing Director, had been shopping Novation for some time with little interest. Several US and Japanese suitors were initially courted, but Jannaway was unable to put a realistic value on the company that he grew out of a barn in the English country side.

Focusrite, also located in Buckinghamshire, ended up being the best exit strategy for Jannaway who will continue with the new subsidiary. "We have admired the Novation brand for some time and are delighted to have the opportunity to give our backing to the brand and to bring our business skills to the Novation business," stated Phil Dudderidge, Chairman of Focusrite. "Focusrite and Novation's customers are increasingly converging with the evolution of the digital music studio and the acquisition of Novation's great name and heritage combined with Focusrite's should promise some outstanding new products."

Novation must have been a steal for Focusrite. The two companies couldn't be farther apart in terms of product lines and Focusrite has built a solid tradition of quality whereas Novation's products, such as the DrumStation, have often been plagued with quality issues. In addition, expensive hardward synths, the bread and butter of the Novation line, have fallen upon hard times. However, Dudderidge may have seen an opportunity in Novation's software synths and MIDI controller keyboards after Digidesign snapped up M-Audio last month.

The Future: Ian Jannaway will probably not last too long at Focusrite. Building a company up from scratch with blood, sweat and tears just to watch someone else give it a lobotomy for profitability will be too much for Jannaway to bear. Focusrite will most likely dump the unprofitable hardware synth line and use the technology for processing and software emulations. They'll then initiate a strategy to extend Novation's MIDI controller line for the red hot project studio market.





Advertise on Futuremusic.com! | Privacy Policy | Employment Opportunities | Contact Us
Copyright © 2004 Futuremusic® All Rights Reserved.






As the name correctly implies, Experiments In Sound, is Futuremusic's latest endeavor for pushing electronic music technology to the very edge of what's possible. Experiments In Sound grew out of Futuremusic's avant-garde events in New York City that featured DJ's taking mixing and live sound reinforcement to a whole new level with the very latest gear and software. Be the first to hear about Experiments In Sound by joining Futuremusic Direct.
Part of Experiments In Sound, TestDrive will feature the lab results of our DJ Experiments so that everyone can get in on the action. Take the latest electronic music releases, mix vigorously with bleeding-edge DJ technology in a large beeker, and then cook the hell out of it! Be the first to hear about TestDrive by joining Futuremusic Direct.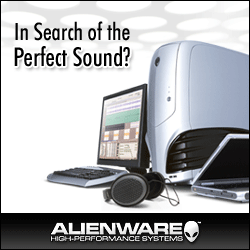 Futuremusic wants to thank everyone who participated in The Next Big Thing 2004. John Digweed, Beatport, Alienware, M-Audio, Native Instruments, IK Multimedia, PVDJ, PK Graphics, Ableton, The DubHouse, Propellerheads, Technics, FreeFloat, The Church, PCDJ and every DJ who entered this year's event thank you. From the sheer number of quality mixes, we can tell you that dance music is thriving in the United States. The amount of outstanding talent and creativity really blew us away, and every DJ who's putting their heart, mind and soul behind the music is a winner. John Digweed has made his decision and the winner is...
News Archives



Digihear? Stories: September 2004
Digihear? Stories: August 2004
Digihear? Stories: July 2004
Digihear? Stories: June 2004