CD Spotlight




Futuremusic's own Urban Rhythm, mixed this great selection of late-afternoon-sun dance tracks, that's perfect for channeling the patio vibe of St. Barth's. LISTEN!


Digital Spotlight



"Your Light" available from Beatport.com is the top download of the week. It has a groovy, progressive vibe with a haunting female vocal and a grinding bassline. LISTEN!


Vinyl Spotlight



La Noche Remixes by Coca & Villa Featuring Pepe Rubio, Remixes By D-Formation, Julian Poker. Another standout release from BeatFreak with heavy percussion and a Euro feel without the trash. LISTEN!







November 1, 2004
../ WMC 2005 Dates Spark Controversy
The organizers of the Winter Music Conference announced that the 20th Anniversary of the event will take place in Miami, Florida from March 22-26, 2005. However, Luis Puig, owner of Miami's uber-sized club Space, feels five days of amazing electronic music, incredible talent, and no sleep, is just not enough. Puig, in an open letter to Bill Kelly, the Winter Music Conference's head-honcho, wants to expand the event to nine days.

Puig's letter outlines seven reasons why the event's span should be expanded, but his opinion is best summed up by the opening statement, "too many attendees, not enough time." Puig feels five days are just not enough time to adequately accommodate the throngs of electronic music fans that flock to the event, and certainly not enough time to take in all the plethora of musical talent. In addition, he feels that the conference misses out in attracting Spring Breakers who generally hit the beaches of Florida the week before.

While no one can argue against more great music for a longer duration, frankly many of the past attendees that we polled replied, "five days is plenty for me, in fact, I often take a vacation after the conference, just to recover."

The Future: The WMC has simply taken on a life of its own. There are now so many ancillary events, shows, conferences, etc. that no one organization can simply dictate what's going to take place. If Luis Puig, or anyone else, wants to throw a huge dance music festival before or after the official dates, then nothing should stop them. Many industry veterans often come down earlier and stay later to accommodate their intense schedules of gigs, meetings, hook-ups and other mandatory business, so they're in South Beach already. Aside from attracting Spring Breakers, which the conference certainly does not need, it's hard to understand why Puig or anyone else needs to make the dates such a public issue.





Advertise on Futuremusic.com! | Privacy Policy | Employment Opportunities | Contact Us
Copyright © 2004 Futuremusic® All Rights Reserved.






As the name correctly implies, Experiments In Sound, is Futuremusic's latest endeavor for pushing electronic music technology to the very edge of what's possible. Experiments In Sound grew out of Futuremusic's avant-garde events in New York City that featured DJ's taking mixing and live sound reinforcement to a whole new level with the very latest gear and software. Be the first to hear about Experiments In Sound by joining Futuremusic Direct.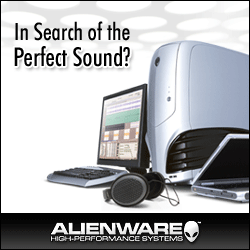 Part of Experiments In Sound, TestDrive will feature the lab results of our DJ Experiments so that everyone can get in on the action. Take the latest electronic music releases, mix vigorously with bleeding-edge DJ technology in a large beeker, and then cook the hell out of it! Be the first to hear about TestDrive by joining Futuremusic Direct.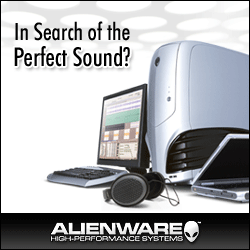 Futuremusic wants to thank everyone who participated in The Next Big Thing 2004. John Digweed, Beatport, Alienware, M-Audio, Native Instruments, IK Multimedia, PVDJ, PK Graphics, Ableton, The DubHouse, Propellerheads, Technics, FreeFloat, The Church, PCDJ and every DJ who entered this year's event thank you. From the sheer number of quality mixes, we can tell you that dance music is thriving in the United States. The amount of outstanding talent and creativity really blew us away, and every DJ who's putting their heart, mind and soul behind the music is a winner. John Digweed has made his decision and the winner is...
News Archives



Digihear? Stories: October 2004
Digihear? Stories: September 2004
Digihear? Stories: August 2004
Digihear? Stories: July 2004
Digihear? Stories: June 2004