CD Spotlight




A great selection of late-afternoon-sun dance tracks, that's perfect for channeling the patio vibe of St. Barth's. LISTEN!


Digital Spotlight



"Your Light" available from Beatport.com is the top download of the week. It has a groovy, progressive vibe with a haunting female vocal and a grinding bassline. LISTEN!


Vinyl Spotlight



La Noche Remixes by Coca & Villa Featuring Pepe Rubio, Remixes By D-Formation, Julian Poker. Another standout release from BeatFreak with heavy percussion and a Euro feel without the trash. LISTEN!





November 9, 2004
../ Apple Releases New iPods
Apple Computer, Inc. recently announced two new models of iPods that haven't produced the major buzz they were hoping would ignite sales for the holiday season.

The new iPod Photo comes in two incarnations, a 40 GB model for $499 and a 60 GB model for $599. Both models feature a new, full color, 220x176 resolution LCD screen with built-in backlighting. The iPod Photo also touts improved battery life with a claimed 15 hours of continuous music. Our tests have never achieved Apple's claimed battery life numbers, so your mileage will definitely vary.
The iPod U2 Special Edition is a little more inspiring visually since it comes in a sleek black case with a vivid red "Click Wheel." On the chrome back-side it has the etched autographs of all four band members and the U2 logo. The 20 GB $349 U2 iPod showcases how cool the iPod could be if it took the marketing lead of its baby sister, the iPod Mini, and came in some other colors besides diaper white.
The Future: The iPod Photo is not the direction that many devoted iPod users wanted the digital music player to move when forging ahead into the future. Showing off your iPhoto library on a screen the size of a postage stamp is just not that compelling, especially at $600 bucks. The iPod U2 may be the perfect companion for playing the new U2 album that was recently leaked on KaZaA last week.


Advertise on Futuremusic.com! | Privacy Policy | Employment Opportunities | Contact Us
Copyright © 2004 Futuremusic® All Rights Reserved.





As the name correctly implies, Experiments In Sound, is Futuremusic's latest endeavor for pushing electronic music technology to the very edge of what's possible. Experiments In Sound grew out of Futuremusic's avant-garde events in New York City that featured DJ's taking mixing and live sound reinforcement to a whole new level with the very latest gear and software. Be the first to hear about Experiments In Sound by joining Futuremusic Direct.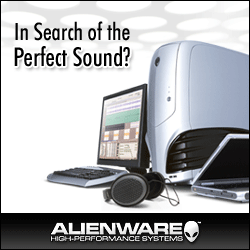 Part of Experiments In Sound, TestDrive will feature the lab results of our DJ Experiments so that everyone can get in on the action. Take the latest electronic music releases, mix vigorously with bleeding-edge DJ technology in a large beeker, and then cook the hell out of it! Be the first to hear about TestDrive by joining Futuremusic Direct.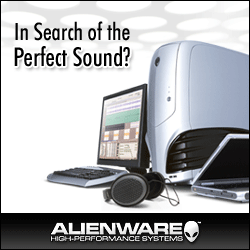 Futuremusic wants to thank everyone who participated in The Next Big Thing 2004. John Digweed, Beatport, Alienware, M-Audio, Native Instruments, IK Multimedia, PVDJ, PK Graphics, Ableton, The DubHouse, Propellerheads, Technics, FreeFloat, The Church, PCDJ and every DJ who entered this year's event thank you. From the sheer number of quality mixes, we can tell you that dance music is thriving in the United States. The amount of outstanding talent and creativity really blew us away, and every DJ who's putting their heart, mind and soul behind the music is a winner. John Digweed has made his decision and the winner is...
News Archives



Digihear? Stories: October 2004
Digihear? Stories: September 2004
Digihear? Stories: August 2004
Digihear? Stories: July 2004
Digihear? Stories: June 2004