CD Spotlight




A great selection of late-afternoon-sun dance tracks, that's perfect for channeling the patio vibe of St. Barth's. LISTEN!


Digital Spotlight



"Your Light" available from Beatport.com is the top download of the week. It has a groovy, progressive vibe with a haunting female vocal and a grinding bassline. LISTEN!


Vinyl Spotlight



La Noche Remixes by Coca & Villa Featuring Pepe Rubio, Remixes By D-Formation, Julian Poker. Another standout release from BeatFreak with heavy percussion and a Euro feel without the trash. LISTEN!





November 12, 2004
../ Yamaha To Give Apple MLan Technology?
When Yamaha announced their MLan technology that seamlessly transmit multi-channel audio, MIDI and networking data through an IEEE 1394 (FireWire) connection, it was heralded as not only a break through, but a long time coming. However, long before the last piece of confetti from the fanfare hit the ground, the once bright future of MLan quickly dimmed.

Licensing and integration of the protocol was painfully slow and only a couple of manufacturers including Apogee, Kurzweil, PreSonus and Otari utilized it in their products. However, Yamaha has sunk a great deal of money into the standard and they don't want to left holding the proverbial bag.

In the meantime, Roland develops their own Audio/MIDI/FireWire protocol and demonstrates it to Apple. Apple's engineers get really enthused about its implementation and are about to recommend it as the standard when Yamaha declares "Hey! What about MLan??!"

The rumor mill is now echoing with the reverberations that Yamaha is trying to strike an 11th hour deal with Apple that will make MLan the sanctioned standard. How far is Yamaha willing to go? Some say they'll do just about anything for Apple to make MLan the standard.

The Future: No matter what protocol Apple knights, the consumer still has to be interested in integrating it into their studios. MLan has failed to ignite licensing agreements and thus implementation. And Yamaha has indicated that it's getting out of the workstation business altogether. Roland, on the other hand, knows how to stick with a protocol no matter how lame or how disinterested the public is (V-Link). So who's going to be the winner? Apple, of course. They'll squeeze both Roland and Yamaha to get the best possible deal for themselves, and not necessarily the end user.





Advertise on Futuremusic.com! | Privacy Policy | Employment Opportunities | Contact Us
Copyright © 2004 Futuremusic® All Rights Reserved.





As the name correctly implies, Experiments In Sound, is Futuremusic's latest endeavor for pushing electronic music technology to the very edge of what's possible. Experiments In Sound grew out of Futuremusic's avant-garde events in New York City that featured DJ's taking mixing and live sound reinforcement to a whole new level with the very latest gear and software. Be the first to hear about Experiments In Sound by joining Futuremusic Direct.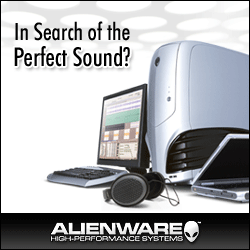 Part of Experiments In Sound, TestDrive will feature the lab results of our DJ Experiments so that everyone can get in on the action. Take the latest electronic music releases, mix vigorously with bleeding-edge DJ technology in a large beeker, and then cook the hell out of it! Be the first to hear about TestDrive by joining Futuremusic Direct.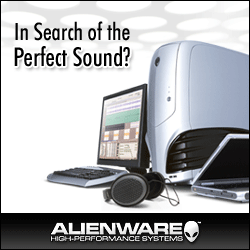 Futuremusic wants to thank everyone who participated in The Next Big Thing 2004. John Digweed, Beatport, Alienware, M-Audio, Native Instruments, IK Multimedia, PVDJ, PK Graphics, Ableton, The DubHouse, Propellerheads, Technics, FreeFloat, The Church, PCDJ and every DJ who entered this year's event thank you. From the sheer number of quality mixes, we can tell you that dance music is thriving in the United States. The amount of outstanding talent and creativity really blew us away, and every DJ who's putting their heart, mind and soul behind the music is a winner. John Digweed has made his decision and the winner is...
News Archives



Digihear? Stories: October 2004
Digihear? Stories: September 2004
Digihear? Stories: August 2004
Digihear? Stories: July 2004
Digihear? Stories: June 2004