CD Spotlight




ARTiFACT: Proof of existence in an evolving world. An ode to preservation and change. The 20 songs on ARTiFACT reflect a songwriting style that approaches composition through what can best be described as sound sculpture, providing a perfect balance to STS9's unique approach to live performance and improvisation with the hooks and melodies of traditional song structures. LISTEN!


Digital Spotlight



Soaring melodies fuel a music time machine launching the listener to the top of a world yet discovered. Reminiscent of the early works of Sasha and BT, My Piano's uplifting melody, combined with a funky, asymmetrical bass line creates a progressive, feel-good vibe on the floor while providing a memorable hook to take home until you next adventure in club land. LISTEN!


Vinyl Spotlight




Killer Progressive Tribal House from Spain's BeatFreak Recordings. Dark Iberican beast, dense pulsing basslines, it doesn't get much better than this Black Magic! LISTEN!




February 3, 2005
../ 2005 NAMM Report: Stanton
Stanton surprised everyone with a complete design overhaul of their entire line and corporate image. They solicited the help of design firm The Brewery (London, UK) to take their aesthetic into the future. Peter Phillips, Manager Partner, came up with a clean industrial look for the company. "We want Stanton to be perceived in a manner that reflects the cutting-edge nature of its new products," Phillips discloses. "DJs, musicians and producers who use Stanton gear are those who expect sophisticated technology combined with strength, reliability and ease of use."





Pablo La Rosa, Marketing Manager, elaborates, "Stanton had been building quality products on the inside-like our SST mixers and award-winning STR8-150 turntable-but this was not always reflected on the outside of the product. So we decided to make design our primary focus for our 2005 product line and we're very pleased at the response we have received thus far." Stanton's new logo now has the universal computer on/off switch as the letter "o" - an interesting choice. "We wanted to create a logo that reflects the excitement of the company's direction and recent product introductions and the passion the team feel for the brand and DJing. So we highlighted the word 'on' within the name Stanton, and turned the 'o' into the international '1/0' symbol for powering electronics devices to communicate Stanton's energy and that they are quite literally, switched on," Phillips reveals.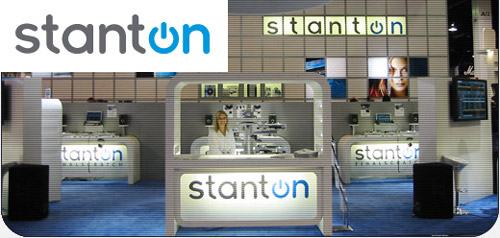 Stanton introduced three new mixers at the show, the RM.406, the RM.404 and the RM.402. "The RM Series represents the culmination of Stanton's decades of experience designing DJ mixers," says Henri Cohen, Stanton's Vice-President of Sales and Marketing. "The RM.406 is the choice for club and mobile DJs who want it all, while the RM.404 and RM.402 combine terrific features and great quality at affordable prices." The RM.406 is a 4-channel, rackmounted mixer that features Stanton's SST technology for pristine audio quality. Its extensive routing, including 10 line/CD inputs and 4 Phono inputs, can accommodate even the most complex DJ setups. The RM.406 provides three mic inputs (2 XLR and 1/4"), with 3-band EQ and a Talkover function, as well as FX Send and Return connectors. A minijack input allows easy connection of an iPod or similar portable HD player. The RM.406's stunning industrial design features touches like diffused LEDs, and its innovative Illumiknobs which use colored backlight to show knob position in dark environments. Each channel on the RM.406 hosts separate Gain and 3-band EQ with complete kills. A fully-assignable crossfader with curve control and Fader Start function complements its versatile Cue section, which features stereo/split function, cue pan and level control. A variety of outputs are provided, including Master (XLR balanced and 1/4"), Zone (1/4" balanced and RCA), Booth (RCA), Record (RCA) and Headphone (1/4" and 1/8"). Designed for today's music, the RM.406 features an XLR Subwoofer output with sweepable crossover (80Hz to 320Hz).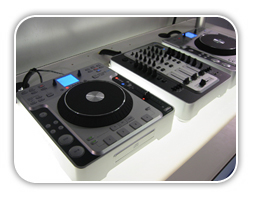 The new RM.404 is a 4-channel mixer with the same great audio quality and flexible features as the RM.406, minus its dedicated booth outputs and subwoofer output. It also offers two mic inputs instead the RM.406's three. Stanton's new RM.402 is a 4-channel mixer designed for mobile DJs. Employing SST audio technology for superb audio quality, the RM.402 raises the bar for affordable mixers, offering 3 Phono, 9 Line and 3 Mic inputs. A fully assignable crossfader with Fader Start function is included, as is gain control with clip LED on each channel. The RM.402's mic inputs feature 2-band EQ and Talkover function, and its dual 7-band master EQ with On/Off switch is perfect for mobile DJ needs. The RM.402 includes a balanced Master output, plus Zone and Booth outputs.
Stanton also unveiled their new T-Series turntables featuring the all-new, top of the line T.120 and T.120C, as well as the new T.80, T.60 and T.50. "The T.120 is the most beautiful and well-thought out turntable Stanton has ever produced," Pablo La Rosa, proudly stated. "It has the industry's strongest direct drive motor, along with the features that pro DJs have always wanted."

Each of the five new Stanton turntables offers specific features that appeal to different DJ applications and levels of experience. Designed for professional DJs, the T.120 (straight arm) and T.120C (curve arm) offer a strong direct drive motor with 4.5 Kgf-cm of torque. Features of the T.120 and T.120C include dual Start/Stop buttons and Reverse button, Start/Brake speed adjust controls, Motor Off feature, selectable pitch control with quartz lock, and more. The Stanton T.80 brings futuristic looks and the latest digital technology together in a world-class turntable with a powerful direct-drive motor. Several features of the T.80 are unique, like its built-in Key Lock that allows DJs to adjust the tempo of a record without affecting pitch. The turntable's S/PDIF digital output makes the T.80 great for archiving vinyl or for use with a digital mixer.
The T.60 is Stanton's most affordable direct drive turntable. It features a powerful motor, a straight tone arm ideal for scratching, plus two Start/Stop switches, a pitch control slider and removable target light. The T.50 is an entry-level turntable that offers excellent performance for its affordable price. The T.50 is a belt drive model that boasts professional features like a skip-resistant straight tone arm, two Start/Stop switches, a pitch control slider and removable target light.
But wait, there's more!
Stanton also announced the C.304 and C.303, two new tabletop CD players. "The C.304 and C.303 are excellent self-contained solutions for DJs who want to scratch discs like vinyl," says Henri Cohen. "They allow DJs all the creativity of turntables-along with effects, looping and sampling - to give even more creative license to serious DJs."
The Stanton C.304 is the company's flagship tabletop CD player. Its cutting-edge design is centered around a large, touch-sensitive jog wheel that provides the control DJs require for excellent turntablist performances. Eight high-quality DSP effects in the C.304 (Filter, Echo, Phase, Flanger, Transform, Pan, Scratch, Skid) with auto beat-sync allow for performance-oriented mixing, while adjustable pitch with Key Lock and Pitch Bend make smooth transitions easy. The C.304 has onboard sampling with four trigger buttons and cue memory. Its reliable, anti-shock playback, easy-to-read LCD display with visual marker for track position, and S/PDIF digital output works for a wide variety of DJ applications. Another new Stanton tabletop CD player, the C.303, offers many of the C.304's powerful features in a slightly scaled-back and affordable package. Designed as a "workhorse" CD player, it includes a large jog wheel, a 10-second anti-shock buffer, and digital features like Key Lock, seamless looping and four sample trigger buttons.
But That's Not All! If you act now, you can receive...
In addition, Stanton introduced two new models of professional rack-mountable dual CD players for DJs, the C.504 and C.503. "We can confidently call it the most advanced dual CD player ever made. With larger jogwheels for more natural scratching, playback of MP3 discs, ten seconds of sampling, and powerful creative controls, no other CD player for DJs comes close," Henri Cohen, Stanton's Vice-President of Sales & Marketing boasts.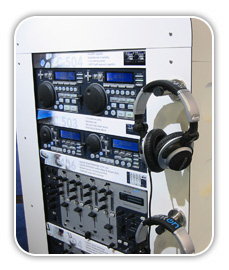 The new C.504 is Stanton's flagship dual CD player. It consists of a two-space CD player and a compact 3U rackmount controller with large jogwheels that provide turntable-style control. The CD player's features include seamless looping, reverse playback, 10 seconds of sampling per deck, and independent pitch and tempo control via Key Lock and Key Shift functions. Three hot start/cue points are offered for quick cueing and instant playback, and beat synced effects like filter, flange and delay are also integrated. A S/PDIF digital output is standard.
The new C.503 is a professional dual CD player designed for mobile and club DJs. It presents a more affordable solution for DJs who still require features like scratching, seamless looping, hot cue points, Key Lock (Master Tempo) and anti-shock memory. The C.503 offers an even smaller controller area than the C.504 (only two rackspaces) for compact installations. Even at its lower price point, the C.503 still provides anti-shock memory, independent pitch/tempo control, effects, and a digital output.
www.stantondj.com

>>> Next: Mackie
< NAMM 2005 Index >

Advertise on Futuremusic.com! | Privacy Policy | Employment Opportunities | Contact Us
Copyright © 2005 Futuremusic® All Rights Reserved.





As the name correctly implies, Experiments In Sound, is Futuremusic's latest endeavor for pushing electronic music technology to the very edge of what's possible. Experiments In Sound grew out of Futuremusic's avant-garde events in New York City that featured DJ's taking mixing and live sound reinforcement to a whole new level with the very latest gear and software. Be the first to hear about Experiments In Sound by joining Futuremusic Direct.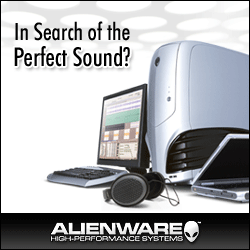 Part of Experiments In Sound, TestDrive will feature the lab results of our DJ Experiments so that everyone can get in on the action. Take the latest electronic music releases, mix vigorously with bleeding-edge DJ technology in a large beeker, and then cook the hell out of it! Be the first to hear about TestDrive by joining Futuremusic Direct.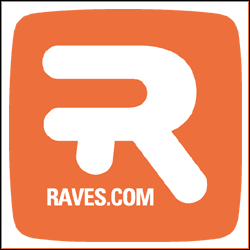 Futuremusic wants to thank everyone who participated in The Next Big Thing 2004. John Digweed, Beatport, Alienware, M-Audio, Native Instruments, IK Multimedia, PVDJ, PK Graphics, Ableton, The DubHouse, Propellerheads, Technics, FreeFloat, The Church, PCDJ and every DJ who entered this year's event thank you. From the sheer number of quality mixes, we can tell you that dance music is thriving in the United States. The amount of outstanding talent and creativity really blew us away, and every DJ who's putting their heart, mind and soul behind the music is a winner. John Digweed has made his decision and the winner is...
News Archives



Digihear? Stories: January 2005
Digihear? Stories: December 2004
Digihear? Stories: November 2004
Digihear? Stories: October 2004
Digihear? Stories: September 2004
Digihear? Stories: August 2004
Digihear? Stories: July 2004
Digihear? Stories: June 2004