CD Spotlight




ARTiFACT: Proof of existence in an evolving world. An ode to preservation and change. The 20 songs on ARTiFACT reflect a songwriting style that approaches composition through what can best be described as sound sculpture, providing a perfect balance to STS9's unique approach to live performance and improvisation with the hooks and melodies of traditional song structures. LISTEN!


Digital Spotlight



Soaring melodies fuel a music time machine launching the listener to the top of a world yet discovered. Reminiscent of the early works of Sasha and BT, My Piano's uplifting melody, combined with a funky, asymmetrical bass line creates a progressive, feel-good vibe on the floor while providing a memorable hook to take home until you next adventure in club land. LISTEN!


Vinyl Spotlight




Killer Progressive Tribal House from Spain's BeatFreak Recordings. Dark Iberican beast, dense pulsing basslines, it doesn't get much better than this Black Magic! LISTEN!




February 3, 2005
../ 2005 NAMM Report: Numark
Numark's R&D department has been busy. Really busy. The company announced a boatload of exciting new products for the DJ and VJ market including the new DVD01, a rack-mountable dual DVD player with ±50% pitch range, the AVM01 audio/video mixer, the HDCD1, a dual CD player with built-in hard drive, the CM200USB 5 channel club mixer with built-in USB ports, and the VM03 triple screen monitor.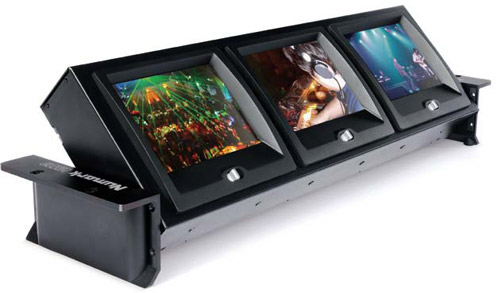 Even though Gemini trumped Numark by showcasing what the CDX should have been via a its CDT-05, an all-in-one, CD/Turntable mockup, Numark stepped up with an impressive line up of new gear. Numark attempted to catch up to Pioneer's lead in the VJ market with three new integrated products. The DVD01 is a dual DVD player that unites with the AVM01 audio/video mixer and the VM03 triple screen monitor to create a comprehensive DJ/VJ solution.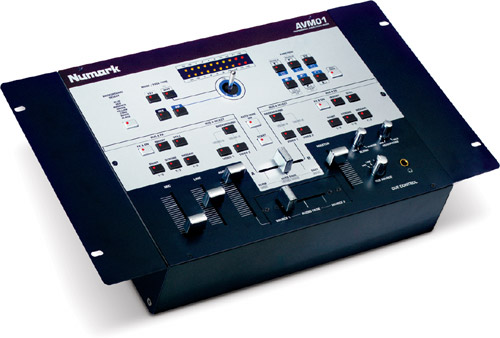 Two separate cross faders (audio and video) on the AVM01 allow the DJ to mix audio and video independent of one another. Video mixing options include fades, 96 wipe patterns, picture-in-picture (PIP), Chroma Key and Luma key capability for superimposing images, and multiple effects such as strobe, freeze, mosaic, paint, and invert. The mixer has 4 video channels with 2 composite and 2 S-video inputs/outputs, 2 composite main outputs, 4 video monitor outputs, 3 stereo audio inputs, 1 mic input with audio cueing section and 2 stereo main audio outputs.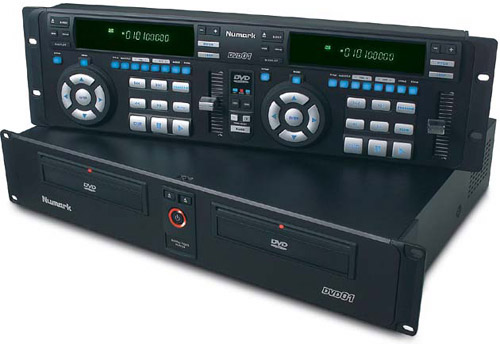 The DVD01 Dual DVD Player is not nearly as sophisticated as Pioneer's DVJ-X1, but the show floor model worked well and was nicely constructed. No one in the Numark booth was available to give us a demo, so we hacked our way through a few audio/video transitions and were quite pleased with the results. The three screen, six input VM03 Video Display looked excellent and the whole bracket tilts so that you can adjust the viewing angle of the 5 inch TFT-LCD screens to your needs.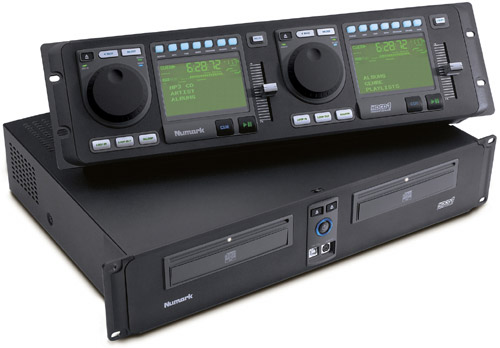 The HDCD1 is a rack-mountable dual CD player with built-in hard drive. The HDs capacity is unknown at this time, but Numark states that it should be capable of "storing an entire DJ collection." MP3s and uncompressed audio files can be ripped from CD, transferred from computer over USB, or recorded through analog inputs. Two large green LCD displays allow easy navigation and a keyboard port facilitates playlist organization. Song information is instantly available through the internal CDDBTM database, which is updateable via the net. Other advanced features include pitch control, instant start, relay start, and seamless looping. There are multiple play modes fully compatibility with CD-R Data (MP3) and CD-RW discs.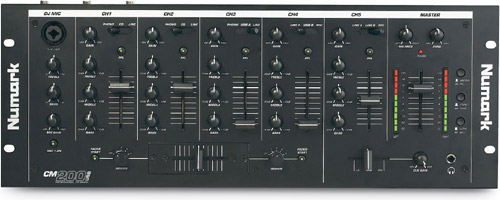 The CM200USB mixer includes two USB ports with built-in audio devices allowing the user to utilize their computer music files without the need of drivers or sound cards. Very cool. Two USB ports are included so you can take advantage of the multiple sound card feature found in most DJ mixing software - one for cueing and one for the main outs. The ports are full duplex so you can record your mix while playing back a track from your hard drive, if your computer can handle such a task. The five channel mixer includes PFL gain controls, and a 3-band EQ with Kill function. Also included is a user-replaceable, fully assignable crossfader that is conveniently set up to activate remote-start CD players via a special cable. Outputs include a master XLR output that offers panning and mono options.
www.numark.com

>>> Next: Dave Smith
< NAMM 2005 Index >

Advertise on Futuremusic.com! | Privacy Policy | Employment Opportunities | Contact Us
Copyright © 2005 Futuremusic® All Rights Reserved.





As the name correctly implies, Experiments In Sound, is Futuremusic's latest endeavor for pushing electronic music technology to the very edge of what's possible. Experiments In Sound grew out of Futuremusic's avant-garde events in New York City that featured DJ's taking mixing and live sound reinforcement to a whole new level with the very latest gear and software. Be the first to hear about Experiments In Sound by joining Futuremusic Direct.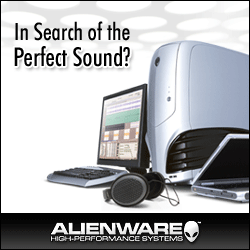 Part of Experiments In Sound, TestDrive will feature the lab results of our DJ Experiments so that everyone can get in on the action. Take the latest electronic music releases, mix vigorously with bleeding-edge DJ technology in a large beeker, and then cook the hell out of it! Be the first to hear about TestDrive by joining Futuremusic Direct.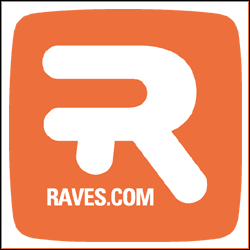 Futuremusic wants to thank everyone who participated in The Next Big Thing 2004. John Digweed, Beatport, Alienware, M-Audio, Native Instruments, IK Multimedia, PVDJ, PK Graphics, Ableton, The DubHouse, Propellerheads, Technics, FreeFloat, The Church, PCDJ and every DJ who entered this year's event thank you. From the sheer number of quality mixes, we can tell you that dance music is thriving in the United States. The amount of outstanding talent and creativity really blew us away, and every DJ who's putting their heart, mind and soul behind the music is a winner. John Digweed has made his decision and the winner is...
News Archives



Digihear? Stories: January 2005
Digihear? Stories: December 2004
Digihear? Stories: November 2004
Digihear? Stories: October 2004
Digihear? Stories: September 2004
Digihear? Stories: August 2004
Digihear? Stories: July 2004
Digihear? Stories: June 2004