CD Spotlight




Suphala, along with an impressive array of collaborators including Norah Jones, Veron Reid and the very talented violinist Mazz Swift, wrote and produced all of the tracks on The Now. Suphala, a tabla goddess, artist, composer, and producer who's debut is a modern, otherworldly, sensual, cinematic, high-tech, and timeless. LISTEN!


Digital Spotlight



Soaring melodies fuel a music time machine launching the listener to the top of a world yet discovered. Reminiscent of the early works of Sasha and BT, My Piano's uplifting melody, combined with a funky, asymmetrical bass line creates a progressive, feel-good vibe on the floor while providing a memorable hook to take home until you next adventure in club land. LISTEN!


Vinyl Spotlight




Killer Progressive Tribal House from Spain's BeatFreak Recordings. Dark Iberican beast, dense pulsing basslines, it doesn't get much better than this Black Magic! LISTEN!





May 26, 2005
../ Bias Set To Release Peak Pro 5
Peak Audio - The Next Generation

In 1996, Bias, Inc., the small music software company from Petaluma, California, launched Peak, a two-channel, audio editing program for the Apple Macintosh. Founded by the husband and wife team of Steve and Christine Berkley, the company immediately scored a hit with producers, engineers and home enthusiasts. Fast Forward, nine years later and the Berkley's are taking the wraps off their latest versions, Peak Pro 5 and Peak Pro XT 5.

Nine years can seem like a lifetime in the software business, especially for a small company like Bias. With the wide-scale and massive consolidation in the music instrument business, it's nice to see Bias continue to perform in this atmosphere. However, when questioned over speculation of a takeover by a conglomerate, or Apple Computer moving into the multimedia software market, the company's personnel become somewhat defensive. It's a sensitive time in the industry and its obvious that small companies like Bias are feeling the pressure.

"BIAS is an independent and focused company that can respond quickly to the evolving market," Christine Berkley, VP of Marketing states. "Our strengths come from our long history in the pro audio market, listening to our large and dedicated professional user base of sound editors, sound designers, and mastering engineers and we anticipate Peak Pro 5 will be well embraced by our market."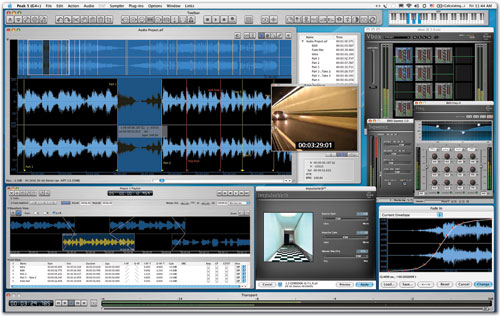 The new Bias Peak Pro 5 interface

The fifth generation of Peak, the industry leader of professional stereo recording and editing software on the Mac, has strengthened its foundation in its core assets, solidified the program's attributes in areas where it was coming up wanting, and branched into new niches that it felt the industry wasn't successfully addressing. A number of new features make Peak Pro 5 even more powerful than previous versions, especially in the areas of mastering and professional CD preparation..
Ms. Berkley is particularly excited about Peak's new mastering facilities. "Completely integrated within Peak is a brand-new sophisticated playlist that offers 100% replication-ready CD burning with ISRC entry, writing CD track indexes, PQ subcode editing, CD text, and graphic waveform view featuring optional staggered or linear views with optimized Quartz-2D drawing and transparency, allowing crossfades and tracks to be adjusted visually. The Playlist also features unlimited undo/redo, as well as support for triggered keyboard controls for auditioning and nudging, as well as bounce to multiple word lengths via POW-r dithering." Peak Pro 5 also offers other advanced features conforming to the full Redbook specification and owners of Peak 5 Pro will also soon be able to purchase an optional extension for DDP file export which makes BIAS the only company offering a cost effective non-hardware dependent DDP authoring solution for the Mac.
Sound designers will rejoice over several new features created for Video game development including advanced tape style scrubbing via Core Audio, one of the highest quality sample rate converters available, and support for Audio Units and VST virtual instruments. These instruments can then be used alongside AU and VST effects within Peak's versatile Vbox effects matrix allowing for dynamic sound equations. Game developers will also appreciate the addition of Snap to CD Frames, PS2, Xbox Units, or Custom Expression Evaluator in the Actions menu.
Peak Pro 5 also offers instrument playback via a dedicated keyboard window or from an external MIDI keyboard. Many of Peak's on-board DSP algorithms have been improved, including Change Pitch, Change Duration and Sample Rate Conversion, and new DSP items have been added such as Auto-Define Regions, Strip Silence and Envelope From Audio. Peak's popular convolution-based sampling reverb DSP function, ImpulseVerb, now offers gain control for both impulse response and source. The Batch File Processor now enables the preservation of file resolution and type. A new Recover Audio File command enables users to attempt to recover damaged files, and the New Region Split command makes the region creation process faster and easier than before. Peak Pro 5 now includes support for Unicode, allowing the use of non-English file names, and support for file names longer than 32 characters has been added. Peak Pro 5 enables recording of files up to 10 GB, and an improved sample rate conversion algorithm ensures higher quality audio playback than previous versions. A new waveform drawing algorithm enables more audio phase information to be seen in the audio waveform display, and SMPTE HD units have been added to the time display.
In addition to Peak Pro 5, BIAS has created a steroid bundle for the Peak audio professional, Peak Pro XT 5. The Peak Pro XT 5 bundle includes Peak Pro, the SuperFreq muliti-band paragraphic EQ, as well as the killer SoundSoap and SoundSoap Pro noise reduction plug-ins. But wait, there's more! Peak Pro XT will also contain 5 new, full-featured BIAS plug-ins, Repli-Q, Sqweez, PitchCraft, GateEx and Reveal.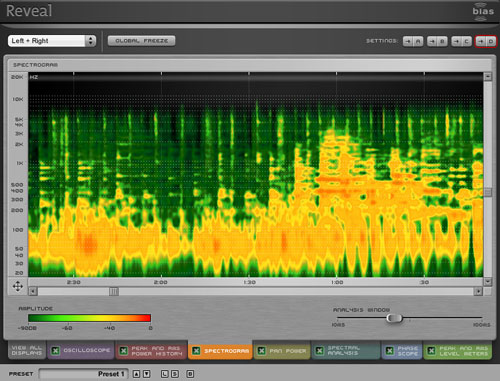 Bias Peak Pro XT 5's new Reveal plug-in

Repli-Q is an EQ matching plug-in that applies the EQ characteristics of one audio mix onto another. By "learning" the spectral characteristics of a source mix, analyzing the target mix, and offering engineers the ability to adjust the level of matching, Repli-Q is a powerful weapon in an engineer's tool box. Based upon the powerful compression plug-in Sqweez from Peak 4, Sqweez-3 and Sqweez-5 are multi-band linear-phase compressor/limiter plug-ins featuring graphic per-band viewing/editing of threshold and EQ. PitchCraft is a real-time pitch correction/transpostion plug-in that also offers the ability to manipulate the signal to achieve creative and innovative effects. GateEx is a professional quality, meat'n'potatoes Gate/Expander plug-in. Lastly, Reveal is a powerful set of audio analysis tools including an Oscilloscope, Peak and RMS Power History, Spectrogram, Pan Power, Spectral Analysis, Lissajous Phase Scope and Peak and RMS Level Meters. Nice!
The new version of Peak will be available sometime in the Summer of 2005. Peak Pro 5 will have a retail price of $599 US and Peak Pro XT 5 will be $1199 US.
The Future: With market consolidation and Apple bulldozing their way through the Mac software market through acquisitions, Bias, Inc. remains the "little company that could." Even with the pressure from other concerns entering their market niche, Bias, Inc. has kept their focus on making audio editing on the Mac the best possible experience available. Christine Berkley explains, "For years, Peak has been considered the industry standard and workhorse for dedicated sample editing on the Mac. Thousands of professionals in the recording, mastering, broadcast, multimedia and film, and digital video markets depend on Peak every day to get their work done."
By staying on target and not trying to be everything to everybody, Peak has flourished. So what's the future for Bias in an ever-changing and competitive industry?
"BIAS is currently an independent company with much to offer directly to our customers as well as third parties interested in augmenting their audio technology. We've had a number of successful OEM relationships over the years with leading companies in the pro audio and other related markets, and we expect that business to increase. While we don't offer public comments regarding specific business plans, there are many opportunities for us going forward and we will certainly continue to seek opportunities to grow and build on our strengths," Berkley reflects.

Advertise on Futuremusic.com! | Privacy Policy | Employment Opportunities | Contact Us
Copyright © 2005 Futuremusic® All Rights Reserved.





As the name correctly implies, Experiments In Sound, is Futuremusic's latest endeavor for pushing electronic music technology to the very edge of what's possible. Experiments In Sound grew out of Futuremusic's avant-garde events in New York City that featured DJ's taking mixing and live sound reinforcement to a whole new level with the very latest gear and software.

Now Experiments In Sound has become The Ultimate Mix Contest...

After the tremendous success of our groundbreaking The Next Big Thing DJ Contest, Futuremusic has decided to once again create a new paradigm...
Learn more about Experiments In Sound!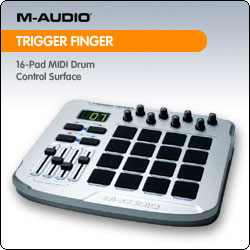 Futuremusic wants to thank everyone who participated in The Next Big Thing 2004. John Digweed, Beatport, Alienware, M-Audio, Native Instruments, IK Multimedia, PVDJ, PK Graphics, Ableton, The DubHouse, Propellerheads, Technics, FreeFloat, The Church, PCDJ and every DJ who entered this year's event thank you. From the sheer number of quality mixes, we can tell you that dance music is thriving in the United States. The amount of outstanding talent and creativity really blew us away, and every DJ who's putting their heart, mind and soul behind the music is a winner. John Digweed has made his decision and the winner is...
Think you got skills?? Then start practicing! The Next Big Thing 2005 will kick off at the end of the summer!!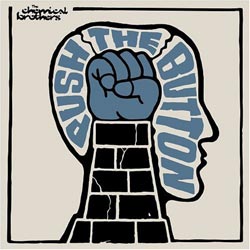 News Archives



Digihear? Stories: April 2005
Digihear? Stories: March 2005
Digihear? Stories: February 2005
Digihear? Stories: January 2005
Digihear? Stories: December 2004
Digihear? Stories: November 2004
Digihear? Stories: October 2004
Digihear? Stories: September 2004
Digihear? Stories: August 2004
Digihear? Stories: July 2004
Digihear? Stories: June 2004