CD Spotlight



Together with Fabric Records, John presents Fabric 20, featuring tracks and remixes by Pete Moss, Martin Solveig, Angel Alanis, Michael Mayer, DJ Rasoul, Josh Wink, Slam, and many more. LISTEN!


Digital Spotlight



Soaring melodies fuel a music time machine launching the listener to the top of a world yet discovered. Reminiscent of the early works of Sasha and BT, My Piano's uplifting melody, combined with a funky, asymmetrical bass line creates a progressive, feel-good vibe on the floor while providing a memorable hook to take home until you next adventure in club land. LISTEN!


Vinyl Spotlight




Killer Progressive Tribal House from Spain's BeatFreak Recordings. Dark Iberican beast, dense pulsing basslines, it doesn't get much better than this Black Magic! LISTEN!




March 16, 2005
../ The 2005 Winter Music Conference Preview
Futuremusic Breaks It Down

The Winter Music Conference (WMC) is celebrating its 20th Anniversary with a dazzling array of DJ performances, live PA's, seminars, award shows, festivals, gear demonstrations and technology exhibits. After a series of major blunders and blatant logistical problems the past few years, Bill Kelly and his organization have taken a look into the past to attempt the unthinkable: turn the ocean liner that the conference has become on a dime, and return to the roots of what made the conference so special in the early years.

The actual WMC Conference is no longer the epicenter of the almost week long event. Due to a major misstep in the 90s that shifted the focus of the event from the Fountainebleau Pool to another hotel and then the convention center, the WMC instantly lost its influence with the movers and shakers in the dance music industry who suddenly didn't have a central location to schmooze. At the FountaineBleau, you could be sitting at the pool eating a sloppy hamburger with Armand Van Helden on your left and Josh Wink on your right, and you were just some punter.

Not realizing that it had made a major gaffe, the conference plodded on with an arrogance that made many industry insiders realize that the conference needed them at this point a lot more than they needed the conference. In addition, poor organization, lifeless seminars and a lackluster exhibit hall opened the doors to competitors who quickly eclipsed the WMC's core offerings.

However, there would not be a vibrant March conference if it hadn't been for Bill Kelly and the rest of the WMC's organizers. Twenty years ago they had the foresight to see that the fledgling dance music industry needed a yearly soiree. Back then, they were faced with many naysayers who said that the idea of a dance music conference was an oxymoron. But Mr. Kelly proved them all wrong and grew the conference into a dynamic event that draws thousands of electronic music lovers from around the world.

This being the 20th Anniversary, Kelly and his team aim to steal the conference back. The entire conference is now located at one hotel, The Wyndham Miami Beach Resort. They've ramped up the poolside performances with brand name DJs, a DMC scratch off and other intriguing offerings. Last year's dusty exhibit hall was a graveyard. For 2005, they've opened the Exhibit Hall to anyone and attempted to woo gear manufacturers away from the Remix Hotel. But it appears to have only attracted several national Music Schools...which actually may prove to work out in the long run for the many newbies who schlep that butt-ugly record bag from seminar to seminar hoping to learn that one piece of valuable advice that will turn them into Tiesto.

This year the plethora of daily events is staggering.

Not only do you have the WMC with its daily seminars, poolside performances and exhibit hall, but you now have the excellent Remix Hotel stocked full of DJ gear demos by the top manufacturers, and the M3 Summit which showcases the latest electronic gadgets, DJ gear and fashion. Not to mention that every single bar, hotel or kiddy pool is hosting a hootenanny with a DJ. It's very easy to get lost in a sea of parties and flyers. So your pals at Futuremusic decided to break down the best events, seminars and parties of the week, so you can keep your groove on one step ahead of the crowd.

If you're brand new to the dance music scene, you should by all means buy a WMC badge and attend the actual conference. Not only are you supporting the organization that made this all happen, but you'll definitely learn something if you carefully pick which seminars to attend. In addition, WMC provides a Demo Listening Workshop. If you're a producer or remixer, so you can get valuable feedback from industry professionals about your tracks. Furthermore, you'll meet a lot of great people who are new to the industry and looking for networking opportunities.
Hot Tip: Network, network, network. This is where you can establish relationships that you can leverage to take your career, label or producing to the next level.

The M3 Summit, which was started by David Prince last year, is a sophisticated conference that has really stepped up their agenda for 2005. While they don't have nearly as many seminars as the WMC, each "Technology Discussion" pertains to a cutting-edge topic with some of the industry's brightest minds. The Wired Magazine Gadget Lab showcases the latest technology and was the first place one could get a hands-on demo of the new Technics CD turntable last year. Where M3 really upped the ante this year is their Sunset Sessions music events. Each night the Sunset Sessions hosts a who's who of DJ and live talent including King Britt, Ian Pooley, Layo & Bushwacka, Cirque Du Soleil, and Louie Vega.
Hot Tip: M3 hosts the ResFest, a showcase of groundbreaking films and videos. If you're into films that push the envelope, this is the only place during the conference that has such fare.

The Remix Hotel came to Miami a few years ago, surgically removed all the top DJ gear manufacturers from the WMC's exhibit hall, and established a killer demonstration area for all gear whores to drool on the latest offerings from the top brands. Interested in learning about what will take your DJ or producing skills to the next level? This is your one-stop shopping mecca.
Hot Tip: This year Roland has joined the Remix Hotel lineup, check out the new V-Synth XT! The built-in Vocal Processing card is absolutely sick! (Meaning you'll be hearing it on a lot of tracks in the next few months.)

The Ultra Music Festival boosts that it's the largest electronic music festival in the western hemisphere. It has a mind-boggling lineup of the top DJs and live PAs in the business each usually only playing for 45 minutes to an hour. Ultra basically compresses the weeklong Winter Music Conference into 13 hours of non-stop music on eleven stages. If you're only in Miami for the weekend, like to stand in other peoples vomit, and are content with hearing your favorite DJ only play 10 songs, then this is your ticket.
Hot Tip: Bring lots of money...you'll need it.

Parties & Events:

Monday, March 21st 2005

Not a lot going on tonight, but you may want to check out Robbie Rivera's Juicy Music Party at Amika, 1532 Washington Ave. Miami Beach with: Robbie Rivera, Peter Rauhofer, Tom Stephan, Benny Benassi, Antoine Clamaran and others from 11:00 pm - 5:00 am. $15

Tuesday, March 22nd 2005

Danny Tenaglia's Be Yourself at The Warehouse, 90 NE 11th St. Miami, from 11pm til late. Danny always kills it in Miami. If you're a fan, then you've been waiting 364 days for this...

Fans of the groovy House sound will want to chill at Cielo's rumpus at Casa Casuarina, 1116 Ocean Drive, Miami Beach with Miguel Migs, Martin Solveig, Blaze, Tedd Patterson, Osunlade, DJ Pippi, Nicolas Matar, Willie Graff, and others. From 7pm - 1am. Invite Only.

Wednesday, March 23rd 2005

M3 Sunset Sessions kicks off with Ben Watt, Ian Pooley, Justin Martin, Manoo, and others Poolside at The Raleigh Hotel, 1775 Collins Avenue, Miami Beach from 5pm - 11pm. Free for M3 Passport Holders.

Scratch heads should head downtown to catch Mix Masters hosted by DJ Jazzy Jay at Sony Ice Palace Film Studios, 59 NW 14th Street, Downtown Miami, with every scratch DJ and their mother including Qbert, Z-Trip, Jeru the Damaja, Jazzy Jeff, X-Ecutioners w/ MC TC Izlam, GrandWizzard Theodore, Killa Kela, Rob Swift, Mr. Len, Birdy Nam Nam, I-Emerge and tons more. 7pm - 8am. $30

Everybody's favorite flatulence, Fatboy Slim will be rocking Circus Miami 2005 at Club Nocturnal, 50 NE 11th Street, Downtown Miami from 10am - 8pm with Yousef, Frankie Knuckles, Timo Maas, Xpress 2, Layo & Bushwacka!, David Guetta, Mutiny, Medicine 8, Radio Slave, and Mr C. $40.

One of the best underground parties at the conference is back, Saw Recordings WMC 2005 featuring Satoshi Tomiie, Hector Romero, and Del from Mardel Angel at Ultra Lounge (Formerly Nerve), 247 23rd Street form 10pm - til late. Free Mind bending tech-house from NYC's dynamic duo. More, more, more!

If you have the stamina, check out Erick Morillo's SUBLIMINAL SESSIONS at Club Space, 34 NE 11th Street, Downtown Miami with two sets from Ali-G's main man, Erick Morillo (2am-5am in the Main Room and then 7am on the rooftop terrace until he passes out or is kidnapped by strippers), and sets from label mate Harry "Choo Choo" Romero, Josť Nunez, Jorge Jaramillo (Who Da Funk), and Alex Alicea. Seb Fontaine, Tom Stephan (Superchumbo), Steve Angello, and Saeed Younan rock it on the roof. 9pm - till 2pm. $50. This is the fine print. Don't read any more of this sentence because if you do you'll discover that Futuremusic has VIP passes for the first 4 punters who can tell us Erick's birthday? You have to pick up the passes from us in Miami, so don't enter if you're not going to be there. Send an email to info@futuremusic.com with your full name, a valid email address, and a phone number where you can be reached in Miami. You have to be 21 and over to get into Space. Who loves ya baby!

Thursday, March 24th 2005

M3 Sunset Sessions at the Doubletree Surfcomber Hotel, 1717 Collins Avenue from 3pm - 11pm has John Legend, Derrick Carter, King Britt, Greenskeepers featuring special guest Colette (live), Kerri Chandler, Matthias Heilbronn, and Eric Kupper. Plus HOP-FU :: Kung Fu films remixed live by hip-hop DJs (Who can pass that up??)

MADE IN BED with Danny Howells never disappoints. The door is always a big sloppy mess so get there early. B.E.D., 929 Washington, Miami Beach from 10pm - 5am

OM - A Decade Of Future Music. Om's party is always quality with a great crowd, and this year they're using our name, so we had to give them props. Featuring Mark Farina, Kaskade, Colette, Greenskeepers, Marques Wyatt, DJ Sneak, Rithma, Andy Caldwell, Groove Junkies, Iz & Diz, Johnny Fiasco, John Howard w/ Mike Devellis on sax, JT Donaldson & Lance DeSardi, Fred Everything, J Boogie, DJ Fluid, Colossus, Jason Hodges, and Joey Youngman. This year it's being held at Mansion, 1235 Washington Avenue, Miami Beach. Last year the venue was disgusting, but we heard they dropped in a new sound system so we'll hope for the best. 10pm - 5am $TBD

The Future Sound Of Breaks crew is back with version 3.0 of their yearly Break-Fest. This year it's at Rivir (formerly Club Pure), 66 SW 6th Street, Downtown Miami from 9pm to 9am. It features a never ending list of artists including Icey, DJ Craze, Freq Nasty, Donald Glaude, Simply Jeff, You are getting sleepy..., Confucius, Jackal, Monk, Hallucination on Film, Master of Ceremonies: the Head... along w/ Deekline & Wizard (live), Son of the Electric Ghost vs Carbon Community (live), You are getting very, very sleepy, Storm & Trevor Rockwell, K-Swing, Reid Speed vs Annalyze, Merlyn, Hydraulix, Johnny Dangerously & BFX, Wreck, DBJ, Madame Mercury, Eric Berretta, Inner Realm (live), Jen Lasher, Polyphonix (live), B-Side, Roxiller aka Chris Carter & JHz, Dan F & Sound of Habib, Habersham & Dave Preston, Crash Berlin, Trona, D-Monic, Rob-E & Security, Brian Van Dalen & Teck 1, You are getting very, very, very sleepy..., Dave Berg & Lab 3, Filthy Rich, Keith Mackenzie, Fixx, 8on, Jimmy Joslin, Speaker Phreaker, Wutam & J-Break, James Wolfe & Systemattic, 214, You are now in a deep sleep, Moniker & Methodus, FX & Sean Bauzay, A.T.F. (live), Medley, Ghosts in the Machine (live), Brice Kelly (live), Shawn Mancini & Buddah Lee, Momentum, Scully, Supernaut & Slip 187, A_Unknown, Elektra, R.E.L. 1 & Corey Allison, Jay Quik, Dan D'Mantra, CC Rock, Joe Kopasek, Duncan, Mr. Felos, and Emil, You are now in a coma and will never recover... $TBD

Friday, March 25th 2005

Large Music is presenting GET LARGE 05 at Club Nocturnal, 50 NE 11th Street, Downtown Miami from 9pm til late. Hipp-E and Halo usually wreck it at Large since they try to one up each other. If you're into the funky house sound this is your Golden Ticket to the Chocolate Factory. Other DJs include: E-Man, Julius Papp, Jask, Roy Davis Jr., and Kerri Chandler $25

COOLJUNKIE and BBC RADIO ONE present LIVE IN MIAMI at Nikki Beach Club, One Ocean Drive, Miami Beach from 12pm - 5am. This party is usually a lot of fun despite the lame sound system and the front door chaos. Featuring performances by: Pete Tong, Deep Dish, James Zabiela, the Bodyrockers, Behrouz, Nic Fanciulli, Gabriel & Dresden, Desyn Masiello, Oliver Lang, Judge Jules, Fergie, Eddie Halliwell, Donald Glaude, Lee Cabrera, Eric Prydz, and many many more DJs and live acts TBA. The waiters have some kind of Mojito Pitcher "Discount" if you pay in cash...Hmmm. $Free.

Saturday, March 26th 2005

M3 Sunset Sessions does it again with a provocative lineup including Louie Vega, Los Amigos Invisibles (live), Eric Kupper, Diplo, Tortured Soul (live), and Slum Dunk presents Funk Carioca. Plus Cirque du Soleil remixed. Doubletree Surfcomber Hotel, 1717 Collins Avenue, 3pm - 11pm. Free with M3 Passport. Others will be trying to sneak in...

Mr. Josh Wink and friends hold down their 9th Annual Ovum Party at The Pawn Shop, 1222 NE 2nd Avenue, Downtown Miami. Josh is one of the most talented mixers in the business and one of the only DJs who can simultaneously mix tracks on turntables, CD players, Final Scratch and a Kazoo to create a seamless mix. Kids, if you're interested in watching a Jedi Master and learning something, position yourself next to the decks and feel the Force. Tonight he is joined by D'Julz, Pete Moss, David Alvarado, Loco Dice, Rulers Of The Deep, Juan Mejia, and O'keef. 10pm - 5am. $25

Carl Cox is back with a vengeance. After falling ill and taking a much needed break, Carl is back doing what he does best, rocking our world with slammin' tracks and flawless mixing. If you're a DJ, don't bother watching Carl spin. His seemingly effortless style will leave you wondering if he's psychic. Carl's Crobar sets are particularly stellar, so if you can brave the front door chaos, check him out at Crobar, 1445 Washington Avenue, Miami Beach from 10pm on. He's joined by Circus featuring Yousef, Mark Farina, Alex Wolfenden, and British sweetie Lottie. $TBD

Last, but certainly not least, comes our...
WMC 2005 party pick of the conference. If you like your house deep, dark and tribal, then look no farther than VICTOR CALDERONE PRESENTS EVOLVE at The Warehouse, 90 NE 11th Street, Downtown Miami from 10pm til noon. Victor Calderone has put together an incredible line up of tribal talent that is sure to leave a permanent mark on your mind, body and spirit. Confirmed bangers include: Mr. Calderone - Victor if you're nasty, DJ Vibe, Chus & Ceballos, Pete tha Zouk, and That Kid Chris. $30

Feeling his event, we spoke to Victor about the 20th anniversary of the Winter Music Conference, Evolve and his producing. As always, Victor came from the heart and even hinted at a new residency.

Futuremusic: Victor, this being the 20th anniversary of the Winter Music Conference, what does this annual "gathering of the tribe" mean to you personally?

Calderone: WMC is a great melting pot of so many talented DJs, producers, peers and colleagues. It's a unique opportunity to collaborate with some of the people whom I respect and are inspired by, people I otherwise wouldn't encounter.
It's always been a good platform to promote new material. I always find myself meeting so many people in the business that I have never met personally.

Futuremusic: Evolve has an incredible lineup this year - a "Calderone Dream Team" of tribal talent. Can you talk about each one of the DJs/Producers and tell us what you think makes them so special?

Calderone: DJ Vibe, can do no wrong in my book. He is a solid producer, his sound is incredibly unique and he always creates these very distinct original lead sounds that peddle through the track. He's been a big inspiration. After having the opportunity to collaborate with him, I realized how similar we are both in our personality and in the way we work. We completely gelled in the studio which I feel is really important. Chus and Ceballos have really inspired me a lot. In my opinion Stereo Production has put out some of the best tribal music in the past two years. I think they took the tribal sound to a completely new level, what I call the "Madrid" sound...they have certainly raised the bar. Working with them was amazing; a true collaborative and organic experience in the studio. That Kid Chris and I have been friends for a long time. We've collaborated on a couple of times on tracks with great results. I've always admired the dark side of his sound. I think he's a real quality producer.
Pete Tha Zouk is another very talented producer, I have not had the opportunity to work with him, but I've been a big fan of his work. His productions are like a wall of sound to me, really massive and big. Excellent.

Futuremusic: Victor your production is just getting better and better, what are some of the recent tools that you've added to your studio arsenal to elevate your sound?

Calderone: Thank you, Surprisingly, I've been going much more virtual lately, My set up now is a Mac G5 With Logic Pro 7, and Pro-tools HD2 hardware. I've been using many of the logic soft synths EXS24, ES2, ES1, Sculpture, etc and some third party synths like the Virus Indigo, Korg Legacy, Mini Moog, Albiano and Vangard. I still incorporate some of my old favorite hard synths like the Nord Rack 2, Access Virus B, Novation Supernova, and Roland JP-8000, there is still something about the sound from those synths that you can't get out of a soft synth. I have a Mackie D8B, but I only use it as a line mixer because I've been doing all my mix-downs directly in Logic. It's basically a DAE and DTDM rig, I think it's like having the best of both worlds. The sound quality from Pro-Tools and the option of being able to use some of these great Audio Unit plugs.

Futuremusic: Technology-wise, where do you see DJing 5 years from now? What kind of gear do you think your personal DJ rig will consist of in 2010?

Calderone: Well, these days I'm playing 80% of my set on CD so I think it's safe to say I will be playing fully digital sets in the future. I can't actually believe I'm saying that because I'm a major vinyl/analog junkie. I receive a lot of unreleased tracks on CD from other producers, stuff that sometimes never makes it to vinyl. I've always been against the digital thing, but I must admit the technology has improved quite a bit and I'm starting to embrace it more. I always thought it would be amazing if I were able to incorporate iPods with pitch control built into them into my sets. Not to solely depend on, but as an added piece of gear. I think I will be incorporating more studio-like equipment, although it is very difficult to travel with too much additional gear when your playing short sets in between other DJs. Unless it's your residency then your able to bring your whole studio down if you desire!

Look for a new Calderone monthly residency in New York City starting this summer...an official announcement is not far away. To learn more about Victor Calderone hit: http://www.victorcalderone.com

Whew!! If you think we missed something, don't be shy...

And now for our next trick: 6 days of Peace, Love & Beats on 3 hours of sleep. Anybody have the number of Barry Bonds' trainer??




Advertise on Futuremusic.com! | Privacy Policy | Employment Opportunities | Contact Us
Copyright © 2004 Futuremusic® All Rights Reserved.





As the name correctly implies, Experiments In Sound, is Futuremusic's latest endeavor for pushing electronic music technology to the very edge of what's possible. Experiments In Sound grew out of Futuremusic's avant-garde events in New York City that featured DJ's taking mixing and live sound reinforcement to a whole new level with the very latest gear and software.

Now Experiments In Sound has become The Ultimate Mix Contest...

After the tremendous success of our groundbreaking The Next Big Thing DJ Contest, Futuremusic has decided to once again create a new paradigm...
Learn more about Experiments In Sound!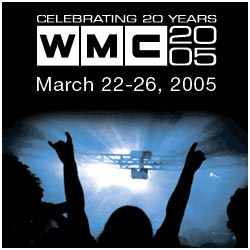 TestDrive will feature the lab results of our DJ Experiments so that everyone can get in on the action. Take the latest electronic music releases, mix vigorously with bleeding-edge DJ production technology in a large beeker, and then cook the hell out of it!
Check out our latest TestDrive of Arturia's MiniMoog V

Futuremusic wants to thank everyone who participated in The Next Big Thing 2004. John Digweed, Beatport, Alienware, M-Audio, Native Instruments, IK Multimedia, PVDJ, PK Graphics, Ableton, The DubHouse, Propellerheads, Technics, FreeFloat, The Church, PCDJ and every DJ who entered this year's event thank you. From the sheer number of quality mixes, we can tell you that dance music is thriving in the United States. The amount of outstanding talent and creativity really blew us away, and every DJ who's putting their heart, mind and soul behind the music is a winner. John Digweed has made his decision and the winner is...
Think you got skills?? Then start practicing! The Next Big Thing 2005 will kick off at the end of the summer!!
News Archives



Digihear? Stories: February 2005
Digihear? Stories: January 2005
Digihear? Stories: December 2004
Digihear? Stories: November 2004
Digihear? Stories: October 2004
Digihear? Stories: September 2004
Digihear? Stories: August 2004
Digihear? Stories: July 2004
Digihear? Stories: June 2004