CD Spotlight




A great selection of late-afternoon-sun dance tracks, that's perfect for channeling the patio vibe of St. Barth's. LISTEN!


Digital Spotlight



House Titan D-Formation returns with remixes of The Third Dimension. Victor Calderone offers us his particular vision of what The Third Dimension looks like, and Simon&Shaker literally take us there. LISTEN!


Vinyl Spotlight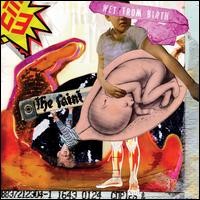 The Faint - "I, Disappear" (FC KAHUNA REMIX) - Saddle Creek. "I, Disappear" is the first single from the new "Wet From Birth" album, the progressive remix by FC Kahuna is sure to be a club favorite. LISTEN!




December 22, 2004
../ Apple Modifies iPod Firmware
Disables RealNetwork's Harmony

Apple Computer, Inc. of Cupertino, California has recently released a firmware update to the iPod that will disable Real Networks' Harmony technology. Harmony was developed to allow downloadable music purchased at Real's online music store to be played on Apple's best-selling iPod portable music player. Apple designed the iPod's software specifically so that the only place a user could purchase music for the device was at Apple's own iTunes store.

The simmering public feud between the technology concerns has been brought to a boil once again with this Harmony lobotomy. Any iPod user that installs the update will render any songs bought through RealNetworks unplayable. This includes all iPods up to the fourth-generation "Click-Wheel" devices and the new iPod Photo. Apple apparently didn't think it was important to mention the Harmony Death Blow in the materials currently promoting the update.

Apple has been inundated with requests from record label executives, as well as rival online music stores, to allow the iPod to play songs purchased from other online distributors, but the company has refused to acquiesce. Apple is holding onto its market dominance for as long as it can, since iTunes needs all the revenue it can generate, just to break even.

The Future: You don't have to be a psychic to read into RealNeworks public response to Apple's update. "RealNetworks is fully committed to providing consumers with the freedom to use the music libraries they purchase from us on different portable audio devices they acquire, both now and in the future, including the iPod Photo." Translation: We will again find a workaround to Apple's technology to allow users to download Real songs to their iPod's. The best part of this Cat and Mouse game? Instead of some shady hacker trying to take down a big technology company, it's two very public companies going head to head...what fun!








Advertise on Futuremusic.com! | Privacy Policy | Employment Opportunities | Contact Us
Copyright © 2004 Futuremusic® All Rights Reserved.





As the name correctly implies, Experiments In Sound, is Futuremusic's latest endeavor for pushing electronic music technology to the very edge of what's possible. Experiments In Sound grew out of Futuremusic's avant-garde events in New York City that featured DJ's taking mixing and live sound reinforcement to a whole new level with the very latest gear and software. Be the first to hear about Experiments In Sound by joining Futuremusic Direct.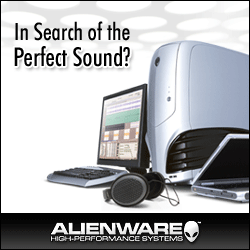 Part of Experiments In Sound, TestDrive will feature the lab results of our DJ Experiments so that everyone can get in on the action. Take the latest electronic music releases, mix vigorously with bleeding-edge DJ technology in a large beeker, and then cook the hell out of it! Be the first to hear about TestDrive by joining Futuremusic Direct.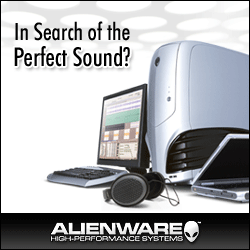 Futuremusic wants to thank everyone who participated in The Next Big Thing 2004. John Digweed, Beatport, Alienware, M-Audio, Native Instruments, IK Multimedia, PVDJ, PK Graphics, Ableton, The DubHouse, Propellerheads, Technics, FreeFloat, The Church, PCDJ and every DJ who entered this year's event thank you. From the sheer number of quality mixes, we can tell you that dance music is thriving in the United States. The amount of outstanding talent and creativity really blew us away, and every DJ who's putting their heart, mind and soul behind the music is a winner. John Digweed has made his decision and the winner is...
News Archives



Digihear? Stories: December 2004
Digihear? Stories: November 2004
Digihear? Stories: October 2004
Digihear? Stories: September 2004
Digihear? Stories: August 2004
Digihear? Stories: July 2004
Digihear? Stories: June 2004