CD Spotlight




A great selection of late-afternoon-sun dance tracks, that's perfect for channeling the patio vibe of St. Barth's. LISTEN!


Digital Spotlight



House Titan D-Formation returns with remixes of The Third Dimension. Victor Calderone offers us his particular vision of what The Third Dimension looks like, and Simon&Shaker literally take us there. LISTEN!


Vinyl Spotlight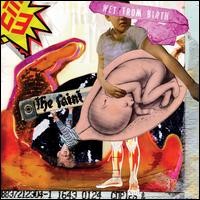 The Faint - "I, Disappear" (FC KAHUNA REMIX) - Saddle Creek. "I, Disappear" is the first single from the new "Wet From Birth" album, the progressive remix by FC Kahuna is sure to be a club favorite. LISTEN!




December 18, 2004
../ PreSonus Announces FireBox Interface
PreSonus has announced the Firebox, a powerful, yet very compact external 24-bit/96k FireWire computer audio interface. The Firebox has the ability to simultaneously record six inputs and playback through ten outputs all at 24-bit/96kHz.

The Firebox contains two ultra-low noise, high-headroom microphone/instrument preamplifiers with 48V phantom power and a high quality stereo headphone output with volume adjustment on the front panel. The headphone output has its own two-channel driver stream which can be used as a separate stereo bus or two-channel output giving you the ability to send a "cue" mix to the headphone output and a main mix to the main output - perfect for DJing with the latest computer mixing software. Two additional balanced TRS line inputs are located on the rear of the Firebox along with six balanced TRS line outputs. Two channels of S/PDIF input/output and MIDI input/output are also included via a DB9 breakout cable. A software router/mixer is also included for further flexibility and power. The 1/3U-wide metal chassis of the Firebox is designed to fit PreSonus' MaxRack rack-mounting system and can be racked with the TubePRE, COMP16, EQ3B and HP4 for a neat and compact computer recording system.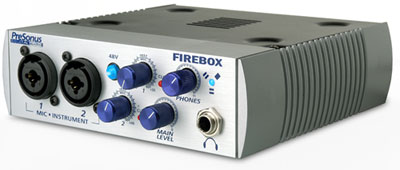 The Firebox works with both four and six-pin FireWire (IEEE 1394) connectors and can be powered by either 6-pin FireWire bus power, or powered by an external power transformer. The Firebox is Windows XP and Macintosh compatible and comes pre-packaged with Steinberg's Cubase LE 48-track 24-bit/96K recording software, and is also compatible with many popular Audio applications including Logic, Sonar, Audition, Digital Performer and others. A retail price has not been established.



Advertise on Futuremusic.com! | Privacy Policy | Employment Opportunities | Contact Us
Copyright © 2004 Futuremusic® All Rights Reserved.





As the name correctly implies, Experiments In Sound, is Futuremusic's latest endeavor for pushing electronic music technology to the very edge of what's possible. Experiments In Sound grew out of Futuremusic's avant-garde events in New York City that featured DJ's taking mixing and live sound reinforcement to a whole new level with the very latest gear and software. Be the first to hear about Experiments In Sound by joining Futuremusic Direct.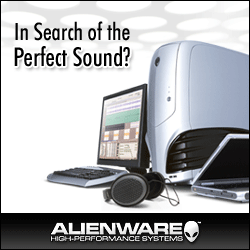 Part of Experiments In Sound, TestDrive will feature the lab results of our DJ Experiments so that everyone can get in on the action. Take the latest electronic music releases, mix vigorously with bleeding-edge DJ technology in a large beeker, and then cook the hell out of it! Be the first to hear about TestDrive by joining Futuremusic Direct.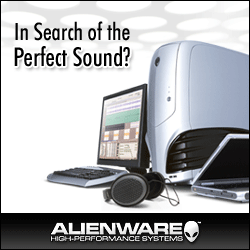 Futuremusic wants to thank everyone who participated in The Next Big Thing 2004. John Digweed, Beatport, Alienware, M-Audio, Native Instruments, IK Multimedia, PVDJ, PK Graphics, Ableton, The DubHouse, Propellerheads, Technics, FreeFloat, The Church, PCDJ and every DJ who entered this year's event thank you. From the sheer number of quality mixes, we can tell you that dance music is thriving in the United States. The amount of outstanding talent and creativity really blew us away, and every DJ who's putting their heart, mind and soul behind the music is a winner. John Digweed has made his decision and the winner is...
News Archives



Digihear? Stories: December 2004
Digihear? Stories: November 2004
Digihear? Stories: October 2004
Digihear? Stories: September 2004
Digihear? Stories: August 2004
Digihear? Stories: July 2004
Digihear? Stories: June 2004