CD Spotlight




A great selection of late-afternoon-sun dance tracks, that's perfect for channeling the patio vibe of St. Barth's. LISTEN!


Digital Spotlight



House Titan D-Formation returns with remixes of The Third Dimension. Victor Calderone offers us his particular vision of what The Third Dimension looks like, and Simon&Shaker literally take us there. LISTEN!


Vinyl Spotlight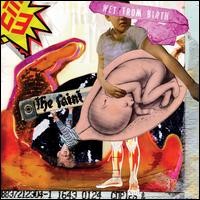 The Faint - "I, Disappear" (FC KAHUNA REMIX) - Saddle Creek. "I, Disappear" is the first single from the new "Wet From Birth" album, the progressive remix by FC Kahuna is sure to be a club favorite. LISTEN!




December 7, 2004
../ Dance Music Grammy Nominations
The Recording Academy announced the nominees for the inaugural Best Electronic/Dance Album category of the Grammy Awards:

Paul Van Dyk, Reflections (Mute Records)
Basement Jaxx, Kish Kash (XL Recordings/Astralwerks)
Various artists mixed by Paul Oakenfold, Creamfields (Thrive Records)
The Prodigy, Always Outnumbered, Never Outgunned (XL Recordings/Maverick)
The Crystal Method, Legion of Boom (V2 Records)


Other Dance music award nominees were announce as well including these selections for the Best Dance Recording:

Scissor Sisters, "Comfortably Numb"
Basement Jaxx featuring Lisa Kekaula, "Good Luck"
Kylie Minogue, "Slow"
The Chemical Brothers, "Get Yourself High"
Britney Spears, "Toxic"


And Best Remixed Recording:

No Doubt, "It's My Life" - remixed by Jacques Lu Cont
George Michael, "Amazing" - remixed by Full Intention (Michael Gray and John Pearn)
Iggy Pop with Freedom featuring Peaches, "Motor Inn" - remixed by Felix Da Housecat
Felix Da Housecat, "Watching Cars Go By," - remixed by Sasha
N.E.R.D., "She Wants To Move," - remixed by Basement Jaxx


The Future: The whole Grammy Award category for the Dance music genre is dodgy at best. As exemplified by the "Creamfields" nod. Does overdubbing a kick and a snare sample qualify as an original album? No.
So how did a Oakenfold get nominated for this? Either someone from the Recording Academy was like "I've heard of Oakenfold before!! Let's nominate him!" or someone on his support team is a member of the Academy and suggested this title with a wink and a nod...and the Academy actually bought it. Either way, it's pretty lame.





Advertise on Futuremusic.com! | Privacy Policy | Employment Opportunities | Contact Us
Copyright © 2004 Futuremusic® All Rights Reserved.





As the name correctly implies, Experiments In Sound, is Futuremusic's latest endeavor for pushing electronic music technology to the very edge of what's possible. Experiments In Sound grew out of Futuremusic's avant-garde events in New York City that featured DJ's taking mixing and live sound reinforcement to a whole new level with the very latest gear and software. Be the first to hear about Experiments In Sound by joining Futuremusic Direct.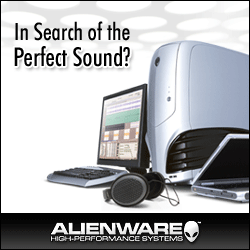 Part of Experiments In Sound, TestDrive will feature the lab results of our DJ Experiments so that everyone can get in on the action. Take the latest electronic music releases, mix vigorously with bleeding-edge DJ technology in a large beeker, and then cook the hell out of it! Be the first to hear about TestDrive by joining Futuremusic Direct.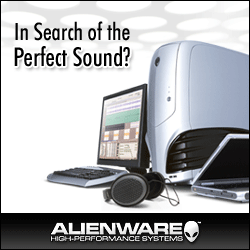 Futuremusic wants to thank everyone who participated in The Next Big Thing 2004. John Digweed, Beatport, Alienware, M-Audio, Native Instruments, IK Multimedia, PVDJ, PK Graphics, Ableton, The DubHouse, Propellerheads, Technics, FreeFloat, The Church, PCDJ and every DJ who entered this year's event thank you. From the sheer number of quality mixes, we can tell you that dance music is thriving in the United States. The amount of outstanding talent and creativity really blew us away, and every DJ who's putting their heart, mind and soul behind the music is a winner. John Digweed has made his decision and the winner is...
News Archives



Digihear? Stories: December 2004
Digihear? Stories: November 2004
Digihear? Stories: October 2004
Digihear? Stories: September 2004
Digihear? Stories: August 2004
Digihear? Stories: July 2004
Digihear? Stories: June 2004