CD Spotlight




David Alvarado's new album breaks down the boundaries of typical house music and strips the genre right down to its bones. Very much a listening experience, tracks like Aire and Luna have an almost soundtrack quality. Check it out now! LISTEN!


Digital Spotlight




Doug Waylo's Daydream Fascination builds on his already impressive production talent with this powerhouse track sporting a serious bassline. After its first break this track builds energy by adding haunting female and male vocal samples as well as bringing a moving bassline to the front of the listeners perception. Now Available for download! LISTEN!


Vinyl Spotlight




Killer Progressive Tribal House from Spain's BeatFreak Recordings. Dark Iberican beast, dense pulsing basslines, it doesn't get much better than this Black Magic! LISTEN!




August 15, 2005
../ Korg Announces New Kaptivator VJ Station
Korg announced an exciting new VJ performance module dubbed the Kaptivator. This self-contained powerhouse is a real-time video manipulator that allows VJs to sample, store, mix, process and simultaneously play back hundreds of video clips from its internal 40 GB hard drive, as well as tweak a live video feed.

The release comes from Korg's white-hot video division which, as of late, has been on quite a tear. The Kaptivator's introduction has been eagerly awaited by the VJ market for several months after rumors of its development swirled in late 2004. This dynamic product must be good news for the company whose latest major music offering was a $9000 audio workstation that was met mostly with "Why" instead of "Wow."

The Kaptivator can sample and save up to 800 individual video clips. The clips are triggered by MPC-3000 style drum machine pads, 2 banks of 8 pads, for 16 total. Each bank acts as a separate source to the unit's built-in mixer. Fifteen effects, including Invert, Blurring and Colorize, provide dynamic manipulation and enhancement of any video sample or a live input. Real-time performance-based effects such as Speed Change, Reverse, Random Playback and Scratch are controlled during playback via rotary knobs, a slider and a ribbon controller. Very cool.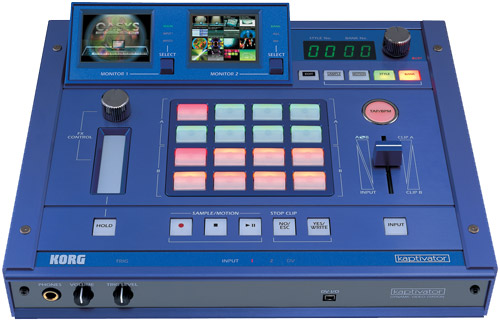 Users can save and edit up to 100 Styles, for instant recall of video signal routing, effects and controller setups. The Kaptivator's Motion Sequence function can record and play back real-time controller movements and effect changes, such as switching between clips, moving the slider and more. Up to 100 Motion Sequences can be stored and recalled.
What motivated Korg to introduce the Kaptivator? "This is Korg's third Video product. The Entrancer is certainly our most accessible product, which is why it was released first, followed by the Krossfour," according to Korg's Corey Walthall. "Both the Entrancer and Krossfour manipulated content. The last piece of the puzzle is the Kaptivator, which can create, store and provide content. It also provides the video artist with a transportable way of presenting their best clips and loops, without dismantling their rig to take it on the road."
"When we presented the Kaptivator, many people immediately envisioned it as a video vault, or a collection of clips," Walthall continues. "This is certainly one facet, but the Kaptivator is capable of sampling and creating content on the fly, and that's what really sets it apart."
Other features include a stereo audio trigger input that can detect BPM or dynamics from an external audio source, allowing the tempo of the music to control video playback. (Yes! Somebody finally gets it! --Ed.) A Main Out Capture function allows up to eight seconds of the mixed and processed video to be re-sampled on the fly. It can then be used as a third video input source for even greater creative flexibility.
In addition to PAL and NTSC compatibility, The Kaptivators Composite and S-video inputs and outputs, as well as DV in and out and MIDI I/O, allow it to easily interface with almost any system and transfer video creations to a computer hard drive. The internal 40 GB hard drive provides plenty of storage for user video clips. A generous collection of immediately usable video clips created by cutting edge video artists is supplied as well.
The Korg Kaptivator will be available in late summer for about $2500 beans.
The Future:
Dear Korg,
Please loan the video development group to the Audio Division for a month or two...

Advertise on Futuremusic.com! | Privacy Policy | Employment Opportunities | Contact Us
Copyright © 2005 Futuremusic® All Rights Reserved.





As the name correctly implies, Experiments In Sound, is Futuremusic's latest endeavor for pushing electronic music technology to the very edge of what's possible. Experiments In Sound grew out of Futuremusic's avant-garde events in New York City that featured DJ's taking mixing and live sound reinforcement to a whole new level with the very latest gear and software.

Now Experiments In Sound has become The Ultimate Mix Contest...

After the tremendous success of our groundbreaking The Next Big Thing DJ Contest, Futuremusic has decided to once again create a new paradigm...
Learn more about Experiments In Sound!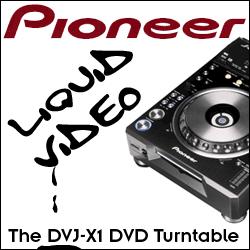 Futuremusic wants to thank everyone who participated in The Next Big Thing 2004. John Digweed, Beatport, Alienware, M-Audio, Native Instruments, IK Multimedia, PVDJ, PK Graphics, Ableton, The DubHouse, Propellerheads, Technics, FreeFloat, The Church, PCDJ and every DJ who entered this year's event thank you. From the sheer number of quality mixes, we can tell you that dance music is thriving in the United States. The amount of outstanding talent and creativity really blew us away, and every DJ who's putting their heart, mind and soul behind the music is a winner. John Digweed has made his decision and the winner is...
Think you got skills?? Then start practicing! The Next Big Thing 2005 will kick off at the end of the summer!!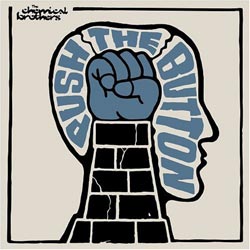 News Archives



Digihear? Stories: July 2005
Digihear? Stories: June 2005
Digihear? Stories: May 2005
Digihear? Stories: April 2005
Digihear? Stories: March 2005
Digihear? Stories: February 2005
Digihear? Stories: January 2005
Digihear? Stories: December 2004
Digihear? Stories: November 2004
Digihear? Stories: October 2004
Digihear? Stories: September 2004
Digihear? Stories: August 2004