Cheers:


+Excellent Layout
+Solid Performance Features
+Versatile Mic/Line Input
+Good Sound


Jeers:


-Effects Could be better
-No Automatic Beat Detection
-Knobs & Sliders are a bit cheap feeling


Off The Record:


Budget-conscious scratch DJs who are looking beyond the basic two channel mixer for more creative possibilities should definitely check the DXM06. Although, the effects come up wanting in a number of key areas, some of the Filter, Flanger, and Phaser mods are plain wicked on scratches. The Beat Juggler or 2XCopy effect is also very cool after some diligent practice time. The replaceable Crossfader had good slip and feedback with a completely customizable slope control. The unit is also not so expensive that if it gets trashed at a gig or jacked, you don't have to mortgage your crib to buy a new one.






July 29, 2005
../ TestDrive: Numark DXM06 DJ Mixer
The DXM06 is an economical, 2 channel DJ mixer residing in the middle of Numark's DXM Digital mixer line. For the low price, the unit sounds surprisingly good. It incorporates solid performance features and limited DJ-oriented effects for seamless beat matching and scratching. The DXM06's bang-for-the-buck makes it definitely worth a look for several diverse DJ markets and skill levels.

The DXM06's layout is excellent. Numark's designers nailed the ergonomical design; nothing feels cramped with all the controls right at your fingertips. Each knob, slider and button has plenty of space so you will never accidentally hit a button or have to perform finger circus tricks to tweak the EQ. Although the plastic knobs and sliders feel a bit budget, they all worked as advertised and performed well under heavy use. Many of us especially liked the individual channel EQ Kill Buttons located conveniently on either side of the mixer. These worked extremely well to eliminate the bass, mids and/or highs for dramatic effect. Numark also stepped up and utilized a horizontal slider for the Cue/Main Mix which is preferred by most DJs. The addition of a crossfader direction button, which instantly reverses the source assignment of channel one and channel two, was a big hit with our hip-hop testers.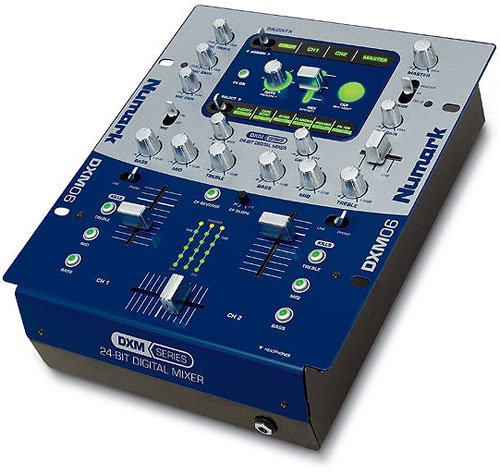 The DXM06's rear panel also impressed us by not skimping too badly on connections. It includes two balanced 1/4 inch master outputs, and RCA phono and line inputs on each of the two channels. The Mic input is only a 1/4 inch affair, a XLR would have made us ecstatic, with a RCA line input for additional source possibilities. The unit is missing a Minijack input, something that all new mixers should be incorporating with the popularity of portable music players. The Mic section does have Bass, Treble and Gain knobs on the front with a source switch that allows you to toggle from the Mic input to the RCA without any drama..
The DXM06 incorporates twelve DJ-oriented effects split between the input channels and the Mic/Aux input. Effects routed to the input channels include 2XCopy, Tape Echo, Echo, Flanger, Phaser and Filter. Mic/Aux only effects include Vocoder, Tape Echo, Echo, Hall Reverb, Reverse Reverb and Band Limited Distortion. Right from the start, we thought mandatory routing assignments were a bad idea, and we were right. Limiting the Vocoder to just the Mic input may sound like a good idea on paper, but when your track breaks down and you want to get tweaky, it's a shame you can't drop some Vocoder action.
Most of us found the effects to come up just short. Numark overdid the Delay/Echo effects and under nourished the Filters. Echo effects are very obvious to the floor and can only be used sparingly unless you want a glow stick where the sun don't shine, or worse. Filter, Phaser, and Flanger make for smooth transitions in all genres and can be very effective in lifting the energy in a room. That said, the 2XCopy Beat Juggling Delay effect is quite cool and worth utilizing.
All DJ oriented effects should incorporate beat detection for seamless syncing. However, Numark chose to leave this feature out and utilize a Tap Button instead. Not good. They probably wanted to cut down on costs to hit their $299 price point, but this severely detracts from the effects usefulness. The Tap Button is only good for about 15 seconds at the most before losing sync. This quickly turns the Echo effects into a massive train wreck if you're not careful. The Filter, Phaser and Flanger can all utilize the Tap Button sync, but again, you have to constantly update the Tap Button to keep things under control. And even then, some of the readjustments are noticeable. Some of us were also not crazy about the Slider control for the effects Mix, and wished for a knob instead.
The Numark DXM06 24 bit digital mixer is an excellent choice if you like to incorporate effects every once in a while in you mixing. The great layout, excellent performance features and quality sound make the DXM06 a solid buy at $299. However, if you're really counting on the effects to transcend your mixes, this may not be your ticket.
The Future: Three words: Automatic Beat Detection. This alone would elevate the mixer to at least a 90% rating. However a complete Effects revision would make this mixer a category killer. Only two types of echo/delay and more emphasis on the Filters would be our future. And a revamp of the controls; beefy, rubberized knobs instead of the plastic knob and slider combo please, for real performance.

Advertise on Futuremusic.com! | Privacy Policy | Employment Opportunities | Contact Us
Copyright © 2005 Futuremusic® All Rights Reserved.






The Numark receives an 80% PowerRating - We recommend this mixer to the DJ on a budget, the turntablist who wants to experiment sonically with effects, or the DJ who brings his own rig out to play. The DXM06 is a nice sounding DJ mixer with plenty of well designed performance tools begging to be tweaked. All in all, it has a lot to offer at a low price.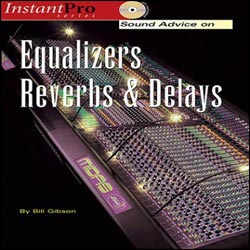 As the name correctly implies, Experiments In Sound, is Futuremusic's latest endeavor for pushing electronic music technology to the very edge of what's possible. Experiments In Sound grew out of Futuremusic's avant-garde events in New York City that featured DJ's taking mixing and live sound reinforcement to a whole new level with the very latest gear and software.
Now Experiments In Sound has become The Ultimate Mix Contest...
After the tremendous success of our groundbreaking The Next Big Thing DJ Contest, Futuremusic has decided to once again create a new paradigm...
Learn more about Experiments In Sound!

Futuremusic wants to thank everyone who participated in The Next Big Thing 2004. John Digweed, Beatport, Alienware, M-Audio, Native Instruments, IK Multimedia, PVDJ, PK Graphics, Ableton, The DubHouse, Propellerheads, Technics, FreeFloat, The Church, PCDJ and every DJ who entered this year's event thank you. From the sheer number of quality mixes, we can tell you that dance music is thriving in the United States. The amount of outstanding talent and creativity really blew us away, and every DJ who's putting their heart, mind and soul behind the music is a winner. John Digweed has made his decision and the winner is...
Think you got skills?? Then start practicing! The Next Big Thing 2005 will kick off at the end of the summer!!
News Archives



Digihear? Stories: July 2005
Digihear? Stories: June 2005
Digihear? Stories: May 2005
Digihear? Stories: April 2005
Digihear? Stories: March 2005
Digihear? Stories: February 2005
Digihear? Stories: January 2005
Digihear? Stories: December 2004
Digihear? Stories: November 2004
Digihear? Stories: October 2004
Digihear? Stories: September 2004
Digihear? Stories: August 2004