CD Spotlight



Together with Fabric Records, John presents Fabric 20, featuring tracks and remixes by Pete Moss, Martin Solveig, Angel Alanis, Michael Mayer, DJ Rasoul, Josh Wink, Slam, and many more. LISTEN!


Digital Spotlight



Soaring melodies fuel a music time machine launching the listener to the top of a world yet discovered. Reminiscent of the early works of Sasha and BT, My Piano's uplifting melody, combined with a funky, asymmetrical bass line creates a progressive, feel-good vibe on the floor while providing a memorable hook to take home until you next adventure in club land. LISTEN!


Vinyl Spotlight




Killer Progressive Tribal House from Spain's BeatFreak Recordings. Dark Iberican beast, dense pulsing basslines, it doesn't get much better than this Black Magic! LISTEN!




April 22, 2005
../ Numark iPod Mixer
More Than Just A Rumor?? Numark, is allegedly going to introduce an Apple iPod mixer at Summer NAMM. Details are quite thin at this time, but several pictures have recently appeared online that reveal a computer 3D mock up of what appears to be a dual-dock iPod mixer. An all-black prototype was shown at Numark's booth at Frankfurt's Musikmesse exhibition, but but Numark didn't allow visitors to take photograghs.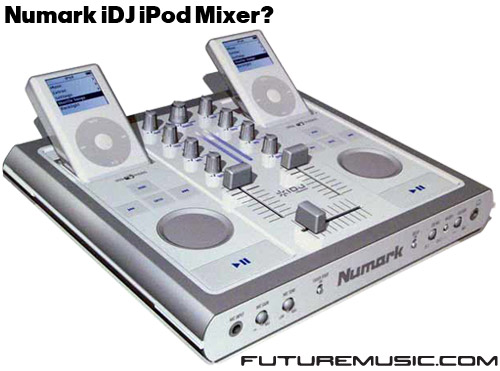 The picture reveals transport controls, a touch-sensitive modulation wheel, cross-fader, EQ controls, output meters and a mic input. It is unknown exactly what the silver embossed discs do, but suffice to say this looks to be for manipulating the tracks' speed for beat matching and/or scratching.
The Numark iPod Mixer, in this mock-up, has no screen for viewing the waveform's transients or for visual mixing. Also absent is a view of the rear panel which would indicate if the mixer can attach to a computer via USB or Firewire. Considering the reliability and performance problems of iPods in general, it is also unknown whether the mixer will contain internal buffers for preloading the tracks from the individual iPod's respective hard drives. Rumors abound that the Numark iPod mixer will come in two flavors, a consumer version and a pro version.
The Future: The iPod has piqued the interest of DJs around the world who took one look at the first generation model and wondered aloud if the moving scroll wheel could be hacked to modulate the internal track's speed for mixing purposes. With over 5 million iPods sold last quarter alone and over 200 ancillary products by third party manufacturers, an iPod mixer has been a long time coming. Its amazing this is the first actual serious prototype that has made the online rounds. Kudos to Numark if they do bow the mixer at Summer NAMM, it's been quite a productive year for the Rhode Island concern.

Advertise on Futuremusic.com! | Privacy Policy | Employment Opportunities | Contact Us
Copyright © 2005 Futuremusic® All Rights Reserved.





As the name correctly implies, Experiments In Sound, is Futuremusic's latest endeavor for pushing electronic music technology to the very edge of what's possible. Experiments In Sound grew out of Futuremusic's avant-garde events in New York City that featured DJ's taking mixing and live sound reinforcement to a whole new level with the very latest gear and software.

Now Experiments In Sound has become The Ultimate Mix Contest...

After the tremendous success of our groundbreaking The Next Big Thing DJ Contest, Futuremusic has decided to once again create a new paradigm...
Learn more about Experiments In Sound!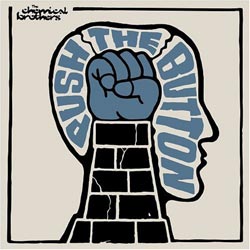 Part of Experiments In Sound, TestDrive will feature the lab results of our DJ Experiments so that everyone can get in on the action. Take the latest electronic music releases, mix vigorously with bleeding-edge DJ technology in a large beeker, and then cook the hell out of it! Be the first to hear about TestDrive by joining Futuremusic Direct.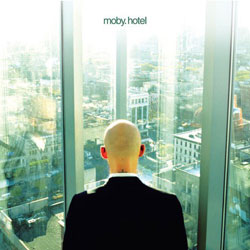 Futuremusic wants to thank everyone who participated in The Next Big Thing 2004. John Digweed, Beatport, Alienware, M-Audio, Native Instruments, IK Multimedia, PVDJ, PK Graphics, Ableton, The DubHouse, Propellerheads, Technics, FreeFloat, The Church, PCDJ and every DJ who entered this year's event thank you. From the sheer number of quality mixes, we can tell you that dance music is thriving in the United States. The amount of outstanding talent and creativity really blew us away, and every DJ who's putting their heart, mind and soul behind the music is a winner. John Digweed has made his decision and the winner is...
Think you got skills?? Then start practicing! The Next Big Thing 2005 will kick off at the end of the summer!!
News Archives



Digihear? Stories: March 2005
Digihear? Stories: February 2005
Digihear? Stories: January 2005
Digihear? Stories: December 2004
Digihear? Stories: November 2004
Digihear? Stories: October 2004
Digihear? Stories: September 2004
Digihear? Stories: August 2004
Digihear? Stories: July 2004
Digihear? Stories: June 2004