CD Spotlight



Together with Fabric Records, John presents Fabric 20, featuring tracks and remixes by Pete Moss, Martin Solveig, Angel Alanis, Michael Mayer, DJ Rasoul, Josh Wink, Slam, and many more. LISTEN!


Digital Spotlight



Soaring melodies fuel a music time machine launching the listener to the top of a world yet discovered. Reminiscent of the early works of Sasha and BT, My Piano's uplifting melody, combined with a funky, asymmetrical bass line creates a progressive, feel-good vibe on the floor while providing a memorable hook to take home until you next adventure in club land. LISTEN!


Vinyl Spotlight




Killer Progressive Tribal House from Spain's BeatFreak Recordings. Dark Iberican beast, dense pulsing basslines, it doesn't get much better than this Black Magic! LISTEN!




April 18, 2005
../ IK Announces CSR-1: Classik Studio Reverb
Digital reverbs modeled after high-end classics available this Summer
IK Multimedia introduced CSR-1: Classik Studio Reverb, a suite of various reverbs modeled after classic high end studio reverb hardware masterpieces. CSR-1 offers a suite of reverbs that are modeled to the exact sound of four popular classics with the advantage of full editing control to perfectly fit any musical need. The four reverbs include: Classik Hall / Room, Classik Ambience, Classik Plate, and Classik Inverse, each with its own interface and parameters.
CSR-1 offers 2 operating modes for each of the four algorithms: Easy and Advanced. In Easy mode the user will be able to quickly edit the most important parameters instantly. In Advanced mode the user will have full access to more than 50 reverb parameters, including completely assignable Matrix Modulations and Macros.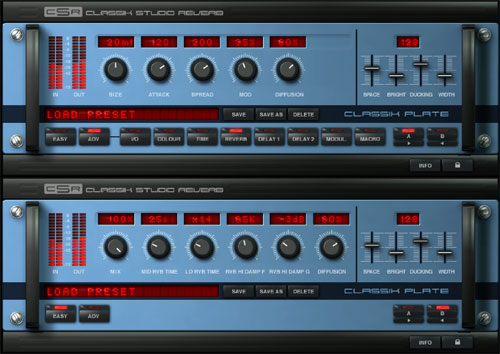 Matrix Modulation allows for any of the reverb parameters to be controlled by two internal LFOs and two internal Envelope generators. This offers the ability to create complex and articulated reverb effects that can go way beyond convention. All Matrix Modulations are completely user definable. Macros allow for simultaneous control (with a single slider) over many reverbs parameters, with different depth and polarity for very smooth morphing between different reverberant spaces. Any parameter can be automated via your DAW/Sequencer's automation, with full and seamless integration allowing efficient and convenient use of many of today's most advanced control surfaces.
CSR-1 will be available in the 3rd quarter of 2005 and will have an MSRP of $399. CSR-1 will support all the most popular plug-in platforms in both WindowsXP and MacOS X including VST, RTAS, AU and DX. A TDM version for ProTools systems will be available by the 4th quarter of 2005..
CSR-1 By IK Multimedia
The Future: IK has been on a tear recently with several product announcements at NAMM and Musik Messe. IK seems to think that the industry needs yet another software reverb plug-in...for $400 beans, we don't. However, if the routing matrix and LFO modulations are even half as cool as they're touting, then this could be worth at least a demo download.

Advertise on Futuremusic.com! | Privacy Policy | Employment Opportunities | Contact Us
Copyright © 2004 Futuremusic® All Rights Reserved.





As the name correctly implies, Experiments In Sound, is Futuremusic's latest endeavor for pushing electronic music technology to the very edge of what's possible. Experiments In Sound grew out of Futuremusic's avant-garde events in New York City that featured DJ's taking mixing and live sound reinforcement to a whole new level with the very latest gear and software.

Now Experiments In Sound has become The Ultimate Mix Contest...

After the tremendous success of our groundbreaking The Next Big Thing DJ Contest, Futuremusic has decided to once again create a new paradigm...
Learn more about Experiments In Sound!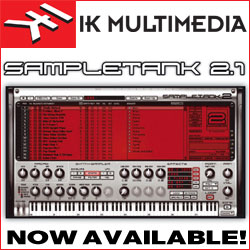 Part of Experiments In Sound, TestDrive will feature the lab results of our DJ Experiments so that everyone can get in on the action. Take the latest electronic music releases, mix vigorously with bleeding-edge DJ technology in a large beeker, and then cook the hell out of it! Be the first to hear about TestDrive by joining Futuremusic Direct.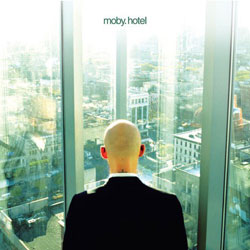 Futuremusic wants to thank everyone who participated in The Next Big Thing 2004. John Digweed, Beatport, Alienware, M-Audio, Native Instruments, IK Multimedia, PVDJ, PK Graphics, Ableton, The DubHouse, Propellerheads, Technics, FreeFloat, The Church, PCDJ and every DJ who entered this year's event thank you. From the sheer number of quality mixes, we can tell you that dance music is thriving in the United States. The amount of outstanding talent and creativity really blew us away, and every DJ who's putting their heart, mind and soul behind the music is a winner. John Digweed has made his decision and the winner is...
Think you got skills?? Then start practicing! The Next Big Thing 2005 will kick off at the end of the summer!!
News Archives



Digihear? Stories: March 2005
Digihear? Stories: February 2005
Digihear? Stories: January 2005
Digihear? Stories: December 2004
Digihear? Stories: November 2004
Digihear? Stories: October 2004
Digihear? Stories: September 2004
Digihear? Stories: August 2004
Digihear? Stories: July 2004
Digihear? Stories: June 2004