CD Spotlight



Together with Fabric Records, John presents Fabric 20, featuring tracks and remixes by Pete Moss, Martin Solveig, Angel Alanis, Michael Mayer, DJ Rasoul, Josh Wink, Slam, and many more. LISTEN!


Digital Spotlight



Soaring melodies fuel a music time machine launching the listener to the top of a world yet discovered. Reminiscent of the early works of Sasha and BT, My Piano's uplifting melody, combined with a funky, asymmetrical bass line creates a progressive, feel-good vibe on the floor while providing a memorable hook to take home until you next adventure in club land. LISTEN!


Vinyl Spotlight




Killer Progressive Tribal House from Spain's BeatFreak Recordings. Dark Iberican beast, dense pulsing basslines, it doesn't get much better than this Black Magic! LISTEN!




April 26, 2005
../ Edirol Introduces New HD Video Mixer
Edirol, a subsidiary of Roland, introduced a new multi format live video mixer/switcher dubbed the V-400HD. The V-400HD offers a professional high-resolution video solution for VJs, live events, community broadcast, and club installations.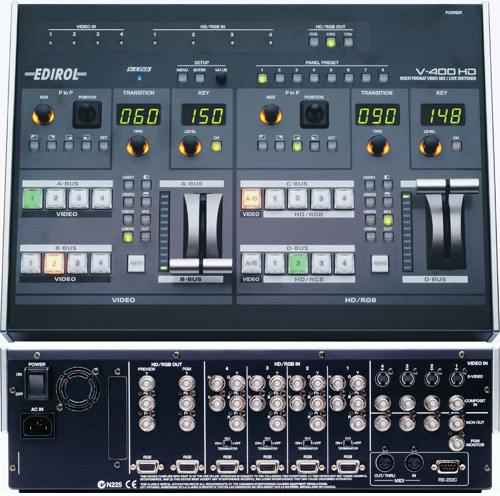 Based on their successful Edirol V-4, the HD mixer seamlessly mixes eight inputs in both the Standard Definition (SD) video and HD video formats, as well as computer signals up to SXGA. The output format is selectable between 1080i, 720p or XGA/SXGA. Like the original V-4, the new mixer offers an array of transitions, Picture-in-Picture locations via joystick as well as two independent Keyers (SD and HD).
Kim Nunney, President of Edirol North America, feels that the V-400HD is the perfect transition piece to allow VJs to migrate from standard video to High-Definition. "We are excited about offering a solution that will allow our customers to grow into HD. With the V-400HD's ability to handle standard video and computer inputs, many users can start using it now with their current cameras and data projectors. As they acquire HD/HDV cameras or higher-resolution display technology, the mixer will continue to serve them well."
V-400HD has the ability to chain multiple units together enabling a single HD image to be spread across multiple output displays which is an all-in-one solution for multiscreen performance. In addition, Roland's proprietary V-LINK allows the mixer to be controlled from any Roland/Edirol instrument via MIDI. Traditional computer control via RS-232C is also supported. The V-400HD is expected to be available by Christmas 2005.
The Future: With the new High-Definition camcorder options now available, it was only a matter of time before a manufacturer addressed this need. By introducing a relatively affordable HD mixer before the competition, Edirol is able to stay one step ahead in this volcanic market segment.

Advertise on Futuremusic.com! | Privacy Policy | Employment Opportunities | Contact Us
Copyright © 2005 Futuremusic® All Rights Reserved.





As the name correctly implies, Experiments In Sound, is Futuremusic's latest endeavor for pushing electronic music technology to the very edge of what's possible. Experiments In Sound grew out of Futuremusic's avant-garde events in New York City that featured DJ's taking mixing and live sound reinforcement to a whole new level with the very latest gear and software.

Now Experiments In Sound has become The Ultimate Mix Contest...

After the tremendous success of our groundbreaking The Next Big Thing DJ Contest, Futuremusic has decided to once again create a new paradigm...
Learn more about Experiments In Sound!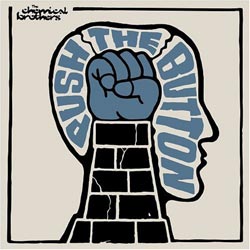 Part of Experiments In Sound, TestDrive will feature the lab results of our DJ Experiments so that everyone can get in on the action. Take the latest electronic music releases, mix vigorously with bleeding-edge DJ technology in a large beeker, and then cook the hell out of it! Be the first to hear about TestDrive by joining Futuremusic Direct.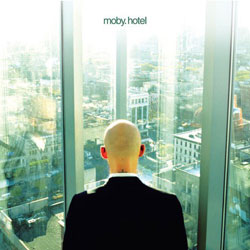 Futuremusic wants to thank everyone who participated in The Next Big Thing 2004. John Digweed, Beatport, Alienware, M-Audio, Native Instruments, IK Multimedia, PVDJ, PK Graphics, Ableton, The DubHouse, Propellerheads, Technics, FreeFloat, The Church, PCDJ and every DJ who entered this year's event thank you. From the sheer number of quality mixes, we can tell you that dance music is thriving in the United States. The amount of outstanding talent and creativity really blew us away, and every DJ who's putting their heart, mind and soul behind the music is a winner. John Digweed has made his decision and the winner is...
Think you got skills?? Then start practicing! The Next Big Thing 2005 will kick off at the end of the summer!!
News Archives



Digihear? Stories: March 2005
Digihear? Stories: February 2005
Digihear? Stories: January 2005
Digihear? Stories: December 2004
Digihear? Stories: November 2004
Digihear? Stories: October 2004
Digihear? Stories: September 2004
Digihear? Stories: August 2004
Digihear? Stories: July 2004
Digihear? Stories: June 2004