Cheers:


+Excellent Sound
+Great Controls
+Easy to Use
+Good results quickly
+CPU Friendly
+Inexpensive


Jeers:


-Interface is unsophisticated
-Reverb needs refinement


Off The Record:


In today's Convolution Reverb market, the single algorithm Masterverb is dated. Wave Arts needs to step up and create a Masterverb 2 in their next update with the latest technology. If they can apply the same build philosophy as Masterverb 1, then this could have incredible potential. And keep the Masterverb 1 in the lineup. A engineer can never offer too many solid reverbs in their sonic toolbox, especially with the low CPU contraints.




March 31, 2005
../ Wave Arts Power Suite
Wave Arts Power Suite for Mac and PC is a bundle of their five products, TrackPlug, MasterVerb, Multidynamics, WaveSurround and FinalPlug for $499.95 US.

MasterVerb is a single-algorithm reverb with basic controls. It's a solid offering for applications that require a short reverb time, but long tails tend to waver. It also has somewhat of a bite that can work great with percussion, but not if you want to create creamy pads. Wave Arts added a diffusion knob to even out some of the ripples, but it still can use a little work.

The Multidynamics plug-in works well in a wide variety of applications. It is one of the most flexible EQ/Dynamics processors and displays the results of the processing effectively. None of us are too crazy about the visual appearance of the plug-in. In fact, the graphical interface of any of the Wave Arts plug-ins, look more like a product from the mid-nineties than something from the new millennium. However, these are grunts, not medal-decorated generals, and they do what they're told. The cool thing about the Multidynamics processor is how you can really tweak the individual bands. Compress one frequency while expanding another, select the frequency range for each band, and then determine the amount of gain will be applied above and below the threshold - it's really quite detailed and this is exactly what you need to tackle precise sonic problems.

Trackplug is a non-processor intensive, ten band EQ, with a compressor and a gate. The EQ can be routed pre or post compressor/gate and there are all the basic controls at your mouse-tip to shape the sound how you desire. We found the plug's sound to be quite transparent, and discovered the excellent metering to be a good indication what was happening sonically. There's a quality Look-Ahead feature in 1ms, 2ms and 5ms increments that was able to handle all the transients that we threw at it. The compressor/gate had selectable soft, medium and hard knee configs. Wave Arts also includes a lot of auto options to make setting the plug-in for complicated pieces much easier. The Dynamics Auto Gain normalizes the incoming signal while the Auto Make-Up smoothes out the output. Trackplug is a very useful plug-in and you'll find that the 50 presets they make for a solid starting point when shaping particular sounds.

FinalPlug is a peak limiter that is meant to pin your signal for maximum loudness. This type of sound is very popular these days, but it can very easily muddy your overall mix and/or individual tracks by reducing the detail and dynamics, so you have to use it with caution. Wave Arts couldn't have made Finalplug any easier to use, you just set the high water mark for the sound level, set the Release time, and then manipulate the Threshold to achieve your desired level increase. Again, if used with delicacy, you can achieve totally transparent results and gain anywhere from 2 to 5 db in overall volume. Well done.

Wave Surround is a spatial enhancer that increases the width of a stereo image via HRTF binaural processing. I'm often wary of these types of processors due to phasing problems and reduced detail. However, I found WaveSurround to work very well if used in moderation, 90 degrees or less, and if you add the reverb very gingerly. To get the most out of WaveSurround, you really have to tweak the filters. Flat worked best on overall mixes while the other options worked well on stand alone elements like percussion.

At $499 for the entire bundle, you make think of Wave Arts as the poor man's Waves Diamond Bundle. However, I found that the Wave Arts plug-ins sounded just as good or better than many of the industry-standard Wave offerings. The Wave Arts Power Suite is an excellent choice for anyone who needs a solid set of standard sound shaping tools. $499.95 For Mac and PC. PC Formats: Direct X, RTAS and VST. Mac Formats: Audio Units, MAS, RTAS and VST. WaveArts.com

The Future: Wave Arts, perception is reality. It's time that you hired a real graphic designer who can polish the visual interfaces of your products and bring your line up solidly into the new millennium. It's a no brainer that many potential users are going to be turned off by the graphical interface of your product line. Jagged, un-aliased visual elements and clunky primary colors make the Power Suite look like a mascot of a AAA farm team instead of major league contender. This doesn't mean make the product look like the cockpit of a F-15, it means sophistication, usability and maturity. Make this happen and you'll be rewarded with a significant increase in sales.





Advertise on Futuremusic.com! | Privacy Policy | Employment Opportunities | Contact Us
Copyright © 2005 Futuremusic® All Rights Reserved.






Wave Arts Power Suite receives an 80% PowerRating - We recommend this plug-in bundle to anyone looking for a solid suite of sound shaping tools without having to mortage the farm.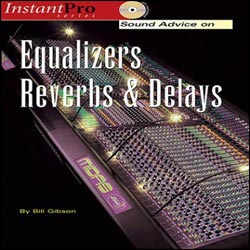 As the name correctly implies, Experiments In Sound, is Futuremusic's latest endeavor for pushing electronic music technology to the very edge of what's possible. Experiments In Sound grew out of Futuremusic's avant-garde events in New York City that featured DJ's taking mixing and live sound reinforcement to a whole new level with the very latest gear and software.
Now Experiments In Sound has become The Ultimate Mix Contest...
After the tremendous success of our groundbreaking The Next Big Thing DJ Contest, Futuremusic has decided to once again create a new paradigm...
Learn more about Experiments In Sound!

Futuremusic wants to thank everyone who participated in The Next Big Thing 2004. John Digweed, Beatport, Alienware, M-Audio, Native Instruments, IK Multimedia, PVDJ, PK Graphics, Ableton, The DubHouse, Propellerheads, Technics, FreeFloat, The Church, PCDJ and every DJ who entered this year's event thank you. From the sheer number of quality mixes, we can tell you that dance music is thriving in the United States. The amount of outstanding talent and creativity really blew us away, and every DJ who's putting their heart, mind and soul behind the music is a winner. John Digweed has made his decision and the winner is...
Think you got skills?? Then start practicing! The Next Big Thing 2005 will kick off at the end of the summer!!
News Archives



Digihear? Stories: March 2005
Digihear? Stories: February 2005
Digihear? Stories: January 2005
Digihear? Stories: December 2004
Digihear? Stories: November 2004
Digihear? Stories: October 2004
Digihear? Stories: September 2004
Digihear? Stories: August 2004
Digihear? Stories: July 2004
Digihear? Stories: June 2004