August 25, 2006
../ TestDrive: IK Multimedia Amplitube 2
The Amplitube Strikes Back! IK Multimedia's Amplitube 2 is the sequel to the company's pioneering guitar modeling processor. Many purists never would of thought of outsourcing their guitar sound to a computer, but Amplitube was the first mainstream program to demonstrate what could be achieved with virtual amps and effects, and left many musicians salivating at the possibilities.

Amplitube was then eclipsed by Native Instrument's powerful Guitar Rig, which incorporated a pedal so that guitarists could take their virtual show on the road. Before IK could respond, Native quickly updated Guitar Rig to version 2.0 with new enhancements and an even more sophisticated foot controller. With Native's lead, coupled with Amplitube 2's extremely long development time, many thought that IK wouldn't be able to make up the distance between the two products. However, IK has come roaring back with a brilliant sounding plug-in for only $399.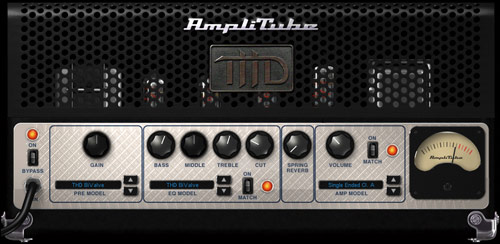 Amplitube 2's photorealistic graphics are breathtaking

Let's just get this out of the way immediately. The sound quality of Amplitube 2 is simply amazing. IK completely revamped the sound engine of Amplitube 2 with a new technology dubbed Dynamic Saturation Modeling (DSM) which mimics each component's circuit boards, tubes, cabinets, stomp boxes and other attributes to obtain the most accurate emulations to date. The improvement in aural quality is staggering when compared to the first incarnation of Amplitube, and opens the doors even wider for electronic musicians to create tantalizing sonic landscapes.
The time between the first announcement of Amplitube 2 and the actual delivery date was substantial. Many were wondering if the long-awaited product would ever debut. But IK Multimedia knew they would have to impress and no detail was compromised. Amplitube 2's interface is just gorgeous. Subtle details on the photorealistic graphics, such as the output meter's reflective highlights and the chromed protective metal hinges are a delight to behold. The window is also a very manageable size. Not too big and not too small. Kudos to IK's GUI (Graphical User Interface) designer. IK also expanded upon the original's three main sections (Stomp, Amp, Rack), and it now includes a separate cabinet arena with more elaborate microphone placement and room controls, as well as a Tuner section.
Installing Amplitube 2 is a very cumbersome process thanks to their copy protection scheme. In fact, IK's security measures should be implemented by TSA and Border Control since there are several checkpoints along the way which can lead to problems getting the plug-in up and running. Dongle's, digital ID's and authorizations codes, oh my!
This is especially problematic on the Mac where the authorization code on our dual processor G5 crapped out several times. The frustration and interruption of the creative process is not worth the hassle for musicians who purchase a $400 program. IK should seriously consider revamping their security measures to make this process seamless.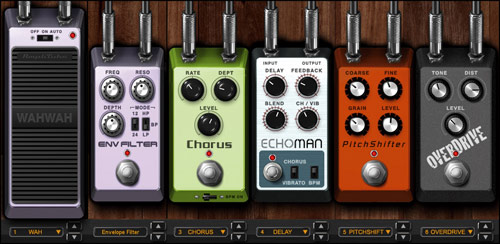 Amplitube 2's pedal board

Amplitube 2 contains seven power amps, sixteen speaker cabinets, six microphones, twenty-one stomp boxes, fourteen preamps and eleven rack effects, all cleverly housed in a tightly integrated interface. A brand new pedal board with the original Amplitube's stomp effects plus several new models, including several sought-after vintage boxes, are a welcome revamp. The stomp boxes cover almost all sonic possibilities of the effects spectrum and include distortion, EQ, compression, modulation, delay, pitch, filter, advanced dynamics and more. Licensing deals with Electro-Harmonix, Arbiter and other quality manufacturers, make this feature worth the price of admission alone.


Amplitube 2's rack effects, located at the end of the signal chain, can be stacked four deep

Amplitube 2's rack effects are also excellent. Creamy reverbs, gritty distortion and delicious delays showcase IK's powerful DSM algorithms. The rack effects, which are placed at the very end of the DSM signal chain, can be stacked four deep. This may be overload considering the amount of analog modeling going on prior to getting to this stage, but huge sounds like "80s Ballad" make you see why this was necessary and beneficial.
Amplitube 2's secret mojo comes in the form of its routing matrix. This extremely powerful and flexible scheme allows you to route your effects in Parallel or Serial in two different independent configurations. The dual rigs can be configured to play independently, or simultaneously enabling you to ignite as many as twelve stompboxes and eight rack modules at once. With the insane amount of quality boxes, amps, preamps, cabinets, mics and effects, its easy to overdue it. Luckily, the presets that IK commissioned for Amplitube 2 make discovering what works a real treat. The presets are some of the best to come out of the IK camp and include brainstorms from several quality engineers. With thousands upon thousands of possible combinations, you can experiment for hours.



Amplitube 2 features several mic simulations

Amplitube 2's DSM technology is worth mentioning again. The detail, nuances and ambient quality of the models were some of the best we've ever heard. Sudden barking filter attacks, dynamic abnormalities and "it's alive!" modulations, not only sounded true-to-life, but also visceral. This unique essence is the soul of Amplitube 2. In short order, you will find that this translates into something special in your music.
The more I use Amplitube 2, the more I find I like about the program. Not only am I truly blown away over and over again by the program's phenomenal sound quality, but I'm finding the plug-in to be just plain fun. The design choice that IK made in regards to Amplitube's signal flow makes it extremely satisfying to create your own sounds. If only IK would come out with a dedicated pedal controller to take advantage of Amplitube 2's power...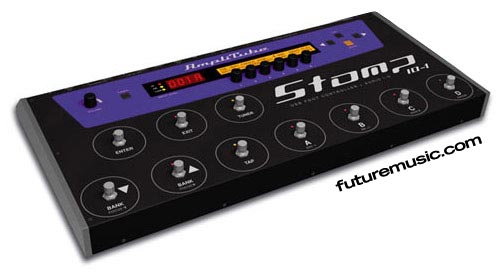 The StompIO floor processor for Amplitube 2 will be available in January 2007

Well, we're in luck. IK has announced the StompIO USB "floor processor" -- a pedal controller on steroids, that was designed from the ground up to take full advantage of Amplitube 2's sonic power. Ten foot switches, seven knobs, two large displays, MIDI In/Out, Direct In, USB , SPDIF, balanced/unbalanced Stereo Out, and up to six configurable external controllers, housed in a high-quality metal case allows the user to easily navigate and harness all of AmpliTube 2's sounds. Let's just hope the time between the announcement of StompIO and the delivery is much quicker than the time it took Amplitube 2 to get to market. However, considering Amplitube 2's stunning quality, we'll give IK all the time they need.
(Expected Release is January 2007. No pricing has been released. --Ed.)
IK Multimedia's Amplitube 2 is available for $399 from retailers worldwide. More information on Amplitube 2.
The Future: As good as Amplitube is, we'd like to see a couple of improvements in the next version. First off, IK must do something about the current copy protection. We understand you love your product, we do too, but making a user climb Mount Everest to install the puppy is just asking too much. Preset navigation could also use a revamp. Having to open an external file is one step forward, two steps back, and needs to be a much quicker process.
As a guitarist and an electronic musician, I'd love to be able to custom build some of my own amps. Entering the Amplitube Lab, it would be awesome to choose my own cabinet, tubes, speakers, etc. to build the amp of my dreams, and then share the creations online for bragging rights...

Advertise on Futuremusic.com! | Privacy Policy | Employment Opportunities | Contact Us
Copyright © 2006 Futuremusic® All Rights Reserved.