May 8, 2006 | En Español
../ TestDrive: Native Instruments Reaktor 5
The Best Reaktor Yet! For many musicians who have been composing electronic music for several years, one thing is obvious, more than ever, many "new" songs sound exactly alike. To get off the virtual synth preset train, imaginative writers are turning to sound design programs to distinguish themselves from the pack. Native Instruments' Reaktor, now in its fifth incarnation, has been around for almost ten years, and has built a fervent and devoted following among those who are not content to take the easy way out. Native Instruments has now rewarded the faithful, version 5 is the best Reaktor ever.

Version 5 brings significant new advances to the program and allows the user to get even more insanely deep into the programming of Reaktor's dynamic sound engine. Reaktor still has that Mr. Everest learning curve, but with patience you can create sounds you never thought possible. Native Instruments' competition, such as Kyma and MetaSynth, may offer a broader array of sonic power, but can't be had for Reaktor's $450 price point.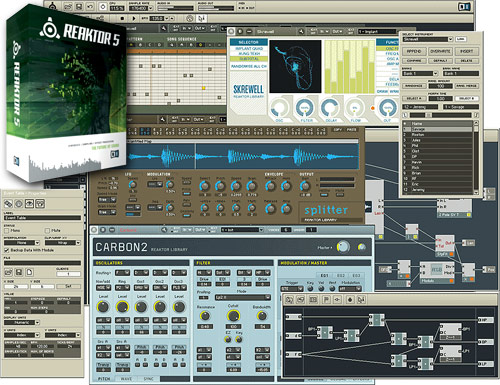 Dozens of great instruments come ready to go right out of the box, no programming needed!

Reaktor 5 builds on the modular sound creation foundation of previous versions. The open architecture of Reaktor is what completely scares the living daylights out of most users who are new to the program, as well as the nomenclature. But fear not, my friends, it's not as hard as you think and the unrestricted approach of the program works brilliantly with today's methodology of composing on a computer. So let's discuss Reaktor's hierarchy. Your overall project is known as an Ensemble. The Ensemble is broken into two distinct parts, Structure and Panel. Think of this as building the house and then decorating the rooms. Thus, Structure is where you build via the instruments and other sound generating modules, and then you decorate with the knobs and controls of the Panel. You dig? OK, now comes the fun part.
Each Instrument contains two essential Macros: Primary and Core Cells. The Core part is new to version 5 and allows you to now completely tweak the Modules which make up each Macro. I know you want to kick me in the groin right now, but bear with me. The new Core Technology Engine is version 5's new super power and allows you to swim with the programming sharks. I've never encountered such raw programming power in my hands for under $500. In prior versions of Reaktor you had no real control of the Modules, but in version 5, you can not only do the nasty to each module, but you can save your creations to be utilized in future Ensembles. In fact, you also save the Core Cell Macros, Primary Macros, and of course, your entire Ensemble.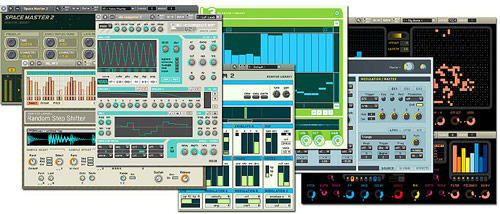 Reaktor 5's Ensembles - get used to your jaw dropping...

OK, before you hire a hit-man to take me out, chew on this: you don't have to do any major programming, editing or tweaking at all. There are plenty of outstanding presets to tee up and you'll find that you can generate amazing results in no time. And, if you possess even a very basic knowledge of synthesis, you can begin creating sounds in Reaktor's Structure window where you can check out the programs 52 library instruments, 13 effects and other goodies. Reviewing the make up of entire Ensembles is an excellent way to educate yourself to Reaktor's builiding blocks, and I highly recommend spending time doing this before getting into the manuals. This gives you a general understanding of the architecture and puts you on the fast track.
One feature that may get overlooked in version 5, is the ability to change the look of individual components in Reaktor. For too long, Native Instruments has ignored many outspoken users who wanted to create their own unique look and feel. Now you can customize the appearance of the buttons, knobs, switches, faders, and much more! This is a welcome addition and a great way to visually compartmentalize the work environment. Reaktor also contains six different sequencers in its library, which I recommend utilizing in Stand-Alone mode to flush out your musical ideas and stimulate other imaginative ways to "hear" your sonic creations as music.
Reaktor is a CPU hog. Like Uncle Ben told Peter Parker in Spider-Man -- "With great power, comes great responsibility" -- you'll need to manage your modules so you don't overload your computer. Even the new dual-core chips start begging for mercy with 4 synths plus effects rocking. Native Instruments acknowledges this dilemma and provides an intelligent CPU efficiency option, which gives a graphical usage readout of each module within an instrument. This feature allows you to visually determine which module is chugging CPU cycles and police accordingly.
So how can you be a CPU Cycle Cop? Utilize the new Core Technology Engine! It's easier than you think. Just open up an instrument and begin turning off unused attributes to reduce drain. The obvious is to eliminate voices of synths since, for some reason, they're all turned on from the get go. But you can also gang effects and dump unused modules. Every little bit helps, so if the component isn't influencing the sound, kill it.
One of the greatest attributes of Reaktor is its vibrant and growing community of users. Coddled by the company via its vast website and forums, Native strongly encourages its more advanced users to upload Ensembles, Modules, Instruments, Core Cells, and Samples. Currently there were over 800 synthesizers, 200 samplers, 350 sequencers, 325 effects and 100 macros available for download. There are quite a few gems and permits newbies to constantly update their library without even cracking the manual.
Native Instruments Reaktor 5 is available for $449 from the Native Instruments Store and other retailers worldwide. For more information check out Native Instruments fabulous website at: Native-Instruments.com
The Future: NI should consider creating a simplified program called Reaktor FX. Think of it as a Reaktor Session, but just effects. Utilizing Reaktor's powerful engine and architecture to create insane effects modules and chains would be very exciting.
I'd also like to see "Intelligent Voicing" in version 6. Instead of having each instrument's total number of voices on from the start, the program should intelligently determine how many are "needed" and just activate that number.
A basic sample editor would also be a nice addition. Nothing fancy, but something inside the program. The Sample Map Editor could also use some refinement. It's powerful, but somewhat unwieldy.
However, the biggest improvement that Native Instruments should implement in the future is the creation of a Reaktor 5 Tutorial DVD. If they can create one as good as the Absynth Tutorial, then not only will they create a new Reaktor revenue stream, but also provide ground-up training for the many who are intrigued by the program, but are too apprehensive to jump in because of the complexity.

Advertise on Futuremusic.com! | Privacy Policy | Employment Opportunities | Contact Us
Copyright © 2006 Futuremusic® All Rights Reserved.