CD Spotlight



Paul Van Dyk's The Politics of Dancing, Vol. 2 is receiving major buzz as the Fall release. The second installment promises to continue where the first installment left off with tracks from Jose Zamora, Shiloh, Whiteroom, Mr. Sam, Angello & Ingrosso, Marco V, James Holden and a new one from PVD himself "The Other Side". LISTEN!


Digital Spotlight




Rumour Records throws down four solid mixes of this classic Nomad track to ignite any room. LISTEN!


Vinyl Spotlight




From the production duo that set dancefloors alight with "Shake It" comes a track that gives the summer season a sweet wave goodbye. "I Watch You" provides an enticing build up with an energetic bassline and a hooky vocal. LISTEN!




September 6, 2005
../ Denon Announces New CD/MP3 Turntable
Denon DJ announced the debut of a new top-of-the-line CD turntable with a powerful 12-pole Direct Drive brushless motor that delivers 2.5 kg/cm of start up torque to better emulate the power vinyl turntables on the market. The new DN-S3500 also provides full support for MP3 playback including a new MP3 Memo system that saves cue points and loops to internal memory, as well as the first ID3 BPM tag system, which automatically recalls the BPM metadata of a given MP3 file.

Denon, who has lagged behind the other major manufacturers in the CD "Turntable" market, is now very serious about being a contender. By coming to the very competitive CD Turntable market late, they have the advantage of addressing the major deficits of their rivals and capitalize on their shortcomings.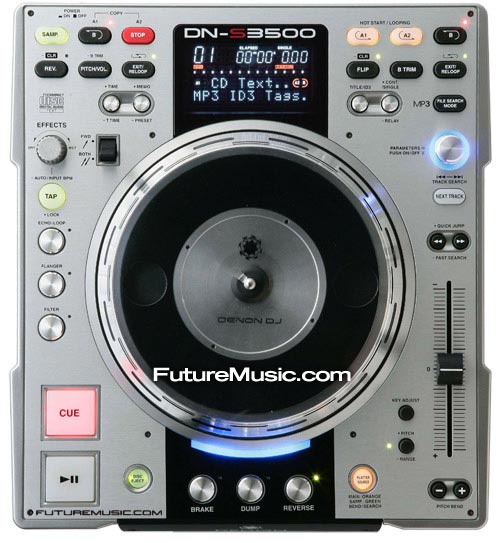 The new Denon DN-S3500 CD/MP3 Turntable

Built-in effects are a touchy issue, some manufacturers like Numark have put in considerable effort to give their flagship (CDX) player excellent, performance-based effects. Others, such as Technics, have provided surprisingly inane effects that make you wonder if barnyard animals were spearheading the development. Denon's DN-S3500 has seven built in effects including Flanger, Filter (High-Mid-Low), Echo, Echo Loop, as well as three platter effects, Brake (adjustable in real-time), Dump (reverse sound without losing true forward time) and Reverse. All effects can be tweaked in realtime, feature full parameter adjustment, and utilize a separate control for the wet/dry effects mix. These sound quite promising, but they will have to be tested before we can weigh in with a verdict.
The DN-S3500 features full MP3 playback support for constant bit rate (CBR) and variable bit rate (VBR) decoding up to 320 kbps. MP3 functions include Frame Search, MP3 Hot Starts and Seamless Looping with B point trim, ID3 tag display for Artist, Title, Album, and the world's first ID3 BPM tag, which automatically recalls the BPM metadata of a given MP3 file. A comprehensive MP3 File Search System that can quickly locate hundreds of files in various folders, as well as the aforementioned MP3 Memo system that saves the user's cue points and loops to internal memory.
The DN-S3500 also includes many powerful sample and loop functions for extended mixing capabilities. In conjunction with the 15 second on-board sampler, the Seamless Loop to Sampler Copy function allows a DJ to swap out the disc during sample playback and even overlay CD scratches using the sampler. Two Hot Starts and seamless loops with B point trim can be set on the fly, as can further Key Adjustments and Cue Stutter points. Nice! CD Text support provides scrolling display of track names when used with commercial releases or with the user's own CD-R/RW compilations. Full pitch control is available in increments of +/- 4%, +/- 10%, +/- 16%, +/- 24%, +/- 50% and +/- 100% for CDs, with MP3 pitch adjustment in the range of +/- 4%, +/- 10% and +/- 16%. Shockproof memory is provided for both CD (20 seconds) and MP3 (100 seconds).
The Denon DN-S3500 Professional Direct Drive CD/MP3 Player will be available in late September for $879.99 MSRP
The Future: As sexy as the DN-S3500 appears, they still have to contend with Pioneer's CDJ-1000's install base. If you want to use CDs to DJ in clubs, then you must learn the Pioneer inside/out since most venues don't feature Technics, Numark, Denon or other brands. However, if you DJ events and bring your own rig, then the Denon may be worth a look.

Advertise on Futuremusic.com! | Privacy Policy | Employment Opportunities | Contact Us
Copyright © 2005 Futuremusic® All Rights Reserved.





As the name correctly implies, Experiments In Sound, is Futuremusic's latest endeavor for pushing electronic music technology to the very edge of what's possible. Experiments In Sound grew out of Futuremusic's avant-garde events in New York City that featured DJ's taking mixing and live sound reinforcement to a whole new level with the very latest gear and software.

Now Experiments In Sound has become The Ultimate Mix Contest...

After the tremendous success of our groundbreaking The Next Big Thing DJ Contest, Futuremusic has decided to once again create a new paradigm...
Learn more about Experiments In Sound!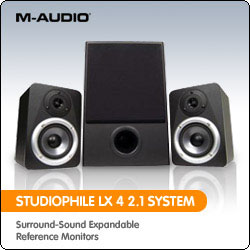 Futuremusic wants to thank everyone who participated in The Next Big Thing 2004. John Digweed, Beatport, Alienware, M-Audio, Native Instruments, IK Multimedia, PVDJ, PK Graphics, Ableton, The DubHouse, Propellerheads, Technics, FreeFloat, The Church, PCDJ and every DJ who entered this year's event thank you. From the sheer number of quality mixes, we can tell you that dance music is thriving in the United States. The amount of outstanding talent and creativity really blew us away, and every DJ who's putting their heart, mind and soul behind the music is a winner. John Digweed has made his decision and the winner is...
Think you got skills?? Then start practicing! The Next Big Thing 2005 will kick off at the end of the summer!!
News Archives



Digihear? Stories: August 2005
Digihear? Stories: July 2005
Digihear? Stories: June 2005
Digihear? Stories: May 2005
Digihear? Stories: April 2005
Digihear? Stories: March 2005
Digihear? Stories: February 2005
Digihear? Stories: January 2005
Digihear? Stories: December 2004
Digihear? Stories: November 2004
Digihear? Stories: October 2004
Digihear? Stories: September 2004