Cheers:


+Fit & Finish
+Aesthetics
+Features
+Ease-Of-Use
+Headphone Output


Jeers:


-Expensive
-Mono
-Bass Response
-No Network Memory



Off The Record:


"Considering the target market of this product, I certainly don't think the middle-of-the-road, mono sound will affect the descision whether or not to drop the 200 bills."
--Greg Geller


"Hard pressed to find a solid gift for a music fan that's got everything? Buy the Livio Radio and take the checkered flag."
--Dan Brotman


"You can almost hear the product development on this one: Stereo speakers will price it out of our range. Why don't we make it retro with a single mono speaker! You just got yourself a promotion son!"
--Garth Fields


"Where's the bass? Where's the bass?"
--Jack Handle







January 18, 2010
../ TestDrive: Livio Radio Review
One of the greatest features of Internet Radio is the ability to discover new music. If you're into obscure genres or undiscovered talent, you already know what a resource the net can be for unearthing gems. Pandora, one of more prominent online radio stations, has made a name for itself by delivering a provocative radio model that has been ported to several different delivery mechanisms beyond the computer including the Apple iPhone and now the Livio Radio.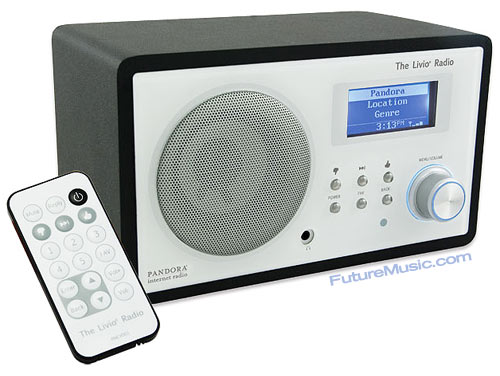 The future retro look makes up for just average sound

The basic idea of the Livio Radio is to create an attractive method for online radio enthusiasts to listen in without having to be tethered to their computer. Considering the plethora of iPod docks available on the market, Livio made a distinctive choice in creating a retro looking radio with superior construction. The unit has a first-rate fit and finish with a large LCD screen, back-lit with a soothing blue hue. Every knob and button is quality and they turn and push with a solid feeling that tells you they're not going anywhere.

Along with the LCD screen on the front is a 3" single speaker behind a white grill, a large back-lit data knob, and a headphone out minijack. Six buttons, including dedicated, Pandora-based thumbs up/thumbs down action, Next song, Fav, Back and Power round out the offerings. On the back, there's an Ethernet jack, Aux In, and a Stereo out. The last attribute is important because the Livio Radio is essentially a mono unit. If you want to listen in stereo, then you're going to have to attach the radio to your receiver or a powered set of speakers.

Features:
11,000 Internet Radio Stations Including Pandora
Only Pandora hardware to have dedicated "thumbs up" and "thumbs down" buttons
Internal Wi-Fi 802.11b/g with Reciva Technology
Ethernet Input
No Subscription Fees
Sets up in minutes
Auxiliary input
No computer required
Basic Alarm Clock
Automatic software updates
Stereo output jack
11,000 Stations At Your Fingertips
Although, the Livio Radio is primed for Pandora, you can tune into other online radio stations as well. Livio claims that there are 11,000 stations at your fingertips via Reciva and you can easily search for programming by keyword, location, genre or artist. The thumbs up/down Internet radio paradigm is also included allowing you to fine tune your preferences.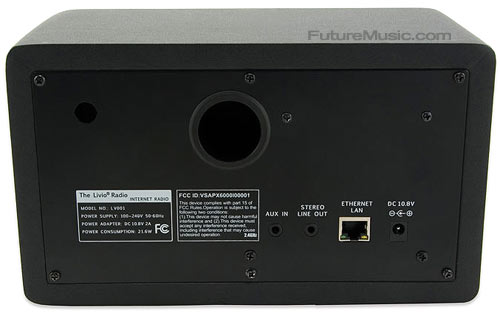 Feeding the stereo output to larger system will certainly enhance the sonic experience

Connecting to the net via 802.11b/g is seemless for a stand-alone unit and the Livio supports both WEP and WPA security. The only downside is that if you unplug the unit, or the power goes out, you have to start from scratch. The simple addition of a battery backup mechanism, found on higher-end clock-radios, would have been a bonus.

In our extensive long-term test with multiple users, we can report that no functionality issues were encountered. The unit also held up quite well going from location to location without the protection of its originial box, which somehow managed to "escape" the first reviewer. Although not "blown away by the sound quality," most reviewers found it "acceptable" for streaming music.


Dedicated Thumbs Up/Down and Favorite buttons for Pandora preferences

For $199, the Livio Radio is certainly not cheap, but you get what you pay for here: a good-looking, easy to use product with solid build quality that we can easily recommend to our readers who like their Internet radio not tethered to a computer.


The Future: We'd love to see Livio come out with a one rack space model for use in home stereo/theatre applications with an enhanced attennae and gold-plated RCA outputs. Considering the fidelity of streaming internet radio at this moment in time, most reviewers were content with the single speaker, but a true stereo model should also be on Livio's short list.
Finally, a price point at $99 or $149 would make the Livio much more attractive, not to mention competitive, to a broader base.
The Livio Radio retails for $199 and is available now. More information on the Livio Radio Featuring Pandora.

Advertise on FutureMusic.com! | Privacy Policy | Employment Opportunities | Contact Us
Copyright © 2010 FUTUREMUSIC® All Rights Reserved.






For $199, the Livio Radio is certainly not cheap, but you get what you pay for here: a good-looking, easy to use product with solid build quality that we can easily recommend to our readers who like their Internet radio not tethered to a computer.