Cheers:


+Build Quality
+Sound Quality
+Features
+Headroom
+Low Noise
+Simultaneous Input Monitoring
+2 Monitor Outputs


Jeers:


-No Word Clock Input
-Limited Cue Functions
-DB-25 Cable Extra
-Manual



Off The Record:


"The Dangerous D-Box is a true summing unit that provided additional headroom without pronounced colorization or noise."
--Dan Brotman


"I would have liked to have seen a dedicated Word Clock input."
--Greg Geller


"I achieved amazing results that were commercially competitive..."
--Daniel Wyatt


"The talkback functions are nice, but without a dedicated Cue source for delivering a separate feed to the talent, it's pretty limited."
--R. Staff


"Pressing both the Mono and Alt Spkr buttons at the same time puts you in Setup mode, which allows you to monitor multiple audio sources...something that's not included in the uninspired manual."
--Simon Davidson







October 19, 2009
../ TestDrive: Dangerous D-Box Review
Audio Summing is one of those burning engineering topics that creates passionate debates (well, mostly flame wars —Ed.) whenever anyone dares to bring up the subject on an audio forum. Much like Word Clocks, some engineers swear by external analog summing, while others feel that the job your Digital Audio Workstation (DAW) performs is just fine. When it comes down to it, analog and digital summing each have their own distinctive flavor. Some prefer analog, some digital, and each come with their own advantages and deficits.





Simple elegance is a good way to describe the Dangerous D-Box

There are two main reasons for using a designated summing device. First, is to bypass the summing performed by the DAW, allowing for increased headroom via an analog path. Second, many engineers enjoy the ability to slide their favorite EQ's and compressors into the chain, applying some "personality" to the stems from a DAW.

Led by the illustrious Daniel Wyatt, a multi-platinum, Grammy- and Emmy- nominated mixing and mastering engineer based in New York City, our team of five reviewers spent several months putting the versatile Dangerous D-Box through the wringer to give you a comprehensive and objective evaluation. Comments in quotation marks are direct quotes from our reviewers.

Features:
High-quality D/A conversion onboard, with two digital inputs
Digital inputs lock to AES or SPDIF formats
Analog Summing of eight channels, set up in four stereo pairs, two of which have hardware panning controls
Stereo analog input, switchable for -10 and +4 sources
Track Selection and Device Control Encoders
Two speaker outputs
Built-in talkback microphone
Two stereo 40W headphone amps, with individual volume control
Elegant switching of multiple digital and analog inputs
Simultaneous input monitoring capabilities
Portable and durable
The Backstory:
What do you get when you combine the edge of Bob Muller with the audio genius of Chris Muth? Some very Dangerous gear indeed!


Bob Muller began his music career as a freelance drummer and tabla player in New York City. Chris Muth, an accomplished musician and engineer in his own right, was for decades the brains and passion behind the technological dominance of iconic studios like the Hit Factory, Masterdisk and Sterling Sound. Muth designed custom gear for the best in the business, and it's a safe bet that his fingerprints are on a large portion of what's on your iPod at this very moment.


Together, Muller and Muth built a seminal recording studio in NYC's East Village and founded a gear line, now known worldwide as Dangerous Music, Inc. Running a studio during the transition from the traditional large-format console / multi-track analog tape setup to the now-ubiquitous DAW allowed them to recognize the emerging benefits, and shortcomings, of digital recording and software mixing.

In essence, their philosophy was to extract the best sonic characteristics and functionality from the console-based studio and distill it into rack-mountable, compact, no-compromise, affordable gear tooled specifically for the DAW mixing and mastering environment. The D-Box is the latest monster from the Dangerous laboratories, and it's a killer!



The Sum Of It's Parts:
The D-Box combines state-of-the art monitoring with the analog summing technology that has made Dangerous the leader in the now-crowded field of summing mixers. It is set up to drive two sets of monitors, with a "great-feeling, tactile volume control that tracks really well across the entire range." The ability to drive two sets of monitors was a "huge bonus" — permitting our reviewers to set up separate pairs of near-field and mid-field monitors without the need for additional hardware.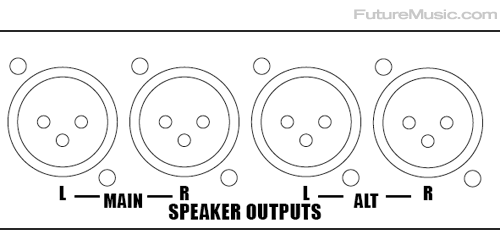 The D-Box features two monitor outputs - great for comparing your mix on two sets of monitors

In addition, the D-Box features elegant, precise switching between its two digital inputs for quick A/B comparisons, and direct monitoring of the summing path. It also has a dedicated stereo analog input that is switchable for both pro level (+4 dBu) and consumer level (-10 dBV) gear. A foldback/talent amp/talkback section makes it perfect for tracking and overdubbing. The two headphone amps are "without rival for power and clarity among the monitor box competition" and demonstrated that Dangerous "obviously put some thought into how engineers are working today."
Switching and Monitoring:
It's all about what you hear. If you can hear it, you can fix it. Having been the sommelier of monitoring for numerous premier studios for the past three decades, Chris Muth has designed a pristine digital-to-analog converter that is the translator for all of your digital signal flow. The front panel switches are perfectly laid-out. Simply touch the buttons to instantly switch between your mix and the competition. You can easily compare your vocal-to kick drum-to snare-to bass to-guitar levels with a reference selection from your CD player, and nail your mix with precision. You can even monitor multiple inputs at once, which is a handy feature for playing along with a CD, or checking sync between sources.







Analog Summing:
How do you fit eight busloads of people on to two busses of the exact same capacity? Sounds like a Zen Koan, but it's actually an engineering challenge. All mixers, whether analog or digital, need to lose gain as part of the summing process. For example, if you started building the mix with the track levels as they were recorded, you would be clipping before you even got the whole drum kit in the mix! Digital level control involves mathematical multipliers and bit-loss, where analog does it by turning some electrons into heat through a resistor or fader.


The D-Box makes use of state-of-the art analog summing technology to combine the outputs of your eight D/A converters in a high-headroom environment. Each pair of converters is handling a sub-group of tracks, with the submixing being done internally by the DAW mixer. This results in a sharing of the track-load by multiple D/A converters instead of having them all summed to two tracks in the DAW, which can be problematic.


However, analog summing also requires an additional Digital to Analog to Digital conversion, a topic that often comes up in the analog vs. digital summing debate. But there's a lot more to the decision whether or not you want to put your mix through another conversion due to the substantial benefits from analog summing with the right gear. In the case of the D-Box, if you're utilizing good converters the question becomes a no-brainer with the D-Box's "transparency" and spreading out the workload with multiple converters.


Furthermore, summing in the analog domain theoretically allows your channel faders to "stay higher," which could be desirable depending on your DAW. Wyatt immediately noticed how much harder he could push his track faders compared to mixing to the internal buss, and his mix had "better transient punch, tighter bottom, wider panning, and less of that collapsed or choked sound that you can get mixing in the box."


Even though Daniel Wyatt is a firm believer in the "better in, better out" philosophy of recording, he knows many engineers "getting great Dangerous mixes with Digi 002/003's, Ensembles, and other moderately price 8-channel interfaces." The headroom and summing principles apply no matter what converters you bring to the party.


Wyatt ventures that the conclusion in a million In The Box (ITB) vs. Out of The Box (OTB) threads is that digital summing is "perfect" and that the artifacts of analog summing are desirable to many. Although this is not the case with the D-Box, there are many engineers who desire the 2nd harmonic distortion achieved from punishing an analog box and the original Neve designs are often touted for the way they colored the sound when pressured, creating a fuller, fatter sound. In fact, many summing boxes today promote their distinctive tone whether it's the punchy API, or the very aggressive SPL MixDream, or the valve-driven Fat Bustard. That said, for the final stage, especially in Mastering, our reviewers were not looking for "big flavor" and that's one of the reasons they felt the D-Box was a compelling solution. Wyatt summed it up best when he revealed that he "achieved amazing results that were commercially competitive" with the D-Box.



Talent and Talk Back:
The talent/foldback/talkback features are simple and clean. Daniel Wyatt was able to do celebrity overdubs on a current radio single with perfect fidelity and excellent workflow. He also remarked on what a great choice the D-Box was for hotel room songwriting, while on tour. The built-in talkback microphone is very clear. You can either manually activate the talkback on the front panel, or use a remote switch, which connects conveniently to the rear panel. Two headphone jacks on the front panel allow for separate volumes for talent and producer while tracking.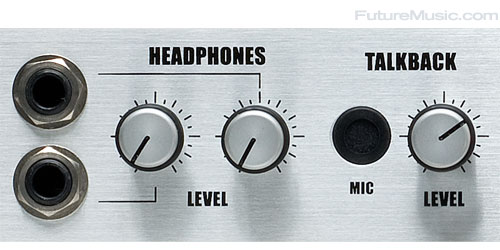 The Talkback function makes the Dangerous D-Box even more versatile

The D-Box is another brilliant product from the Dangerous team. Combining professional monitoring and switching, analog summing, and talent recording capabilities in one compact, elegantly designed unit, the D-Box is the obvious choice for the discriminating producer/engineer. Dangerous has another winner on their hands with the accessible D-Box and we can't recommend this versatile summing box enough.

The Future: The D-box represents the best of what the marketplace has to offer with regard to top-of-the line monitoring and summing in a compact and affordable package. An option Wyatt would love to see would be "a high-quality onboard master clock that would be the timing ring master for summing and recording." However, we would be satisfied "with a clock input." Another request that surfaced would be a 16 channel version of the D-Box, or the ability to chain units together without signal loss and the need for additional gear.
The Dangerous D-Box retails for $1599 but is currently streeting for $1399. More information on the Dangerous D-Box.

Advertise on FutureMusic.com! | Privacy Policy | Employment Opportunities | Contact Us
Copyright © 2009 FUTUREMUSIC® All Rights Reserved.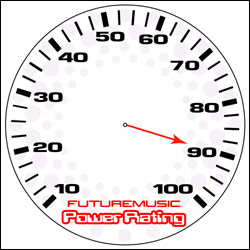 The D-Box is another quality product from the Dangerous team. Combining professional monitoring and switching, analog summing, and talent recording capabilities in one compact, elegantly designed unit, the D-Box is the obvious choice for the discriminating producer/engineer.