Cheers:


+Excellent Design
+Superior Quality
+Comfortable
+Good Protection
+Durable


Jeers:


-Just a little small


Off The Record:


With 20% more room, the Premium Backpack XL may be the perfect gig back for DJs who utilize Serato or FinalScratch. The protective inner computer compartment, coupled with ample room for the mixer interface and time-coded records, makes the tough XL the quintessential transport.

I had been using a ESDJCO DJ Backpack, but the rubber handle disintegrated within a month and the zippers were always a battle to open and close. So I trashed it and have been using a modified messenger bag. However, it's uncomfortable. After testing out the Alienware's Premium Backpack, I'm a believer. I'm ordering an XL today.
--Francisco Cutler

Alienware can have their killer bag back when they pry it from my cold, dead shoulders...no other protective backpack compares.
--Greg Geller

Who would of thought that a computer manufacturer could design such a kick-ass backpack?! Impressive. I can't wait to test out their sleek black Aluminum case and Odyssey Messenger bag...just gorgeous.
--Dan Brotman








October 20, 2005
../ TestDrive: Alienware Premium Backpack
The Alienware Premium Backpack is a high-quality, stylish transport for your laptop and mobile music accessories. This great-looking black bag comes with a cushioned interior pocket for shielding your computer from knocks and bumps, and has plenty of storage for your peripherals.

Coming from Alienware, we weren't surprised at the outstanding quality of the backpack's materials, but we were surprised at all the fashionable touches and thoughtful ideas that the computer maker incorporated. Alienware's attention to detail includes reflective stitching on the nicely padded shoulder straps and an external cell phone carrier that clips on the front for instantaneous access. The backpack is also extremely comfortable. It conforms perfectly to the shape of your back, and even heavy loads are not a strain.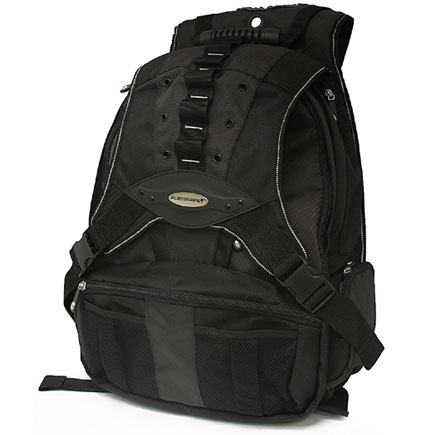 The abundant pockets make sorting your extra batteries, power supply, dongles, CD-Rs and other accessories a snap. I especially liked the wide pouch on the back with the outer mesh pockets - perfect for instant access to gum, ear buds and other items you may desire without having to unzip the entire bag. A couple of other excellent design features include a top zipper "shortcut" for accessing just the laptop, and the stealth flat pocket on the outside that can hold items that you may want immediate access to, but not obvious to others.
The free-flowing zippers are some of the best in the industry and come emblazed with the Alienware logo. The rubber, utilized on the top handle, is the best we've encountered for a bag at this price. After months of heavy use, there are no major signs of wear, ugly pilling, or other problems. This is one tough bag.
The only complaint I had was the amount of room in the second "portable office" pocket. I would have liked just a few more inches to accommodate a M-Audio Firewire 410 interface, Serato Scratch Live, and a MIDI controller. Well, Alienware must have received the same feedback because they just announced a Premium XL backpack with several additional inches of space for only $99.
The Alienware Premium Backpack's exterior dimensions are 16" x 21" x 9" and fits laptops up to: 15.5" L x 10.5" W x 2.5" H. At only $60, this is easily one of the best values available. For more information hit: Alienware.com

Advertise on Futuremusic.com! | Privacy Policy | Employment Opportunities | Contact Us
Copyright © 2005 Futuremusic® All Rights Reserved.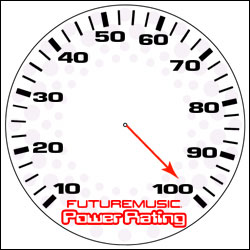 The Alienware Premium Backpack receives an 100% PowerRating - This is the best protective computer backpack we've ever tested. If you're in the market for a high-quality, stylish and tough as nails carrier for your gear, at a very economical price, then look no further than Alienware.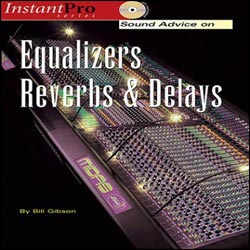 As the name correctly implies, Experiments In Sound, is Futuremusic's latest endeavor for pushing electronic music technology to the very edge of what's possible. Experiments In Sound grew out of Futuremusic's avant-garde events in New York City that featured DJ's taking mixing and live sound reinforcement to a whole new level with the very latest gear and software.
Now Experiments In Sound has become The Ultimate Mix Contest...
After the tremendous success of our groundbreaking The Next Big Thing DJ Contest, Futuremusic has decided to once again create a new paradigm...
Learn more about Experiments In Sound!

Futuremusic wants to thank everyone who participated in The Next Big Thing 2004. John Digweed, Beatport, Alienware, M-Audio, Native Instruments, IK Multimedia, PVDJ, PK Graphics, Ableton, The DubHouse, Propellerheads, Technics, FreeFloat, The Church, PCDJ and every DJ who entered this year's event thank you. From the sheer number of quality mixes, we can tell you that dance music is thriving in the United States. The amount of outstanding talent and creativity really blew us away, and every DJ who's putting their heart, mind and soul behind the music is a winner. John Digweed has made his decision and the winner is...
Think you got skills?? Then start practicing! The Next Big Thing 2005 will kick off at the end of the summer!!
News Archives



Digihear? Stories: September 2005
Digihear? Stories: August 2005
Digihear? Stories: July 2005
Digihear? Stories: June 2005
Digihear? Stories: May 2005
Digihear? Stories: April 2005
Digihear? Stories: March 2005
Digihear? Stories: February 2005
Digihear? Stories: January 2005
Digihear? Stories: December 2004
Digihear? Stories: November 2004
Digihear? Stories: October 2004