CD Spotlight



Paul Van Dyk's The Politics of Dancing, Vol. 2 is receiving major buzz as the Fall release. The second installment promises to continue where the first installment left off with tracks from Jose Zamora, Shiloh, Whiteroom, Mr. Sam, Angello & Ingrosso, Marco V, James Holden and a new one from PVD himself "The Other Side". LISTEN!


Digital Spotlight




Rumour Records throws down four solid mixes of this classic Nomad track to ignite any room. LISTEN!


Vinyl Spotlight




From the production duo that set dancefloors alight with "Shake It" comes a track that gives the summer season a sweet wave goodbye. "I Watch You" provides an enticing build up with an energetic bassline and a hooky vocal. LISTEN!




September 17, 2005
../ Volkswagen USB Music Connection
Volkswagen AG announced a USB music option on the Golf, Golf Plus and Touran models beginning in December of 2005. The 195 Euro/$240 US Dollar option will allow drivers to plug in a USB storage device directly into the car's sound system for immediate playback. However, the USB Music option replaces the Six CD system instead of augmenting it.

After the Golf, Golf Plus and Touran cars, the option will be available on all Volkswagen models sometime in 2006. Simply plug in a USB device and the contents will appear on Volkswagen's display just like a CD. Full support for ID3 tags, search and current organizational schemes are supported. Volkswagen is the first automaker to offer a ubiquitous USB connection as an option in its models.

Volkswagen also announced a special iPod option that will include a 30pin connection in the armrest. Just mount an iPod in the supplied cradle and the car's display will not only reveal the contents, but also allow you to control the iPod as well. Only BMW offers a similar iPod connection. The options made their official debut at the September International Motor Show in Frankfurt.

The Future: The Germans have been blazing the digital audio trail and it won't be long for GM, Ford, DaimlerChrysler and others to follow. In the meantime, it's a shame that more manufacturers don't simply offer a Aux Minijack Audio Input with their current stereo packages.










Advertise on Futuremusic.com! | Privacy Policy | Employment Opportunities | Contact Us
Copyright © 2005 Futuremusic® All Rights Reserved.





As the name correctly implies, Experiments In Sound, is Futuremusic's latest endeavor for pushing electronic music technology to the very edge of what's possible. Experiments In Sound grew out of Futuremusic's avant-garde events in New York City that featured DJ's taking mixing and live sound reinforcement to a whole new level with the very latest gear and software.

Now Experiments In Sound has become The Ultimate Mix Contest...

After the tremendous success of our groundbreaking The Next Big Thing DJ Contest, Futuremusic has decided to once again create a new paradigm...
Learn more about Experiments In Sound!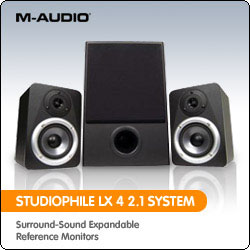 Futuremusic wants to thank everyone who participated in The Next Big Thing 2004. John Digweed, Beatport, Alienware, M-Audio, Native Instruments, IK Multimedia, PVDJ, PK Graphics, Ableton, The DubHouse, Propellerheads, Technics, FreeFloat, The Church, PCDJ and every DJ who entered this year's event thank you. From the sheer number of quality mixes, we can tell you that dance music is thriving in the United States. The amount of outstanding talent and creativity really blew us away, and every DJ who's putting their heart, mind and soul behind the music is a winner. John Digweed has made his decision and the winner is...
Think you got skills?? Then start practicing! The Next Big Thing 2005 will kick off at the end of the summer!!
News Archives



Digihear? Stories: August 2005
Digihear? Stories: July 2005
Digihear? Stories: June 2005
Digihear? Stories: May 2005
Digihear? Stories: April 2005
Digihear? Stories: March 2005
Digihear? Stories: February 2005
Digihear? Stories: January 2005
Digihear? Stories: December 2004
Digihear? Stories: November 2004
Digihear? Stories: October 2004
Digihear? Stories: September 2004