CD Spotlight



Paul Van Dyk's The Politics of Dancing, Vol. 2 is receiving major buzz as the Fall release. The second installment promises to continue where the first installment left off with tracks from Jose Zamora, Shiloh, Whiteroom, Mr. Sam, Angello & Ingrosso, Marco V, James Holden and a new one from PVD himself "The Other Side". LISTEN!


Digital Spotlight




Rumour Records throws down four solid mixes of this classic Nomad track to ignite any room. LISTEN!


Vinyl Spotlight




From the production duo that set dancefloors alight with "Shake It" comes a track that gives the summer season a sweet wave goodbye. "I Watch You" provides an enticing build up with an energetic bassline and a hooky vocal. LISTEN!




September 25, 2005
../ Download Price Hike Imminent
Rumors of a rise in individual download prices on the leading online music services surfaced again when Steve Jobs, Apple Computer's CEO, did some major whining to the press that he was being pressured by several major labels to increase prices.

Jobs has insisted that an increase above the 99 cent threshold would turn innocent, law-abiding legal downloaders into a pack of rabid dogs intent to only get their digital music through illegal means. While he has a point, the online world knows that several other music services are thriving selling downloads up to $2.99 each. Beatport.com announced at the Billboard Dance Summit that they are selling 50,000 tracks per month at $1.99 each.

Jobs was particularly scratchy when speaking to the press at the Apple Expo show in Paris. He reportedly called the majors pushing for the increase "greedy" even though prices for individual songs are more expensive in Europe and Asia. Warner and EMI are pushing for the hike while Universal Music appears content with the 99 cent price point. Sony BMG declined to comment, but iTunes Japan launched without their catalog. In the US, iTunes accounts for over 80 percent of all legal downloads with 500,000 and counting to date.

The Future: Look for prices to increase to $1.29 or $1.49 in 2006. The contracts with the major labels are up for renewal and while Jobs may persuade some of the majors to remain at the 99 cent price point, others, notably Warner, will object. Even if Universal signs on at 99 cents, they will certainly have a clause that gives them the right to increase the price if another label renews at a higher rate.
Whether or not the download price does increase in 2006, it will not stem the sales of the high-flying, and very profitable, Apple iPod line. And despite Steve Jobs' pubic sniveling about the price increase, the reality is...
...he could care less.










Advertise on Futuremusic.com! | Privacy Policy | Employment Opportunities | Contact Us
Copyright © 2005 Futuremusic® All Rights Reserved.





As the name correctly implies, Experiments In Sound, is Futuremusic's latest endeavor for pushing electronic music technology to the very edge of what's possible. Experiments In Sound grew out of Futuremusic's avant-garde events in New York City that featured DJ's taking mixing and live sound reinforcement to a whole new level with the very latest gear and software.

Now Experiments In Sound has become The Ultimate Mix Contest...

After the tremendous success of our groundbreaking The Next Big Thing DJ Contest, Futuremusic has decided to once again create a new paradigm...
Learn more about Experiments In Sound!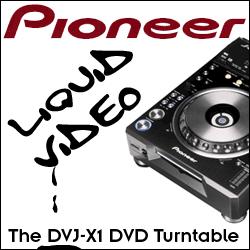 Futuremusic wants to thank everyone who participated in The Next Big Thing 2004. John Digweed, Beatport, Alienware, M-Audio, Native Instruments, IK Multimedia, PVDJ, PK Graphics, Ableton, The DubHouse, Propellerheads, Technics, FreeFloat, The Church, PCDJ and every DJ who entered this year's event thank you. From the sheer number of quality mixes, we can tell you that dance music is thriving in the United States. The amount of outstanding talent and creativity really blew us away, and every DJ who's putting their heart, mind and soul behind the music is a winner. John Digweed has made his decision and the winner is...
Think you got skills?? Then start practicing! The Next Big Thing 2005 will kick off at the end of the summer!!
News Archives



Digihear? Stories: August 2005
Digihear? Stories: July 2005
Digihear? Stories: June 2005
Digihear? Stories: May 2005
Digihear? Stories: April 2005
Digihear? Stories: March 2005
Digihear? Stories: February 2005
Digihear? Stories: January 2005
Digihear? Stories: December 2004
Digihear? Stories: November 2004
Digihear? Stories: October 2004
Digihear? Stories: September 2004