CD Spotlight



Paul Van Dyk's The Politics of Dancing, Vol. 2 is receiving major buzz as the Fall release. The second installment promises to continue where the first installment left off with tracks from Jose Zamora, Shiloh, Whiteroom, Mr. Sam, Angello & Ingrosso, Marco V, James Holden and a new one from PVD himself "The Other Side". LISTEN!


Digital Spotlight




Rumour Records throws down four solid mixes of this classic Nomad track to ignite any room. LISTEN!


Vinyl Spotlight




From the production duo that set dancefloors alight with "Shake It" comes a track that gives the summer season a sweet wave goodbye. "I Watch You" provides an enticing build up with an energetic bassline and a hooky vocal. LISTEN!




October 29, 2005
../ MP3Tunes Imports DVD-Jon For Secret Oboe Project
Lawyers, Start Your Engines!

Jon Lech Johansen , AKA "DVD-Jon", the brilliant 21 year old programmer is now working for San Diego based MP3Tunes, a private company captained by Michael Robertson who founded MP3.com. The hiring of Johansen has raised the eyebrows of many content companies who have come to fear his reverse engineering genius. Both Johansen and Robertson have the propensity to thumb their nose at the establishment, which could make the pairing a double threat.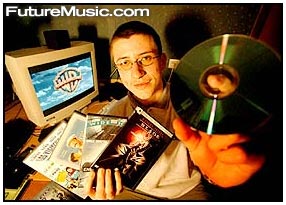 Jon Lech Johansen, AKA "DVD-Jon" telling the MPAA where they can stick their Discs

In 1999, DVD Jon invoked the wrath of the Motion Picture Association of America when he posted a crack on his website, at the age of 15, that allowed users to copy DVD's onto their computers. The MPAA strong-armed the Norwegian authorities to prosecute Johansen for copyright infringement. Instead of pleading to a lesser charge or being apologetic, Johansen stuck it to "the man." He continued to post cracks on his website, So Sue Me, that allows consumers "fair use" of their purchased content. He was tried in Oslo in 2002 and 2003, and acquitted of all charges both times, because prosecutors couldn't prove that his software was used for "illegal purposes."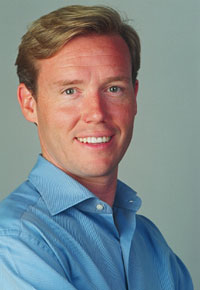 Michael Robertson is ready for yet another legal rumble.

Michael Robertson is an excellent self-promoter who gained fame in the early days of the Internet when he announced to the major labels, "your business is dead." Instead of revolutionizing the digital music space, MP3.com became a trailer park of mediocre music with no real means of generating revenue. The music industry traditionalists thought he would simply go away when he ran out of money, but his insanely successfully IPO loaded MP3.com's coffers and added rocket fuel to his motor mouth.
Even without a business model, Robertson moved forward with lightning speed, hiring an army of technicians to develop something that could actually bring in revenue. Meanwhile any musician who's Mom said, "you could be star" registered on the site and uploaded their creations. In 2000, Robertson's team then came up with a solid premise based on the idea of a universal jukebox, dubbed Beam-It. The idea, create a networked personal Jukebox that could be accessed by its owner anywhere at anytime via the Internet, was a "hit" and 500,000 people downloaded the application.
However, instead of everyone uploading their entire library, which would have commanded massive storage requirements, MP3.com "authenticated" the CD in the users drive and then allowed them access to a universal copy. Although, this logical process seems tame by today's standards, it was just what the major labels were waiting for. Robertson's MP3.com received an unprecedented legal ass-kicking by dozens of major and independent music labels when it was ruled infringement and not fair use. With $170 billion in potential liability, MP3.com was sold to Vivendi's Universal and then to CNET.
So what are Robertson and Johansen "composing" with Oboe? Neither would comment for this story, but many point to their shared hatred of Apple's iTunes and its FairPlay digital rights management. The Johansen/Robertson team has already released a program called BadApple on badfruit.com that allows iTunes to transfer songs to other portable music players besides the iPod, but there is no mention of it on MP3tunes.com, a mediocre recreation of the original MP3.com where you must pay $30 bucks a year to upload your "music." Could Robertson's vision of a celestial jukebox come to fruition via Johansen's brilliance?
The Future: A online "iTunes" where you could access your entire database of music from any high-speed connection would be a service that many would be willing to pay for, but it would definitely create more legal entanglements. However, this time Robertson may have learned his lesson after betting the farm on Beam-It. By side-stepping the legal pitfalls that did in MP3.com, Robertson may be able to realize his dream.

Advertise on Futuremusic.com! | Privacy Policy | Employment Opportunities | Contact Us
Copyright © 2005 Futuremusic® All Rights Reserved.





As the name correctly implies, Experiments In Sound, is Futuremusic's latest endeavor for pushing electronic music technology to the very edge of what's possible. Experiments In Sound grew out of Futuremusic's avant-garde events in New York City that featured DJ's taking mixing and live sound reinforcement to a whole new level with the very latest gear and software.

Now Experiments In Sound has become The Ultimate Mix Contest...

After the tremendous success of our groundbreaking The Next Big Thing DJ Contest, Futuremusic has decided to once again create a new paradigm...
Learn more about Experiments In Sound!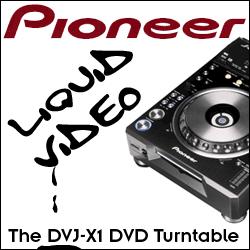 Futuremusic wants to thank everyone who participated in The Next Big Thing 2004. John Digweed, Beatport, Alienware, M-Audio, Native Instruments, IK Multimedia, PVDJ, PK Graphics, Ableton, The DubHouse, Propellerheads, Technics, FreeFloat, The Church, PCDJ and every DJ who entered this year's event thank you. From the sheer number of quality mixes, we can tell you that dance music is thriving in the United States. The amount of outstanding talent and creativity really blew us away, and every DJ who's putting their heart, mind and soul behind the music is a winner. John Digweed has made his decision and the winner is...
Think you got skills?? Then start practicing! The Next Big Thing 2005 will kick off at the end of the summer!!
News Archives



Digihear? Stories: September 2005
Digihear? Stories: August 2005
Digihear? Stories: July 2005
Digihear? Stories: June 2005
Digihear? Stories: May 2005
Digihear? Stories: April 2005
Digihear? Stories: March 2005
Digihear? Stories: February 2005
Digihear? Stories: January 2005
Digihear? Stories: December 2004
Digihear? Stories: November 2004
Digihear? Stories: October 2004