CD Spotlight




Gnarls Barkley a collaboration between Cee-Lo and Danger Mouse, recently made history by becoming the first group to top the UK singles chart with a digital-only release of lead off single Crazy. Their full-length should be the first big hit of 2006. LISTEN!


Digital Spotlight




Distinctive offers up Jody Wisternoff's (Way Out West), Cold Drink, Hot Girl on Beatport. Wisternoff's production and tight grooves shine on this steller release. LISTEN!


Vinyl Spotlight



Coldfusion drop a full-on, unrelentless tribal banger Tribe Summoning on the French label Royal Drums. This track is not for the meek. Big chug with a big sound for a big room. Slammin! LISTEN!





June 21, 2006
../ Sound Artist Trimpin Triumphs With Der Ring
Gerhard Trimpin, a brilliant sound artist, is someone you've probably never heard of. Trimpin, who legally only goes by his surname, has been creating brilliant music installations since he was a boy. The sound sculptures fuse mathematics, acoustic instruments and computer-controlled mechanics into a fascinating sonic blend that never fails to inspire.

Trimpin recently installed Der Ring at the new Phaeno Science Center in Wolfsberg, Germany. Der Ring consists of three metal circular tracks, small, medium and large, each containing an aluminum ball. It's based on the sound created by Perpetual Motion and the harmonic spectrum ratio of 3-4-5. Trimpin was inspired to make Der Ring when he had a personal moment of clarity: music works through "sinus and cosinus" - Latin for Sine and Cosine, everything else is secondary.




Trimpin fine tunes one of Der Ring's aluminum balls Photo: Joe Ansel


The tracks are supported by an elaborate pulley system hooked up to what Trimpin calls a "gearbox." The gearbox is MIDI controlled by a custom programmed developed for a Mac laptop. The program instructs the pulley supports to move up and down which creates an rolling moment that propels the ball around the circumference of the track. Based on the speed, duration and travel length of the pulleys the ball can move fast or slow, and in either direction. The pulsating sound created by the movement of the ball gives Der Ring a distinctive sonic flavor that is soothing and fascinating at the same time.






Trimpin is interesting in visualizing sound through acoustic "instruments" and sound sources. However, almost every single one of his installations involves utilizing electronics, computers and MIDI to manipulate the acoustic process. One of Trimpin's most amazing installations was Liquid Percussion. Commissioned in 1991 by The New York Hall of Science, Liquid Percussion consisted of one hundred water sprinklers suspended from the ceiling in a grid. Constructed from surplus Boeing Aircraft titanium, the nozzles dripped water into tuned glass resonators under precise control of a computer to create a Rain Symphony. The visual effect of the falling rain drops coupled to the full frequency spectrum of harmonious and sympathetic tones created an environment that left many spectators uttering only one word: "genius."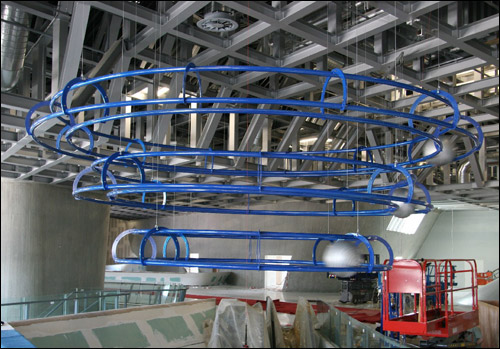 Trimpin's Der Ring is being assembled in the Phaeno Science Center Photo: Joe Ansel

Trimpin cites that the reason he moved to Seattle, Washington from the small town of Efringen-Germany was because Americans throw out a lot more high-tech garbage than Europeans. Through his sources, he has been able to acquire thousands of pieces of metals, computers, musical instruments - and anything else that could be utilized into one of his sound visualizations - and house them in a four story building that he calls his studio.
Visitors to the Phaeno science center may not immediately recognize Trimpin's Der Ring since it is suspended close to the ceiling, and only emits a Doppler-like, whirling sound. However, once discovered, many become absorbed by its complex simplicity. The ration of the rings, 3 to 4 to 5, represents a major triad, a basic chord that is the foundation of Western music. Thus, the calming sounds, created by each ring, are actually the notes of G, C and E, adding another level to the sculpture's depth.
Trimpin's one-of-a-kind installations come from a limitless mind that never stops imagining how sound can be experienced visually. His genius comes not only from inventing new methods of demonstrating his artistic vision, but from consistently achieving the desired effect of invoking each individual's musical spirit.

Advertise on Futuremusic.com! | Privacy Policy | Employment Opportunities | Contact Us
Copyright © 2006 Futuremusic® All Rights Reserved.



TestDrive will feature the lab results of our DJ Experiments so that everyone can get in on the action. Take the latest electronic music releases, mix vigorously with bleeding-edge DJ production technology in a large beeker, and then cook the hell out of it!
Check out our latest TestDrive: Native Instruments Reaktor 5
News Archives



Digihear? Stories: May 2006
Digihear? Stories: April 2006
Digihear? Stories: March 2006
Digihear? Stories: February 2006
Digihear? Stories: January 2006
Digihear? Stories: December 2005
Digihear? Stories: November 2005
Digihear? Stories: October 2005
Digihear? Stories: September 2005
Digihear? Stories: August 2005
Digihear? Stories: July 2005
Digihear? Stories: June 2005