Cheers:


+Build Quality
+-20dB Pad
+Ground Lift
+Long 3.5mm Cable


Jeers:


-Price
-XLR Output Only



Off The Record:


"A $135 insurance policy."
--Greg Geller


"A robust interface that just may save the day when your external sound card decides to crap the bed just before your big show, but the price tag is a jagged, little pill."
--Neville Carrol


"One dimensional thinking, yields a one dimensional product."
--Q







August 13, 2008
../ TestDrive: RapcoHorizon LTI-1
With more and more DJs and electronic musicians employing computers in their live rigs, emergency backup solutions have become mandatory.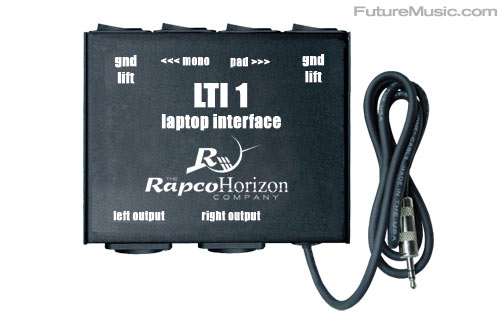 You won't take her to the prom, but she's got a ground lift, a -20dB pad, mono operation, and a great personality

Some companies have even developed dedicated emergency kits just in case a cable goes bad, or an adapter is needed for connectivity to the house PA. However, if your sound card decides to take a dirt nap just prior to showtime, you're reduced to running all your audio action out of your laptop's minijack output, which just isn't going to cut it with many of today's sophisticated club systems.

RapcoHorizon has introduced the LTI-1, a dedicated solution for connecting your laptop's 3.5mm audio output to a professional mixer. The LTI-1 uplifts your minijack to dedicated Left and Right XLR outputs, and includes a -20dB pad.
Features:
Stereo or summed mono operation
Built-In Ground lift switches
-20dB pad
Balanced XLR Outputs
3 foot cable
Male 3.5mm connector
The LTI-1 won't win any beauty pagents, but its got it where it counts with an extra long and robust minijack cable, leading into a black, powder-coated, metal box that houses the pad switches and XLR outputs. We found the LTI-1 performed very well in a variety of difficult situations, and even works well as an efficient way to incorporate an iPod, a portable CD player, or any other playback device with a 3.5mm output into a large PA.
Ground Lift
What sets the LTI-1 from other XLR to Minijack interfaces, is that it contains a Ground Lift. The ground lift switch disconnects pin 1 on the XLR jack, which is connected to the braid or foil shield in the cable, and acts as the ground point of the circuit. Disconnecting the shield can prevent unwanted hum or current from flowing between the two devices also known as, the dreaded ground loop. As many of you well know, nothing kills the vibe of a live electronic music performance like a particularly nasty ground hum that saps the energy and muddies the sound.





The LTI-1 won't magically enhance the sound quality of your low-bit-rate MP3's, but they won't add noise, colorization or distiortion either, which makes it a worthwhile addition to your gear bag if you do a lot of performing and/or DJing.

The only draw back is the LTI-1's price, which initially was $135, but has dropped recently to $119.

The Future: To really make the LTI-1 a true emergency solution, and give it even greater flexibility, RapcoHorizon should replace the standard XLR connection with Neutrik Combo Jack that accept both XLR and 1/4" TS or TRS action. This would give the LTI-1 the ability to deliver balanced XLR and 1/4" outputs to a PA for true versitality.

More "information" on the RapcoHorizon LTI-1.
(Warning: The RapcoHorizon website is horrendous.)


Buy a RapcoHorizon LTI-1 Now!
(The RapcoHorizon LTI-1 is sometimes called the LTI-100 due to the fact that the company changed the name during production)

>>> Back to Digihear?







Advertise on FutureMusic.com! | Privacy Policy | Employment Opportunities | Contact Us
Copyright © 2008 FUTUREMUSIC® All Rights Reserved.






For laptop musicians, the feature-rich RapcoHorizon LTI-1 is certainly a worthwhile insurance policy.