Cheers:


+Sound Quality
+Modulation Matrix
+Macros
+Stereo Imaging
+User Interface


Jeers:


-Expensive
-Syncrosoft USB Dongle


Off The Record:


"With so many plug-in options available, CSR is too expensive for me to seriously consider it in my studio."
--Mark Harding


"Sound Designers will love CSR's modulation features especially for allowing a reverb to dynamically interact with specific sounds, textures and environments."
--Sam Weiss









January 12, 2007
../ TestDrive: IK Multimedia CSR - Classik Studio Reverb
This Ain't Your Daddy's Reverb IK Multimedia, a concern who has made a concerted effort to offer a wider breath of products as of late, has released their own dedicated reverb plug-in, which has been modeled on the classic units of yore. IK Multimedia doesn't actually come out and state which "classic reverb" units they modeled, but the Lexicon 480L appears to be a major influence.






The simple, yet elegant, user interface is easy on the eyes

Bucking the recent trend of convolution, CSR is an emulator that uses native algorithms to power the reverb engine. Now while you're limited by the "spaces" that CSR can emulate - room, plate, hall and inverse - your CPU loves you for not grinding its gears into dust. The reverbs produced are rich, thick and complex, but lack some of the bite and detail of the original classic models - something you may, or may not miss.
A GUI That's Not Gooey
IK Multimedia has focused a great deal of its development on the user interface (UI) of its most recent products, and it pays off big for the consumer. CSR looks lovely and is very easy to use. The plug-in has an Advanced and an Easy mode that allows everyone from punters to reverb samurais to get their hands good and dirty. The Easy Mode contains all the controls on one screen, while the Advanced Mode spreads all the parameters over several pages. The great thing about CSR's interface for beginners is that in promotes experimentation, and thus effect education. By keeping even the more advanced screens extremely accessible, new users will find themselves dripping into Advance mode to "just see what happens." This is a good thing, and more developers should adhere to this philosophy.




This Ain't Your Daddy's Reverb
The sound of each of the four reverbs is solid, however the truth is you're not going to pull up CSR when a client asks you for a 480L plate. CSR's real mojo is its modulation attributes that can be controlled via Macros. Fancy modulation is something that older effects units used to put some life into the basic algorithms. But this isn't your Daddy's reverb and IK flexes some serious muscle.






Advance Mode opens up new possibilities...

When in Advanced Mode, the professional will certainly enjoy bringing up the 8x8 Modulation Matrix where they can access several sound sculpting controls and modulate them using LFOs and envelope filters. Here how it works: the Matrix lets you select the modulation source, one of two LFOs or two filter envelopes, and then the parameter to be manipulated. Further adjustments include Depth, by specifying the minimum and maximum range, and a linear, logarithmic and exponential Curve, a time based characteristic.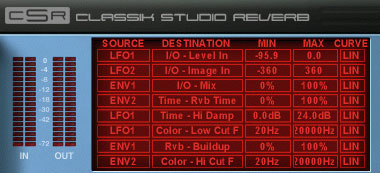 The CSR's Modulation Matrix

With the Matrix, eight modulation sources can manipulate eight different destinations (not that you'll blow your stack all at once, but you can). One of my favorite mods was to use a LFO to change the stereo imaging, one of CSR's stronger parameters. This created a liquid feel to the reverb, which sounded delicious on an arpeggiated synth line.
Now This Is Where It Gets Fun...
The Macro feature will allow you to control up to eight reverb parameters with a single slider. You can do morphs, transitions and anything else you can dream up, and when that isn't enough, you can add another Macro. CSR gives you a total of four assignable macro sliders for mind-blowing simultaneous control. And if that's not enough, all the parameters and macros can be automated via your sequencer! Nuts!





There are a couple of things that hurt CSR. First, CSR is very expensive. At $399, it's easily a hundred dollars or more over the retail sweet spot. CSR uses IK Multimedia's sloppy USB dongle copy protection technology that can cause some annoying problems, and takes up yet another USB slot on your box. The size of CSR's interface may be a tad oversized for the screen of some users, however musicians with dual monitors or a large widescreen display won't mind.

The Future: IK Multimedia's Classic Studio Reverb is an excellent beginning to a product that will evolve nicely over time. We'd like to see IK delve a little deeper into the sound quality of the units to obtain some of that visceral detail that the old classics evoked. Dropping the price $100 bucks would open up CSR to a larger audience who has many plug-in effect options at the $400 price point. We'd love to see a control, especially in Easy Mode, for minimizing the interface to just the basic parameters and meters.

IK Multimedia's CSR Classik Studio Reverb is available in your Grocer's Freezer for $399. You can also buy it directly from IK's website. More information on IK Multimedia's CSR-1 Classic Studio Reverb.








Advertise on Futuremusic.com! | Privacy Policy | Employment Opportunities | Contact Us
Copyright © 2006 Futuremusic® All Rights Reserved.






CSR Classik Studio Reverb is a solid premier of a new product for IK Multimedia. It won't appeal to a large part of the market due to its expense, but pro users will get a lot out of its sophisticated macro, modulation and automation features.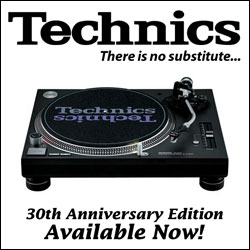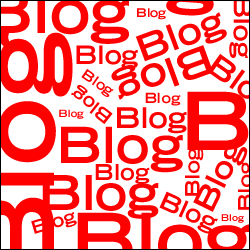 News Archives



Digihear? Stories: December 2006
Digihear? Stories: November 2006
Digihear? Stories: October 2006
Digihear? Stories: September 2006
Digihear? Stories: August 2006
Digihear? Stories: July 2006
Digihear? Stories: June 2006
Digihear? Stories: May 2006
Digihear? Stories: April 2006
Digihear? Stories: March 2006
Digihear? Stories: February 2006
Digihear? Stories: January 2006