CD Spotlight



Take the self-indulgent and anything but self-conscious attitude of the 70's, not to mention the decade's melodic songwriting considerations and the unafraid-to-go-falsetto sexiness, mix with a snippet of today's electronic dance qualities and there you go. LISTEN!


Digital Spotlight



"Your Light" available from Beatport.com is the top download of the week. It has a groovy, progressive vibe with a haunting female vocal and a grinding bassline. LISTEN!


Vinyl Spotlight



La Noche Remixes by Coca & Villa Featuring Pepe Rubio, Remixes By D-Formation, Julian Poker. Another standout release from BeatFreak with heavy percussion and a Euro feel without the trash. LISTEN!







../ Is This The Future Of Digital Distribution?
Native Instruments, Beatport.com and Stanton recently announced, in a very vague press release, that they were partnering. The release had no specifics on exactly what they were collaborating on or any details as to how it will affect their product lines. However, their strategy became clearer at AES in San Francisco with the release of Beatport 2.0, the next generation of the well-executed Beatport online dance music store. >>> FULL STORY



../ Spitzer Focusing On Payola
As reported in Digihear? earlier, New York State Attorney General, Eliot Spitzer, is investigating independent radio promoters who work for record labels to get airplay for their artists. >>> FULL STORY




../ Virgin Introduces Digital Music Player
Virgin Electronics announced a five-gigabyte portable hard disk player targeting the iPod Mini. It is slightly larger than the iPod Mini, but has 20% greater storage capacity and is a half-ounce lighter. >>> FULL STORY




../ ASCAP Announces New Radio Agreement
The American Society of Composers, Authors and Publishers (ASCAP) announced a new licensing agreement with over 12,000 United States Radio Stations. The new accord allows ASCAP to collect one consolidated sum from radio stations instead of a percentage of gross revenues, and includes rights for webcasts. >>> FULL STORY




../ Kurzweil On The Brink?
Kurzweil is reportedly in trouble of going out of business or being sold. Although the company's PR department staunchly denies the rumors there are several indications that the company is on the ropes. >>> FULL STORY




../ New GRAMMY Award: Best Electronic Album
A new GRAMMY Award category for "Best Electronic/Dance Album" excites electro-pop composers and performers around the world! Creators of sonic masterworks, including such influential innovators as BT, the Crystal Method, Paul Oakenfold and Deepsky, can compete against similar artists instead of having to fit into other musical categories. >>> FULL STORY




../ Presenting DJ Bill Gates
Microsoft is incorporating a fascinating new radio feature into its latest Windows Media Player that is sure to raise some eyebrows, not to mention potential lawsuits. The new Windows Media Player will let users listen to virtual broadcasts of their favorite local radio stations while at their computers with limited commercial interruption. >>> FULL STORY






../ Billboard Dance Music Summit 2004
The Billboard Dance Music Summit was held this past week in New York City and featured some of the biggest names in the business. Although, it doesn't have the biggest turnout of the yearly dance industry conferences, it's easily the most intelligent and sophisticated gathering, and offers a plethora of valuable insights and observations. >>> FULL STORY



../ Napster A-Go-Go
Napster will be the first online digital download store to debut the new subscription portability feature in the updated version of Microsoft's Windows Media Player when it launches "Napster To Go" sometime this fall. Interestingly, the new version of Windows Media Player, dubbed "Janus," did not debut in Microsoft's own MSN Music service which launched earlier this month. >>> FULL STORY




Music Trends October 2004:
../ The Gibson Digital Guitar:
A Revolution 50 Years In The Making
Gibson gets set to introduce their next-generation electric guitar
Gibson is preparing for a product launch that could send shockwaves throughout the music business. The Gibson Digital Guitar will be made available to the public later this year, and it is expected to provide guitarists with unparalleled control over their sound. The Gibson Les Paul guitar revolutionized music with its introduction fifty years ago. From Jimmy Page and Neil Young to Slash and Joe Perry, the Gibson Les Paul has long been the industry standard. The technology behind that guitar - magnetic pickups converting string vibrations into electrical impulses - has remained largely unchanged over its lifetime. >>> FULL STORY
../ Micro Soft Launch
Microsoft has quietly launched its new Download Music store on MSN without the multimedia fanfare that usually accompanies such debuts. MSN Music states that it has one million tracks for download and will sell album only downloads from such artists as Madonna, Radiohead and Metallica, something Apple's iTunes has refused to do. >>> FULL STORY



../ Europe Sues Music Uploaders
The International Federation of the Phonographic Industry (IFPI) has sued 459 individuals in six countries who they allege are sharing large amounts of copyrighted songs on Peer-To-Peer (P2P) networks. "This is the largest single wave of lawsuits to be announced outside the U.S." according to the IFPI. >>> FULL STORY




../ Beatles To Take Big Bite of Apple
An out of court settlement is currently in the works between Apple Computer and Apple Corps, the parent company of the Beatles. The two Apple's are currently in a legal battle surrounding a signed agreement stating that Apple Computer would never enter the music market. >>> FULL STORY



../ Focusrite Buys Novation
Focusrite Audio has agreed to purchase Novation Electronic Music Systems, Ltd. effective immediately. As reported earlier in Digihear?, Ian Jannaway, Novation's Managing Director, had been shopping Novation for some time with little interest. Several US and Japanese suitors were initially courted, but Jannaway was unable to put a realistic value on the company that he grew out of a barn in the English country side. >>> FULL STORY




Advertise on Futuremusic.com! | Privacy Policy | Employment Opportunities | Contact Us
Copyright © 2004 Futuremusic® All Rights Reserved.






As the name correctly implies, Experiments In Sound, is Futuremusic's latest endeavor for pushing electronic music technology to the very edge of what's possible. Experiments In Sound grew out of Futuremusic's avant-garde events in New York City that featured DJ's taking mixing and live sound reinforcement to a whole new level with the very latest gear and software. Be the first to hear about Experiments In Sound by joining Futuremusic Direct.
Part of Experiments In Sound, TestDrive will feature the lab results of our DJ Experiments so that everyone can get in on the action. Take the latest electronic music releases, mix vigorously with bleeding-edge DJ technology in a large beeker, and then cook the hell out of it! Be the first to hear about TestDrive by joining Futuremusic Direct.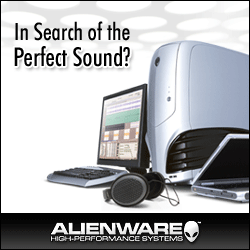 Futuremusic wants to thank everyone who participated in The Next Big Thing 2004. John Digweed, Beatport, Alienware, M-Audio, Native Instruments, IK Multimedia, PVDJ, PK Graphics, Ableton, The DubHouse, Propellerheads, Technics, FreeFloat, The Church, PCDJ and every DJ who entered this year's event thank you. From the sheer number of quality mixes, we can tell you that dance music is thriving in the United States. The amount of outstanding talent and creativity really blew us away, and every DJ who's putting their heart, mind and soul behind the music is a winner. John Digweed has made his decision and the winner is...
News Archives



Digihear? Stories: September 2004
Digihear? Stories: August 2004
Digihear? Stories: July 2004
Digihear? Stories: June 2004