CD Spotlight




A great selection of late-afternoon-sun dance tracks, that's perfect for channeling the patio vibe of St. Barth's. LISTEN!


Digital Spotlight



"Your Light" available from Beatport.com is the top download of the week. It has a groovy, progressive vibe with a haunting female vocal and a grinding bassline. LISTEN!


Vinyl Spotlight



La Noche Remixes by Coca & Villa Featuring Pepe Rubio, Remixes By D-Formation, Julian Poker. Another standout release from BeatFreak with heavy percussion and a Euro feel without the trash. LISTEN!






../ Karmazin New CEO of Sirius
Mel Karmazin, former President of Viacom, has signed a five-year contract to become Chief Executive Officer of Sirius Satellite Radio, Inc. The announcement reveals just how serious Sirius is about taking on rival XM Satellite. >>> FULL STORY




../ The Napster Strikes Back!
Shawn Fanning, developer of the original Napster Peer-To-Peer (P2P) file trading software that led to the global explosion of copyright infringment, not to mention dozens of lawsuits, is back with a new legal P2P venture dubbed Snocap. >>> FULL STORY




../ Yamaha To Give Apple MLan?
When Yamaha announced their MLan technology that seamlessly transmit multi-channel audio, MIDI and networking data through an IEEE 1394 (FireWire) connection, it was heralded as not only a break through, but a long time coming. However, long before the last piece of confetti from the fanfare hit the ground, the once bright future of MLan quickly dimmed. >>> FULL STORY




../ Access Virus TI Line Debuts
Access Music, a German synthesizer company, announced a brand new line of their famed Virus line, dubbed TI. Three completely brand new synths, completely redesigned inside and out, will be available with a groundbreaking new technology called VirusControl that allows a host sequencer program to interact with the hardware synths as if it were a soft synth plug-in. >>> FULL STORY (with pictures!)




../ Sound Soap 2 Debuts From Bias Inc.
Bias Inc. has announced Sound Soap 2, a new version of their entry-level audio restoration software for $99. >>> FULL STORY



../ Apple Releases New iPods
Apple Computer, Inc. recently announced two new models of iPods that haven't incited the major buzz they were hoping would ignite sales for the holiday season. >>> FULL STORY




../ Despite Deals Satellite Radio Struggling
Sirius Satellite Radio Inc. and XM Satellite Radio Holdings both posted losses in the third quarter despite some high-profile deal announcements. XM, based in Washington DC, reported a net loss of $118 million even with revenue increasing from $27 million to $65 million, while Sirius' net loss was $169 million in spite of revenue swelling to $19 million from $4 million a year earlier. >>> FULL STORY



../ WMC 2005 Dates Spark Controversy
The organizers of the Winter Music Conference announced that the 20th Anniversary of the event will take place in Miami, Florida from March 22-26, 2005. However, Luis Puig, owner of Miami's uber-sized club Space, feels five days of amazing electronic music, incredible talent, and no sleep, is just not enough. Puig, in an open letter to Bill Kelly, the Winter Music Conference's head-honcho, wants to expand the event to nine days. >>> FULL STORY




../ Is This The Future Of Digital Distribution?
Native Instruments, Beatport.com and Stanton recently announced, in a very vague press release, that they were partnering. The release had no specifics on exactly what they were collaborating on or any details as to how it will affect their product lines. However, their strategy became clearer at AES in San Francisco with the release of Beatport 2.0, the next generation of the well-executed Beatport online dance music store. >>> FULL STORY



../ Kurzweil On The Brink?
Kurzweil is reportedly in trouble of going out of business or being sold. Although the company's PR department staunchly denies the rumors there are several indications that the company is on the ropes. >>> FULL STORY






../ Billboard Dance Music Summit 2004
The Billboard Dance Music Summit was held this past week in New York City and featured some of the biggest names in the business. Although, it doesn't have the biggest turnout of the yearly dance industry conferences, it's easily the most intelligent and sophisticated gathering, and offers a plethora of valuable insights and observations. >>> FULL STORY



../ The Gibson Digital Guitar:
A Revolution 50 Years In The Making
Gibson gets set to introduce their next-generation electric guitar
Gibson is preparing for a product launch that could send shockwaves throughout the music business. The Gibson Digital Guitar will be made available to the public later this year, and it is expected to provide guitarists with unparalleled control over their sound. The Gibson Les Paul guitar revolutionized music with its introduction fifty years ago. From Jimmy Page and Neil Young to Slash and Joe Perry, the Gibson Les Paul has long been the industry standard. The technology behind that guitar - magnetic pickups converting string vibrations into electrical impulses - has remained largely unchanged over its lifetime. >>> FULL STORY

Advertise on Futuremusic.com! | Privacy Policy | Employment Opportunities | Contact Us
Copyright © 2004 Futuremusic® All Rights Reserved.





As the name correctly implies, Experiments In Sound, is Futuremusic's latest endeavor for pushing electronic music technology to the very edge of what's possible. Experiments In Sound grew out of Futuremusic's avant-garde events in New York City that featured DJ's taking mixing and live sound reinforcement to a whole new level with the very latest gear and software. Be the first to hear about Experiments In Sound by joining Futuremusic Direct.
Part of Experiments In Sound, TestDrive will feature the lab results of our DJ Experiments so that everyone can get in on the action. Take the latest electronic music releases, mix vigorously with bleeding-edge DJ technology in a large beeker, and then cook the hell out of it! Be the first to hear about TestDrive by joining Futuremusic Direct.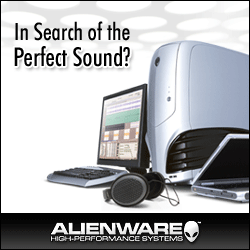 Futuremusic wants to thank everyone who participated in The Next Big Thing 2004. John Digweed, Beatport, Alienware, M-Audio, Native Instruments, IK Multimedia, PVDJ, PK Graphics, Ableton, The DubHouse, Propellerheads, Technics, FreeFloat, The Church, PCDJ and every DJ who entered this year's event thank you. From the sheer number of quality mixes, we can tell you that dance music is thriving in the United States. The amount of outstanding talent and creativity really blew us away, and every DJ who's putting their heart, mind and soul behind the music is a winner. John Digweed has made his decision and the winner is...
News Archives



Digihear? Stories: October 2004
Digihear? Stories: September 2004
Digihear? Stories: August 2004
Digihear? Stories: July 2004
Digihear? Stories: June 2004