CD Spotlight




A great selection of late-afternoon-sun dance tracks, that's perfect for channeling the patio vibe of St. Barth's. LISTEN!


Digital Spotlight



House Titan D-Formation returns with remixes of The Third Dimension. Victor Calderone offers us his particular vision of what The Third Dimension looks like, and Simon&Shaker literally take us there. LISTEN!


Vinyl Spotlight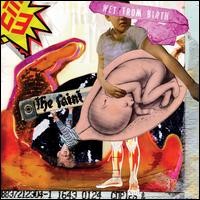 The Faint - "I, Disappear" (FC KAHUNA REMIX) - Saddle Creek. "I, Disappear" is the first single from the new "Wet From Birth" album, the progressive remix by FC Kahuna is sure to be a club favorite. LISTEN!






../ Satellite Radio Providers Hit Targets
XM Satellite Radio Holdings and Sirius Satellite Radio, Inc. stated that they met their end-of-year subscriber targets. XM, which started the year with 1.3 million subscribers surpassed 3.1 million and Sirius passed the one million milestone while starting the year with 250,000 subscribers.
>>> FULL STORY



../ Apple Modifies iPod Firmware
Apple Computer, Inc. of Cupertino, California has recently released a firmware update to the iPod that will disable Real Networks' Harmony technology. Harmony was developed to allow downloadable music purchased at Real's online music store to be played on Apple's best-selling iPod portable music player. Apple designed the iPod's software specifically so that the only place a user could purchase music for the device was solely at Apple's own iTunes store.
>>> FULL STORY



../ Yamaha Buys Steinberg
Yamaha announces that it has reached a basic agreement to acquire 100% of the common stock of Steinberg Media Technologies GmbH, a division of Pinnacle Systems, Inc., a California-based maker and seller of video editing systems for $28.5 million dollars. The acquisition, which includes Steinberg's US sales operations, took place through closed competitive bidding on December 20, 2004, US local time, according to their press release.
>>> FULL STORY




../ Apple Readies New FireWire Sound Card
Apple will reportedly announce a brand new FireWire sound card in January. The new card, code-named Asteroid, has been under development by the Emagic team for the past year.
>>> FULL STORY



../ PreSonus Announces FireBox
PreSonus has announced the Firebox, a powerful, yet very compact external 24-bit/96k FireWire computer audio interface. The Firebox has the ability to simultaneously record six inputs and playback through ten outputs all at 24-bit/96kHz.
>>> FULL STORY




../ New Ableton Controllers Create Buzz
FaderFox, a German concern, recently debuted three distinctive MIDI controllers for use with Ableton's Live audio production software. The three pocket-sized, battery powered controllers are each designed for a unique purpose, mixing, triggering and DJing and can be used individually or linked together.
>>> FULL STORY



../ Steinberg Releases Nuendo 3
Steinberg has just released version 3 of Nuendo, a comprehensive Media Production System. Nuendo 3 offers a range of new features and technologies for post production, surround production, high-end recording, mixing and editing.
>>> FULL STORY




../ BitTorrent Hosts Under Attack
The Motion Picture Association of America (MPAA) filed suit against one hundred individuals who host BitTorrent servers, a relatively new file trading technology.
>>> FULL STORY



../ File-Sharing Goes To The Supreme Court
The United States Supreme Court has agreed to review the August ruling by the Ninth Circuit Court of Appeals that determined that file-sharing companies cannot be held responsible for the trading of copyrighted material using their decentralized technology and networks. Citing the ground-breaking 1984 "Betamax" Supreme Court decision that involved the use of video tape recorders to record copyrighted works, the justices ruled that Sony, maker of the Betamax, was not liable for copyright infringement by their customers because the recorder had legal uses.
>>> FULL STORY



../ Gunman Kills Dimebag at Nightclub
Nathan Gale stormed the stage during a heavy metal concert in Columbus, Ohio, on Wednesday night, firing at the band and audience and killing four people before a police officer shot and killed him, police said.
>>> FULL STORY




../ Spectrasonics Releases Stylus RMX
Spectrasonics, a ten year old California concern, has just released Stylus RMX, a highly specialized drum machine that works as a plug-in on all the leading sequencers on both the Mac and PC platforms. Spectrasonics is the same company that came into prominence with the release of the acclaimed "Atmosphere" sample library of lush ethereal pads, deep powerful drones, and complex ambient textures.
>>> FULL STORY



../ Dance Music Grammy Nominations
The Recording Academy announced the nominees for the inaugural Best Electronic/Dance Album category of the Grammy Awards... >>> FULL STORY



../ Karmazin New CEO of Sirius
Mel Karmazin, former President of Viacom, has signed a five-year contract to become Chief Executive Officer of Sirius Satellite Radio, Inc. The announcement reveals just how serious Sirius is about taking on rival XM Satellite.
>>> FULL STORY




../ The Napster Strikes Back!
Shawn Fanning, developer of the original Napster Peer-To-Peer (P2P) file trading software that led to the global explosion of copyright infringment, not to mention dozens of lawsuits, is back with a new legal P2P venture dubbed Snocap.
>>> FULL STORY



../ Yamaha To Give Apple MLan?
When Yamaha announced their MLan technology that seamlessly transmit multi-channel audio, MIDI and networking data through an IEEE 1394 (FireWire) connection, it was heralded as not only a break through, but a long time coming. However, long before the last piece of confetti from the fanfare hit the ground, the once bright future of MLan quickly dimmed.
>>> FULL STORY




../ Access Virus TI Line Debuts
Access Music, a German synthesizer company, announced a brand new line of their famed Virus line, dubbed TI. Three completely brand new synths, completely redesigned inside and out, will be available with a groundbreaking new technology called VirusControl that allows a host sequencer program to interact with the hardware synths as if it were a soft synth plug-in.
>>> FULL STORY (with pictures!)



../ Sound Soap 2 Debuts From Bias Inc.
Bias Inc. has announced Sound Soap 2, a new version of their entry-level audio restoration software for $99.
>>> FULL STORY







Advertise on Futuremusic.com! | Privacy Policy | Employment Opportunities | Contact Us
Copyright © 2004 Futuremusic® All Rights Reserved.





As the name correctly implies, Experiments In Sound, is Futuremusic's latest endeavor for pushing electronic music technology to the very edge of what's possible. Experiments In Sound grew out of Futuremusic's avant-garde events in New York City that featured DJ's taking mixing and live sound reinforcement to a whole new level with the very latest gear and software. Be the first to hear about Experiments In Sound by joining Futuremusic Direct.
Part of Experiments In Sound, TestDrive will feature the lab results of our DJ Experiments so that everyone can get in on the action. Take the latest electronic music releases, mix vigorously with bleeding-edge DJ technology in a large beeker, and then cook the hell out of it! Be the first to hear about TestDrive by joining Futuremusic Direct.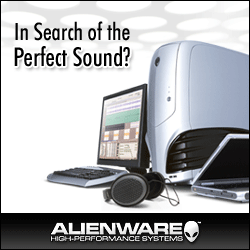 Futuremusic wants to thank everyone who participated in The Next Big Thing 2004. John Digweed, Beatport, Alienware, M-Audio, Native Instruments, IK Multimedia, PVDJ, PK Graphics, Ableton, The DubHouse, Propellerheads, Technics, FreeFloat, The Church, PCDJ and every DJ who entered this year's event thank you. From the sheer number of quality mixes, we can tell you that dance music is thriving in the United States. The amount of outstanding talent and creativity really blew us away, and every DJ who's putting their heart, mind and soul behind the music is a winner. John Digweed has made his decision and the winner is...
News Archives



Digihear? Stories: November 2004
Digihear? Stories: October 2004
Digihear? Stories: September 2004
Digihear? Stories: August 2004
Digihear? Stories: July 2004
Digihear? Stories: June 2004